Mark Doyle
has been into photography ever since he was a kid. He began as an aspiring cinematographer shooting two feature films and various shorts in the mid 90's. Adjusting his career, he decided to pursue his first love… still photography. Armed with a small Canon film camera, he began to shoot everything and anything. After a brief stint at a wedding photo studio in New York where he learned from a veteran master photographer, he started shooting for local newspapers and magazines in NY. He began shooting many local bands and studio musicians along with industry events in 2000 and has been active in the music scene ever since. He has photographed such bands as Metallica, Iron Maiden, Rush, Alice in Chains, Kiss, Dream Theater and solo artists like Billy Joel, Lorde, Alexa Ray Joel and Christina Perri to name a few. He is currently the house photographer for the Hammerstein Ballroom and Grand Ballroom in NYC, is a weekly contributor to New York Natives, and was a finalist in the Photograph for The Sunset Strip Music Festival on Talenthouse.com.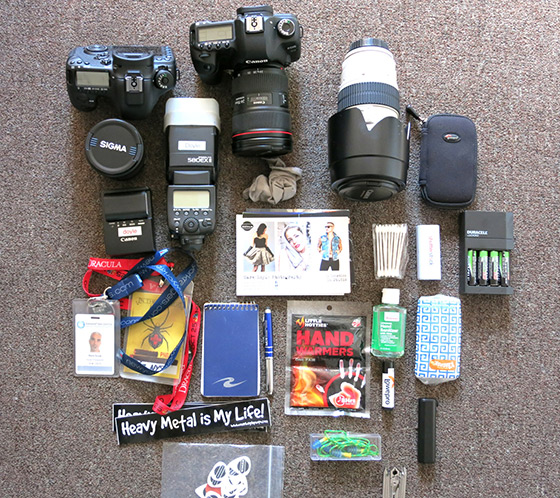 I have various gear for various jobs. This bag is my live concerts and events bag. I also have a film bag and a larger rolling bag for longer events like weddings which I keep with my Manfrotto monopod and tripod. I gauge everything by the amount of time I need to spend on a given event. I shoot mainly concerts and events throughout the year across the country. I'm the house photographer at the Hammerstein Ballroom – Manhattan Center so I like to travel light and tight. I don't like being bogged down with a lot of gear. I feel more effective with a small amount of gear. I'm lucky in that Hammerstein never really gave me any notes on what I needed to shoot or from where so long as things look good. I do all the post work in Lightroom and Photoshop the next morning and get them all the images via Dropbox before I leave my apartment the next day.
I usually balance my Canon 5D Mark II and recently purchased 7D Mark II (had the original 7D) on my double BlackRapid shoulder harness (which I love).
If I'm using one camera I have the single BlackRapid strap so I don't have to break down the double every time I'm only packing one camera. I usually pack my 24-70mm 2.8 and 70-200mm 2.8 lens, and will occasionally bring my Sigma fisheye for those special moments. I usually always pack my Canon PowerShot S110 in this bag as well.
My film bag (not pictured) features my two 35mm Canon Canonets, rolls of Ilford b&w and Ektar color and my two Holgas. And I also keep my old 35mm Canon Rebel G in there just for the heck of it.
Music and Event Bag
– Canon 5D Mark II
– Canon 7D Mark II
– Canon 24-70mm 2.8 II
– Canon 70-200mm 2.8
– Sigma 8mm Fisheye
– Canon Speedlite 580EX II Flash
– Canon LP -E6 batteries and charger
– Black Rapid Double Harness DR 1
– Duracell 1000 AA battery charger and batteries
– Canon Powershot S110 (not pictured but it's usually in there)
– Lightup pen
– Pad
– Q-tips
– Hand sanitizer
– Badges
– Tissues
– Mints
– Hand warmers
– Ear plugs
– Small pocket tool
– Lens brush
– Abel lens cloth
– Custom Guitar Picks w/logo