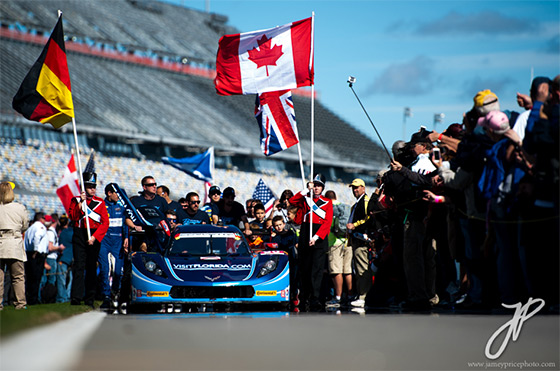 Motorsport photographer Jamey Price shares photos of the 53rd Rolex 24 at Daytona sports car race.
There is a first for everything. The 53rd Rolex 24 at Daytona was my first. My first time to the famed banked oval by the beach. My first 24 hour race. It was everything I thought it would be, and much more. More fun. More exciting. Definitely more exhausting.

The thing I'll remember most about my first 24 is the complete silence that surrounds the track after the race is over. For over 24 hours, there have been engines roaring, relentlessly pounding your eardrums and spine. You can feel the rumble from the mighty Corvette, the scream from the pitchy Ferrari and the powerful grunt from the back of the Aston Martin all the way from your toes to your scalp. But then at 2:10pm on Sunday, it all goes quiet. And the silence is as deafening as the racing.
Continue reading and see more photos on Jamey's blog.