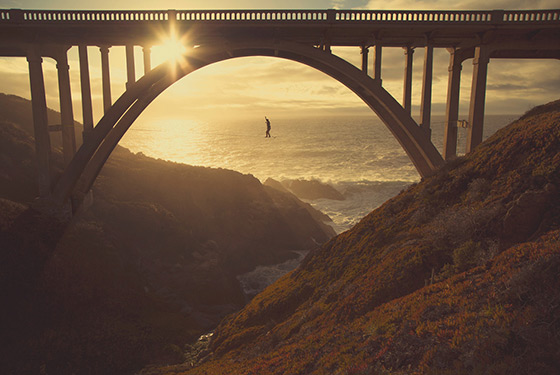 L.A.-based photographer Dan Krauss traveled California seeking good climbing and awesome highlines in the diverse landscapes for his project "Slacklust: Coast to Crest."
"Man it's cold" I thought to myself as I pulled my head out of my sleeping bag. "Is it morning yet?" No… It was still pitch black outside. I did this every hour for the entire night. David's booming snores filled the pop-up camper on top of the van. Everything inside the tent was wet from freezing condensation. When I finally saw the frosted grass turn orange, peeking out of the tent's air vent, I begrudgingly got out of my now-ice-covered sleeping bag and pulled on my puffy jacket. My whole body shuddered as I climbed out of the tent and walked the 500 yards to the hot spring.

We had spent the night at the Mammoth hot springs, day 7 of our 2-week trip. It was the first water my body touched that whole week. We were filthy and our skin raw from climbing in Joshua Tree and Bishop with no rest days. When I picked up my towel and swimsuit that morning, they stood up straight, frozen solid. It had apparently reached temps near zero that night, and wouldn't warm up past 20degrees F for another few hours.
Continue reading and see more photos on Dan's blog.