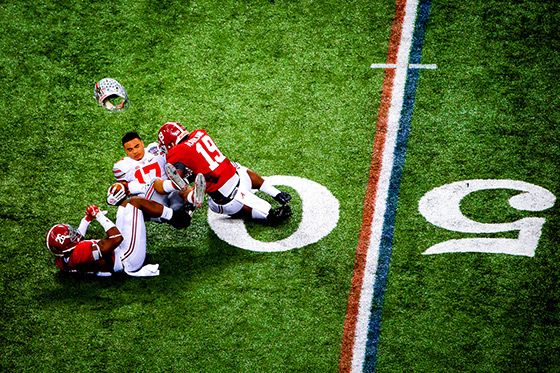 Sarasota, FL-based photographer Chip Litherland covered the Sugar Bowl between Alabama and Ohio State.
In thinking of a title for this post, a myriad of "sugar" puns went through my brain this morning:  Pour Some Sugar on Chip, A Teaspoon of Sugar Makes the Tide Go Down, Lend me Some Sugar I am Your Buckeye but I just went with O-H-I-O! because well it was their night at the Sugar Bowl.  The first College Football Championship kicked off with the Alabama Crimson Tide taking on the underdog Ohio State Buckeyes in New Orleans, and well you know the result by now.

Luckily for me I drew the long straw of covering the Ohio State side, but I always go with the underdog if given the choice.  Emotions run higher – good or bad.  It makes for better imagery.  Luckily either way, the color red was prevalent on either side so I was able to feed my red addiction all day whether it be in the streets of Bourbon or in the dome.  Red was everywhere.
Continue reading and see more photos on Chip's blog.