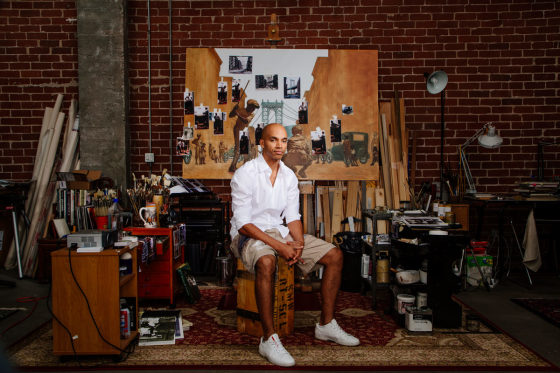 L.A.-based photographer David Walter Banks took portraits of award-winning artist Kadir Nelson for the New York Times.
I photographed artist Kadir Nelson at his studio in downtown Los Angeles. Nelson is an award-winning American artist with a focus on African American culture and history. His works have been exhibited in major national and international publications, institutions, art galleries, and museums. Among his recent accomplishments is the adaptation of his painting of NBA great Wilt Chamberlain into a USPS postage stamp. It's always a bit more nerve-wracking to photograph someone with a sophisticated visual palette. That said, I rather enjoy it. I believe it makes me push myself to perform. This keeps in line with a renewed goal to challenge myself more creatively. In that same vein, I am using more lighting in my portraits, which leaves me with less options due to the increased setup and adjustment time. I like to see this as a better reason to aim for exactly what I'm looking for instead of the shotgun approach. So here's just a few from my time with Kadir, a very talented young artist. Read the NYTimes article here, or go check out Nelson's work here. Gotta love his Drake album cover, and his work on the subject of the King of Pop.
See more photos on David's blog.