C.S. Muncy
is a New York City-based freelance phtojournalist with a client list that includes The New York Times, The Wall Street Journal, Newsday, The New York Daily News and The Village Voice. His work has also appeared in Time Magazine, The Smithsonian Magazine and Wired Japan. In 2012, he was selected for the 25th Eddie Adams Workshop, received the NPPA Short Course Travel Grant and won fixrst prize in the National Geographic/Nikon "Full Story" photo contest. A graduate of the Defense Information School, he enlisted in the United States Air Force in 2002 and is currently a combat correspondent with the 106th Rescue Wing.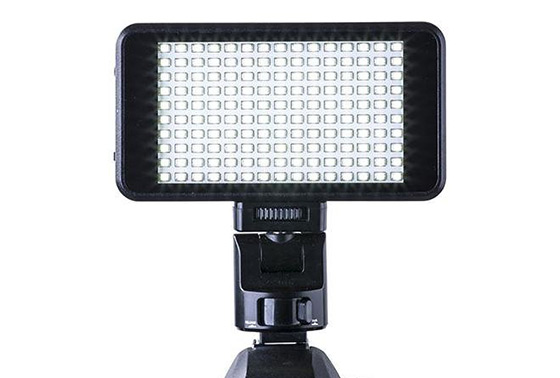 It was sometime well past midnight when the police moved in to Zuccotti Park and began evicting the OWS protesters camped out there. The lights embedded in the sidewalk were either shut off, or covered by the flood of bodies, forcing me to rely on my flash. This wasn't a big deal at the beginning of the eviction, but before the police had gotten through the first two rows of people my batteries were already starting to die. By the time they got to me, my flash had died completely.
This was nightmare scenario for me. Thankfully I was able to use some of the TV crew lights, but this was not an ideal solution. If I had been shooting video, even having more batteries wouldn't have helped out.
Thankfully, I think I've found a good solution. While at the PDN PhotoPlus Expo, I came across the Flashpoint Reporter Super Compact 150 LED.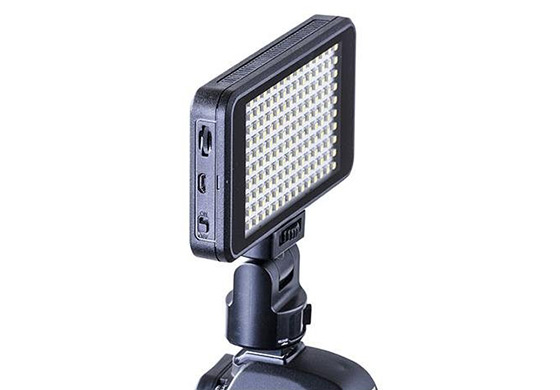 For a device only marginally larger than an iPhone, this LED puts out an amazing amount of flicker-free light. It comes with several color-balancing filters. Best of all, it's USB-charged 4000amH battery is said to last several hours. The 150 LED lights produce very, very little heat and is incredibly bright. The brightness can be manually controlled with a small dial on the right side, and a battery light on the back lets you know how much power you have left as you shoot. I've had this in my bag for the better part of a month now, and it's managed to maintain a full charge.
Did I mention it was cheap? I've played with a couple of similar lights, but at $69, this was one of the more affordable.
My only complaint is that it doesn't come with any kind of diffuser. When placed directly on the subject at full power, the lights can be painfully bright. Even lowered all the way down they can be somewhat distracting. A square of tracing or wax paper would fix this, but a dedicated diffusing filter or attachment would be nice.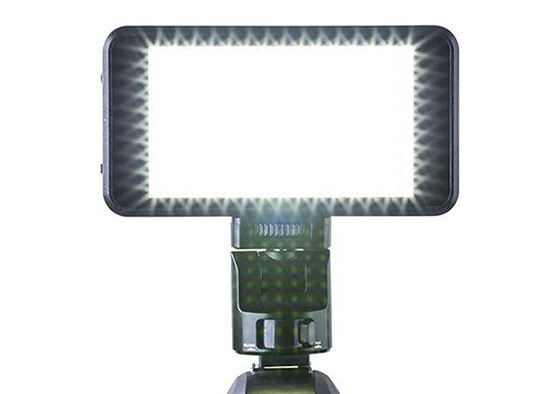 PROS
– Absurdly cheap
– Great manual control over light output
– Long lasting battery life
CONS
– No diffusing filter or attachment