I've arrived at kind of a weird point in my life where I don't really need any more camera gear. It's a weird feeling – for most of my professional life I've just managed to get by on older or secondhand bodies and lenses. Only recently have I been able to afford to get the things I've really needed.
Don't get me wrong, there's lots of stuff that'd be fun to have. A Leica Noct lens would certainly make a great stocking stuffer (I'm looking at you, Robert.) But asking my fiance for a twenty thousand dollar lens might not be the best idea. So, for others who might be asking themselves what the photographer in their life might want, I've put together a small list. I've used most of the items below, and any shooter would love to find these under their tree.
Under $600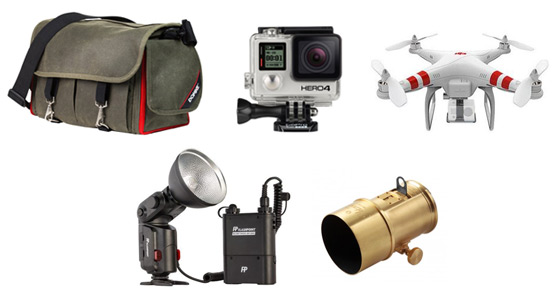 Domke Next Generation Chronicle Camera Bag
$459.99 (currently $317.45 on Amazon)
I've reviewed a number of camera bags over the years, and so far this is one of my favorites. At first glance the Chronicle looks like an old-school Domke bag, but on the inside there are a number of great options for photographers who spent a lot of time out in the field, including expanding pockets, sturdy fabric and webbing, solid D-rings, a comfortable strap and a ton of room on the inside. It's simple, tough, and absolutely worth the money.
GoPro Hero 4 Black
$499.99
These tiny, tough, high quality cameras have completely revolutionized the way action scenes and sports are being filmed these days. The newest version, the GoPro Hero 4 Black, offers 4K video, a faster processor compared to the Hero 3, better low light resolution and built-in WiFi. This is a perfect match for…
DJI Phantom
$469
I picked up a similar drone after Hurricane Sandy in order to document scenes of large-scale disasters, but really they're great for a hundred different projects. And you see them used everywhere these days; for sporting events and landscape photography, weddings, parties and rock concerts. Just be certain you know your local laws and regulations regarding their commercial use, and try not to fly them into anyone. You don't want to be that guy who made them harder to use for everyone else.
Flashpoint 180 Streaklight with Blast Power Pack
$331
So I've used this flash combined with various light modifiers for the last year and have been incredibly happy with the predictable, reproducible results it offers. In capable hands, this bare-bulb flash can give you similar results to heavier, more complicated and powerful studio strobes while allowing you to work out in the field. There are also a ton of great accessories to go along with it, including beauty dishes and grids, wireless triggers, domes and snoots. Really, there's not a lot you can't do with it.
This is one of those lenses that you either love or hate. Starting out as a Kickstarter project last year, this lens hit the market shortly thereafter and became absurdly popular. Based in very early lens designs used primarily in large format cameras, this version was scaled down and modified for use on Nikon and Canon mount bodies. Images taken with Petzval lenses are easily identified by the swirling, dreamy bokeh – great for portraits, somewhat limited for other applications. Still, I was pleasantly surprised by the results I achieved and don't mind recommending it for the holidays.
Under $300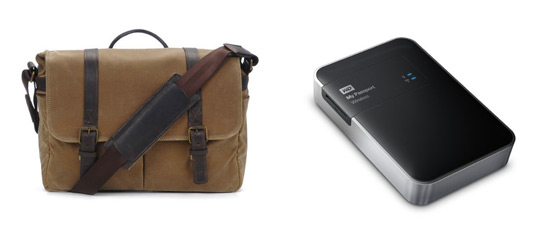 If you're looking to carry a smaller amount of gear in a bag that doesn't scream "PHOTOGRAPHER!" the Ona Brixton Camera Bag is a pretty decent choice. The waxed fabric and leather straps look great and show their wear like a comfortable vintage jacket. It doesn't store a huge amount of gear – really one body and lens, one larger lens and a thirteen inch laptop – but that's kind of the point. Sometimes you just need to travel light, and the Brixton lets you look pretty damned classy wherever you go.
Western Digital MyPassport 2TB WiFi
$219
While it's a little more expensive and bulky than traditional portable hard drives, the best thing about the WD MyPassport is the ability to back up your SD cards in the field, without having to use a computer. The only downside is that this process can be pretty slow; and while there are faster portable HDs out there that can back them up faster, this one has a larger HD space and is WiFi enabled, allowing you to file images to your editors that much faster.
Under $100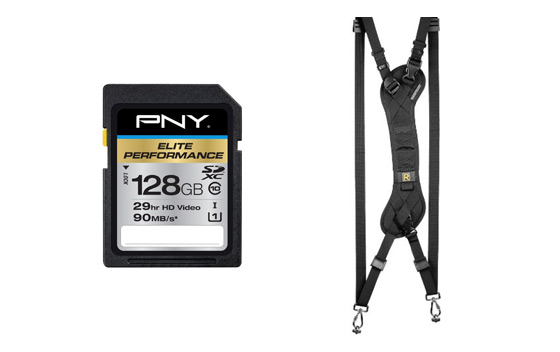 PNY 128GB Class 10 SD Card
$61
This is probably one of the best memory card deals out there. It's fast and cheap.
BlackRapid Yeti Dual Camera Sling
$99.00
For years I've been struggling to find just the right kind of camera sling – and while there are a lot of great brands out there, the BlackRapid Yeti is quickly becoming one of my favorites. Allowing you to carry two bodies from one shoulder frees up your other shoulder for your camera bag.
BONUS: Non-photo stocking stuffers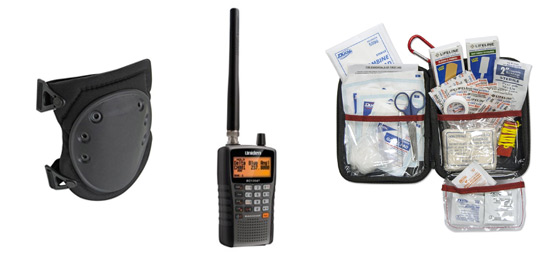 Kneepads – a necessary addition to any kit. Good ones can be found for less than twenty dollars.
Police Scanner – incredibly useful if you're going to cover spot news.
First Aid Kit – Another necessity. Better to have one and not need it than to need it and not have it.
Comfortable footwear – because chasing after parades and protests sucks when your boots don't fit right.