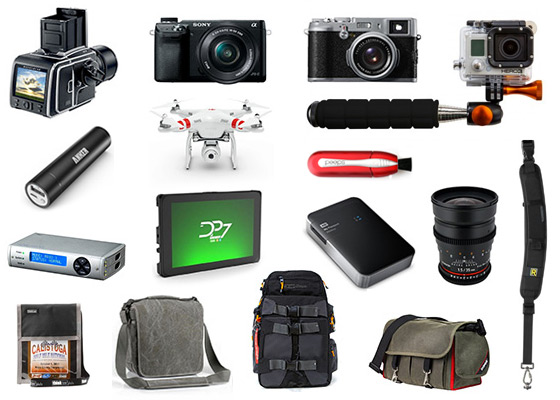 Ho! Ho! Ho! Time to make your photographic gift list in hopes that Santa will bring you everything your camera bag desires. Also, it's a great time to get your last-minute shopping in before the end of the year so you can deduct the purchases on your taxes!
We've again asked a handful of our photo-industry colleagues what products they recommend and/or have on their gift list this holiday season. They came back to us with some great recommendations of cameras, lenses, bags, accessories, and more.
Keep checking back as we'll be adding more recommendations from our friends throughout the holiday season!
We've also asked some of our sponsors to list off some of their cool products you might be interested in this holiday season. Check them out below!
Memories and photos are priceless, so give them the life they deserve by printing them in an AdoramaPix photo book. The lay flat binding delivers beautiful panoramic spreads without any unsightly gutters. Plus, they only use silver halide photo paper and printing to deliver vibrant colors and rich detail. You can also unleash your creativity with their five different kinds of papers and more than a dozen different book sizes. It's never too late to preserve the past. #longliveprints (Use promo code pxphotob20 for a 20% discount on photo books thru Dec. 1!)
Beam lets you easily create a striking, responsive website that looks great on desktops, laptops and tablets alike. With Beam, you get a beautiful website backed by PhotoShelter's image archive, client sharing and delivery tools, and built-in eCommerce platform. Take your photography business to the next level!
GALERIE Prestige Gold Mono Silk is a true black and white media for inkjet printers allowing photographers specialising in monochrome photography to achieve stunning images reminiscent of darkroom prints.
A gift that keeps on giving throughout the year, NPPA membership pays countless dividends in advocacy, inspiration and education. The leading voice on copyright and First Amendment, this association puts itself in the center of today's thorniest issues to fight for your rights to do your work and earn a living from your craft. You can expect the best monthly trade publication delivered to your door or iPad, legal education and support, and educational networking opportunities all for a great value. SPECIAL OFFER: New members can join for 18% off the regular rate (at time of payment, type "PhotoBrigade" when asked how you heard about us). Also, current NPPA members can sponsor a new member and take the same 18% discount on their own renewal.
The Photo Brigade Camera Head Hoodie
You can never go wrong with The Photo Brigade Camera Head hoodie or t-shirt. Show off your love for photography with this exclusive design by The Photo Brigade! You can also get the design printed a tote bag. Grab one today!

Fuji X100s
I love my Leica M9 and 35mm f2, but the Fuji X100s is the one I travel with given how much more affordable it is and how stunning the images are that come off of this wonderfully compact camera. This is the one camera that almost every single one of my film and photography colleagues own as well. It's also the camera I bought for my father who is also a retired professional photographer.

Canon 24mm 1.4
If I had to pick ONE lens for stills and cinema that I could use on a very regular basis this would be it. The flaring and optical quality of this lens are hard to beat unless you go to very specialized glass. That and the 50mm 1.2 are two of my go to lenses for almost anything I shoot with a DSLR -both stills and motion.
This is the most versatile monitor on the market today for all levels of video. The ability to grade on the monitor, and support cameras shooting in Log is a fantastic set of features. The image quality, built, and ergonomics are also some of the best you'll find.

G-tech slim drives
These are the fastest, best performing drives that are also extremely compact and that I therefore travel with all of the time. I use the 1TB model on a regular basis.

DJI Phantom
Personally I like the original model of the Phantom because of its relative affordability to the other models. This is one of the best "big" gifts you can get a friend, family member or even colleague if they deserve it… You'll get many many hours of fun with or without a camera attached, and this is one of the easiest helicopters to fly – and I've tried (and crashed) dozens of them so I know from experience. I also recommend you get the blade protectors for safety and to extend the life of the little chopper should you push your piloting skills a little too far now and then.

Anker Gen Astro Mini Portable External Battery Charger
If there's one thing that sucks, it's when your phone loses its charge. I keep a battery pack in all my camera bags and laptop cases as they come in many different sizes and capacities. Never get caught without power for your phone or tablets!

Amazon Apple Certified Lightning to USB Cable
Amazon actually makes their own Apple certified USB Lightning cords for your Apple devices. What's really great is they sell them in various lengths from just 3" to 6'. The Short ones are nice to keep with the portable chargers I mentioned above and the longer ones are great for your office or bedside table. They're a little more heavy duty than the Apple version and come in white or black.
Driving with a smartphone can be dangerous, so it's best to have a space for it that'll keep your eyes on the road. This window or dash unit is great for using GPS direction apps, controlling the stereo, or speaking on the phone. I currently have an older version of this mount and wouldn't mind having this new version which has a retractable arm for optimal placement.

LensPen Peeps Eyeglass Cleaner
I've always seen lens pens with retractable brushes advertised on the internet, but never picked one up as I've always preferred a microfiber cloth to clean my lens elements. But when walking through this year's PhotoPlus Expo I noticed a small booth promoting lens pens, specifically what caught my eye was a new version that's made for cleaning your eyeglasses (or sunglasses). It utilizes two small microfiber pads that you pinch together and flawlessly cleans both sides of your eyeglasses. This would make a great stocking stuffer for anyone who wears glasses… I think I might pick one up again for each one of my bags because I'm always looking for something to clean my glasses with. It also has a built in brush you can use for your camera lenses!

Cecilia Camera Strap
If you're looking for a classy new lens strap, look no further. Cecilia straps are a very handsome upgrade from your logo-branded, bulky, factory straps. They come in sizes from 2.5cm – 4cm with options of alpaca wool and various shades of high-quality leather. They additionally make handy wrist straps for smaller point and shoot or mirrorless bodies. I've always been a fan of customizing my cameras with sleek and simple straps, no bells and whistles, but quality material. Cecilia delivers.
I recommended this same case last year for my iPhone 5 and love it so much I'm recommending it again for iPhone 6. In general Hex makes great products for all range of Apple and other devices. I haven't carried a wallet since buying this case for nearly two years now. I can't wait for the day all credit cards and IDs are digital and there's no need for physical cards anymore.

Western Digital My Passport 2TB Wireless
This is a particularly good tool for photographers and photojournalists who spend a lot of time out in the field. It's one of the first portable designs I've come across that seamlessly backs up images from your SD cards while at the same time allows you to share through a local WiFi hotspot. The 2TB version is a bit thick for a portable hard drive, and at $219 a little pricier than other drives, but it's totally worth it. The only real complaint I have is that it takes a while to transfer your images from your SD card.
Every photographer should have a "nifty fifty" in their bag. This version is sharp wide open, with a pleasant bokeh that gives great results in mid to low lighting conditions. Almost every photography student begins with a 50mm, and for very good reasons. Shooting on prime lenses forces photographers to consider every aspect of their shot, including their position and the final images composition. Also, it's realitvely cheap! Of course, if you have a little more cash to burn, there's always…

Nikon F100
So this is one of those cameras that you have to buy used. Nikon only makes two film cameras these days, the F6 and the FM-10 (and really, the FM-10 isn't made by Nikon, but rather it's made under license by Cosina.) I love shooting on film whenever possible, and the F100 is a professional-level body capable of working flawlessly with every Nikon lens out there. The N80 and F5 both work with modern lenses as well, but the N80 is just a little too fragile for my tastes and the F5, while built like a solid chunk of magnesium, is a little too heavy for everyday shooting. The F100 bridges the gap between the two, and can often be found through Adorama or B&H for around a hundred dollars. If you're getting this as a gift for someone, be sure to include a brick of Trix (or TMax, if you're feeling snooty.)
I've been wear-testing this new Domke bag for the last few weeks and I'm pretty impressed. It's got a big enough layout for a couple of hard drives, my D800 and several large professional lenses. The waxed canvas exterior is dependably water resistant and the front flap closes with both easy to use metal clasps and velcro. It's a little pricier than some other bags, but it's well worth it.
I've tested a ton of camera slings over the last couple of years. Some are great, some are…well, less so. For the most part, unless you're carrying a D4 with a 400mm 2.8 lens, almost any sling will reliably hold your gear. But in terms of sheer toughness, you can't go wrong with the Sun Sniper line. Not only are they rugged, but they're protected against enterprising thieves with a steel wire running the length of the strap. I have literally been hung up by my Sun Sniper – knowing it can support 220 pounds without breaking is pretty reassuring. If you want something a little more subtle, the original Black Rapid line of slings are top notch. Their customer service is amazing, as well. I had a lug break on me two years back, and they ended up sending me a whole new strap. These are guys who genuinely care about their customers.
Excellent tool for photojournalists, this allows you to file images directly from your camera to your phone. This can be invaluable for spot news photographers who need to file their images in a hurry.
Hands down the most versatile light modifier I've ever used. When I first heard about it, I couldn't get over the ridiculous price, but after repeatedly using one, damn this thing is awesome! Ultra high build quality, quick and easy install and break down, can be used as a parabolic or traditional reflector, and the ability to zoom the strobe head in and out of this deep dish modifier gives precise control of the light fall off and the quality of light during one person portraits.
This kit is great, Profoto build quality, light weight, consistent color, quick recycle times, short flash duration, comparable with all Profoto light modifiers, fully controllable power settings from the on camera transmiter, over 200 full pops on each battery, and the batteries themselves charge fully under an hour.

Schatz Images 25 years book
One of my photo heroes. I just love his work, period. After a busy 25 years making interesting imagery, the man is putting out a "best of" two volume 12×12 book with 832 pages and 1083 images. Only 500 copies will be made. Personally, I'm shocked some are still available. If you aren't familiar with Howard Schatz's work, spend time on his website and check out this insightful article by Jim Colton.

Solofolio portfolio website
SoloFolio.com is a managed WordPress portfolio template created and hosted by Joel Hawksley.
Joel's design allow you to completely integrate your portfolio and blog. Unlike services such as LiveBooks and APhotoFolio, (tried both) having my portfolio in the same place as my blog is a huge SEO benefit, much of my traffic comes from blog posts. The galleries look great on screens of all sizes, without sacrificing usability. My captions are always visible, and my images look great on all mobile devices. Solofolio also separates itself by using high-performance cloud infrastructure and dedicated image hosting that makes the site a lot faster to load than my old shared hosting sites, LiveBooks and APhotoFolio. Joel provides one-on-one consultation when setting everything up, including migrating over an existing blog. ($20/month with $100 setup fee. Discounts available for students)
This bag's great not just for GoPros, but any other small components. Compartmentalize a few lenses, travel with a light mirrorless sytem and some accessories. Pack lots of doodads and parts. Slot for up to a 100oz water reservoir. Very comfortable, and no un-needed bulk. My new favorite backpack!
We all have more gadgets than readily available chargers these days. Most of the gadgets charge via USB…GoPros, phones, tablets, backup batteries, nose canceling headphones and more. Charge them all at the same time, and all at high speed, with a proper multi-charger. When buying a multi-port charger, it's important to pay attention to how many watts (or amps) the charger can deliver, to ensure your iPad's charging doesn't slow down when you hook up another device. This charger delivers enough power to charge multiple tablets at high speed, and saves you from having to carry multiple small chargers.
While the USB charging on this doesn't have the same power as the above multi-charger, it will keep you going and more. Top up your iPhone at the same time you top up your DSLR batteries, or run your laptop in your car. Since it can live in a cupholder, it won't be rolling around in the car, or live its life in the glove box. Must have for the photographer on the go.
When shooting on location with a laptop, there's not always a great spot to set a laptop down. The TetherTools Aero tables solve that. They mount to 1/4×20 or 3/8×16 standard tripod threads, 5/16 "baby pins" found on C-Stands or SuperClamps, or any standard Arca-Swiss mount. Super versatile, and will keep you organized on your shoot. Everything is better when you tether!

Pancro Lens Cleaner
"Pancro Lens cleaning Fluid was judged the hands down best lens cleaning solution at the Camera Assistant Olympics a few years back." That alone is reason enough to switch to Pancro. It's the choice of Hollywood for keeping cinema lenses and filters clean, and should be for all photographers. Time to graduate from the "hot breath on the lens and t-shirt wipe" to a proper level of clean. Pair this with disposable wipes ( http://www.filmtools.com/roslentispad.html ) instead of Micro Fiber cloths to ensure you're not transferring oil or damaging dirt back onto the lens.

Gift Certificate to FilmTools
FilmTools is awesome. Not just pro-level gear…Pro Gear. The real deal. They have everything from gaff tape to $40k 18,000w lighting units. Need to mount something to something else? Chances are FilmTools sells the parts for it. Need proper extension cords? Upgrade from "Home Depot Specials" to proper replaceable-end heavy duty Stingers. Any serious photographer will find something they absolutely NEED at FilmTools.
Great not only for selfies but for getting different perspectives, above the crowd shots and hard to reach places (through fences, low angle for puddle reflections and more)
Highly suggest the GoPro HERO3+ or HERO4 Silver to go along with the XShot. The wide angle allows you to take large group photos and different perspectives. You can also use the GoPro mobile app to see what your shooting so you can compose your shot.

CineBags CB25B Revolution Backpack
My favorite bag to literally fit everything you own on your back. I'm paranoid when leaving a lens at home because i don't want to carry it. It always turns out to be the one lens you needed for something. So I literally carry all my gear. This CineBag is a great bag for that purpose. Also fits your laptop and just makes the overhead bin on an airplane.

iSound Portable Power Max – 16000 mAh
For those who need their phones or shoot with their phones this power back is for you especially when your out in the middle of nowhere with no ability to charge your device. I get at least 4 full chargers when i had my iPhone 5. The other great thing is that you have multiple usb ports to also help friends out when they need a charge.
Last but not least is the Sony NEX-6. I bought this camera with the specific purpose of being able to post high quality photos to social media in close to real-time. This camera has built-in wifi that allows me to transfer images to my phone via the Sony PlayMemories app. This way i don't have to wait until I get hope to get an exciting image uploaded to my Twitter/Instagram feeds.
I don't like camera bags. They either don't have any room to add other gear like clothes or food. or the ones that do, the camera compartment can barely hold a body and two lenses. You can also tell pretty easily that it's a camera bag, and you could be targeted by thieves. That's why F-stop gear's "Internal Camera Units" are a must have. They come in all shapes and sizes, and it allows me to put my $16,000+ worth of camera gear safely and discreetly in my backpack, rucksack, or when I'm flying I can put it in one of my helmet bags. It comes with more dividers than you will ever need, and D-rings on the outside to anchor it to the inside of your bag.
I have one of these straps for about a year now. The padding softens the weight of the DSLR, and it has a strip of MOLLE webbing that allows you to attach a pouch. You can separate the strap using the quick release buckles to turn it into a hand strap.

Think Tank Photo Credential Holder V2.0
At a lot of the workshops I have gone to, I have seen at least one photographer bragging on Think Tank Photo gear. I didn't think it was any different than the other photo bag companies out there. Then I received a couple of their accessories from EAW. They blew me away with how they took something so simple like a credential holder, and improved upon it tremendously. The lanyard is easily adjustable with a cord lock. Includes a bunch of hidden pockets to hold just about anything. During the workshop I had a notebook, 2 pens, schedule, and about 30 business cards. I saw one student who looked like she fit her whole purse in one of them. Whether you get the large or short version, you won't be disappointed.
The Leica M60 is the digital camera to get when you're trying to one up your Leica collecting buddies. No LCD screen? No problem! You're not going to take pictures with it anyways. This baby will sit nicely in your display case next to your gold plated King of Thailand M6.

Hasselblad CFV-50C
The Hasselblad CFV-50C will make your gold-plated limited-edition 503CW feel loved again. This digital back packs a 50 megapixel chip that captures enough detail that you'll be pixel peeping for days. With the new Sony CMOS chip in this, you can shoot up to 6400 ISO. Perfect for taking pictures of birds and flowers!

Largest CF card
With your new CFV-50C back, you'll need a big CF card to store all your files on. Why not buy this Lexar 512 GB card? With write speeds of up to 75 mb/s, you'll never have to wait for your camera's buffer to clear out. And it's cheap (relatively) at only $899.
You'll need the largest monitor possible to pixel peep your amazing macro photos of flowers you took. Or perhaps you really need to check the sharpness of those BIF (birds in flight) photos you too. Well this LG 34" monitor will do the trick. It boasts a 3440 x 1440 resolution. Simply amazing!

100th Anniversary Neiman Marcus Maserati Ghibli S Q4
You'll need a new car to transport you new cameras. What better than this limited-edition Neiman Marcus Maserati. Packing 404 horsepower and all-wheel drive, it'll get you from point A to point B in no time. And since only 100 of these will be made, You'll definitely be the envy among your friends.

Think Tank Photo Retrospective 20
I can't believe how much you can fit inside this bag! I packed a body, 4 lenses (one was a 70-200/2.8 IS) and enough clothes, for three and a half days in Italy, in this bag alone. Of course, there wasn't room for underwear, but come on, its Europe!
Even if you can't afford one of their cameras, Phase One makes a killer software app! I have been using it for 3 versions and continue to be amazed by the RAW processing abilities it has. They keep adding features that make this application very competitive with Lightroom. There might be a little learning curve, but maybe that it what you can do with your time during the slower winter months. Phase One has a free 60 day trial, which is longer than most return policies for those other unwanted gifts, so give it a try!
This may be the most unorthodox wish list suggestion of all, but man does it become a welcomed gift when you need it! Speaking as someone who was robbed of every piece of photography equipment he owned, I can't speak enough to the importance of having good insurance coverage. Don't get caught by the "I'm not a pro, so my homeowners (or renters) policy will cover it" mindset. It might, but don't bet on it. Good coverage isn't that expensive, in the grand scheme of things. Trust me.
As a video shooter, I am always looking for new angles. And when you can add an extra angle without needing to add an extra person to your shoot, that is a big win! The One Man Crew is light, easy to set up and offer a ton of options to help bring extra life to your interview shoot.
So you have to have $40K for a cine lens, right? Not really. Yes, those are REALLY nice lenses, but when considering the cost vs. quality factor of Rokinon's cine lenses, you really should pay attention. For DSLR video, these lenses rock. They are sharp, have a great feel and have focus gears built in! Add in the smooth aperture ring and you've got a great package for a fraction of the cost of most other lenses.
This drive is not much larger than your usual 2.5" peripheral hard drive but has two features that make the added bulk worthwhile. It has two drives that function as a RAID 0 (striping for speed) or a RAID 1 (mirrored copies for backup). The Duo accepts easily removable 2.5" notebook drives which can be split between bags or crew for safety's sake. Having a hardware RAID over using software to back up to multiple drives frees up ports on the computer and instantly protects against drive failure when you copy files to it.

GoPro HERO4
The ability to shoot 4k and resize, stabilize, and "crop" video footage is worth the upgrade from the 3/3+, but the Hero 3's will remain in my bag. Super light and portable, but if it's anything like the 3+ buy extra batteries. Lots of them.
Many gimbals designed for Go Pro only feature two axis', namely roll and tilt. With the H3-3D DJI added a yaw axis, cutting out most of the unwanted yaw coming from your drone or footsteps. The software is the most intuitive of any go pro gimbal I have used and tries to make a complex piece of equipment a little more friendly to the layperson.
This has made organizing my gear (and keeping track of it on set!) a much easier task. There are more advanced options that connect to your computer but I haven't felt like I need more than a few lines of neatly printed text to mark anything.

Leatherman New Wave Multitool
I have carried the Leatherman Wave and like the one-handed opening blades as well as the overall build quality of the tool. I am yet to use the "new wave" but I assume that Leatherman has made it more useful with their addition of interchangeable screwdriver bits.