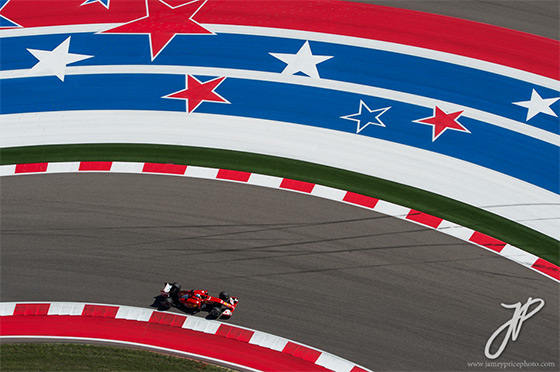 Motorsport photographer Jamey Price covered the Formula 1 United States Grand Prix at Circuit of the Americas in Austin, TX.
In my eyes and my mind, Formula One has already crowned it's 2014 World Driver's champion. "How so" you say? "We have 2 races to go" they argue, "and one them is double points!"

Let me elaborate.

Lewis Hamilton is a man on a mission. Nico Rosberg is a guy without motivation. As a former athlete myself, I'm not sure how he ended up here. If you had put me in a corner and told me I was going to lose a race as a swimmer or jockey, there are two mindsets to take. One would be to say "yeah, you're probably right. Why bother" The other would be to say "F&*K you" and go fight for every inch. If you lose, at least you can say you tried with the latter. At this point, Rosberg isn't trying very hard. Forget he was on pole for the United States GP. Hamilton had a "problem" with the car and fell down the order to a pathetic second place grid position….well that's the way he made it feel anyway. So it was Rosberg's to lose, right?
Continue reading and see more photos on Jamey's blog.