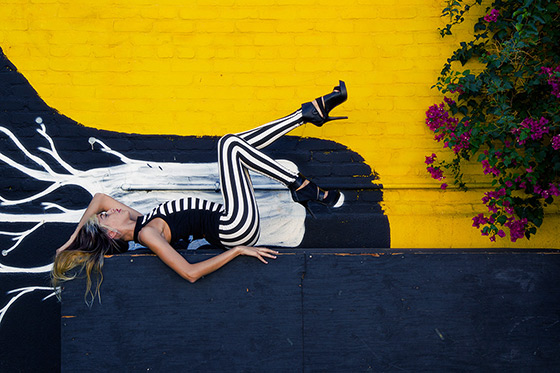 L.A.-based photographer Dan Krauss shares photos of one of his recent personal shoots.
As part of my goal of doing one personal shoot a week, I got back in touch with stylist and model Chelsey Rader for a quick shoot in the Arts District of LA. The goal was to be up and ready to shoot for first light, but LA traffic squashed that plan. While I was waiting for her to arrive, I decided to take a walk and found some interesting murals and shaded light to shoot around. One in particular was a black-and-white striped mural that looked interesting. When Chelsey arrived, I saw the black-and-white striped leggings and got excited, and then she pulled out the matching leotard. It was perfect! Just goes to show, no matter how or what you plan, success comes from being quick on your feet. The day didn't go at all as planned… And for that, I am happy.
See more of Dan's personal photo shoots on his blog.