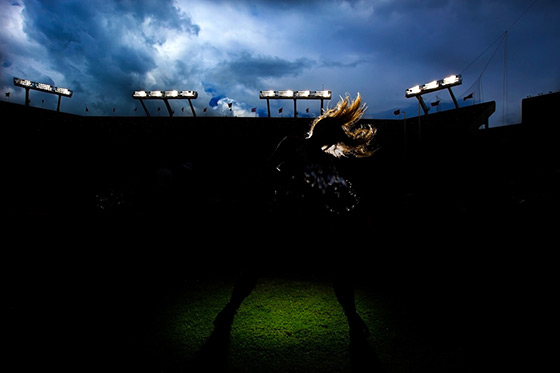 Sarasota, FL-based photographer Chip Litherland documents the experience around Tampa Bay Buccaneers games.
Sometimes a change is in order.  For instance I'm posting to my blog again – shocker!

Or take The Tampa Bay Buccaneers…they've changed a lot since last season and that's an understatement.  After letting go most of their coaching staff, bringing in a ton of new talent, and unveiling the new uniforms and branding, the Bucs have returned to the same stadium I've been trudging up and down for a while now for 10 games every year.  I absolutely love every minute of it – every sweaty, nasty, and wet minute.  Once you get beyond the new look, there is still the same rabid fan base and the same amazing client that hires myself and a team of amazing photographers (I'm at the bottom of that totem pole) that cover the game day experience.  I'm hired to shoot everything but the action, and that is totally fine by me.  My goal is to capture this team and the game from a unique perspective which is often with the same access that every fan and sports shooter has.  I just try to make the freaking best out of it every weekend I get to come back.  I follow the fans and not the ball.
Continue reading and see more photos on Chip's blog.