Have you ever covered bomb disposal techs at work? It's a weird thing – they rush like hell getting to the scene, then take all the time in the world setting things up so everyone's safe. The tech himself probably spends a good half hour suiting up in one of those big Hurt Locker suits, then shuffles his way down to the suspicious package (which, nine hundred and ninety nine times out of a thousand turns out to be nothing.) On the rare occasion when they encounter something that actually needs to be properly disposed of, it usually goes in the back of the truck. Those trucks are insane, too – the container designed to hold the bomb is gigantic, surrounded by thick metal and can contain some pretty significant blasts.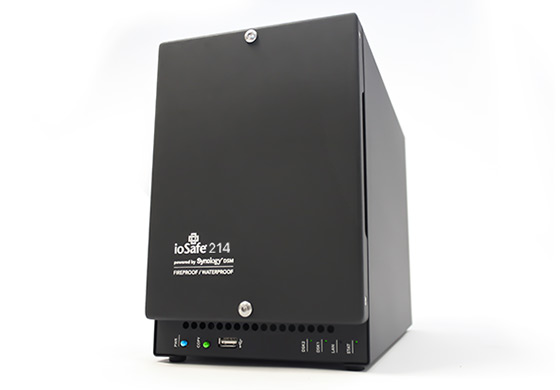 When the ioSafe 214 Network Drive was shipped to me, that was the first thing that came to mind. Popping it open, the casing immediately reminded me of one of those bomb-disposal containers. It's huge and clunky compared to similar drives, and it's heavy as hell. Also, this thing is designed to survive Judgement Day (the James Cameron variety, of course. I have no idea how it's rated against biblical judgement.)
I've reviewed networked drives before, but I'll give you the bridge notes on why they're so valuable for news shooters. They're off-site backups, which allow you to preserve sensitive photos and information in environments where that might otherwise be a concern. For security reasons, keeping a network drive at home can be preferable to keeping photos on an online service. Getting right to point, the ioSafe rep emailed me to say "I assume you've deleted all your nude selfies from the iCloud and put them on the 214 instead?" All kidding aside, situations like this are precisely why shooters should consider a home-networked drive rather than an online cloud-based service. It's all too easy for those service to shut down (or be shut down.)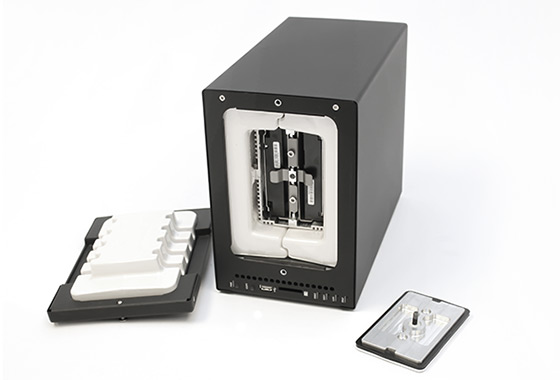 Putting the drive through several torture tests, it came out scuffed but perfectly functional. The drop tests involved four foot drops to a wooden floor, getting doused with water and submerged in my sink and continued (after a day of drying out) to work like a charm. According to ioSafe it can survive up to three days submerged in ten feet of saltwater, and up to 1550 degrees Fahrenheit for a half hour.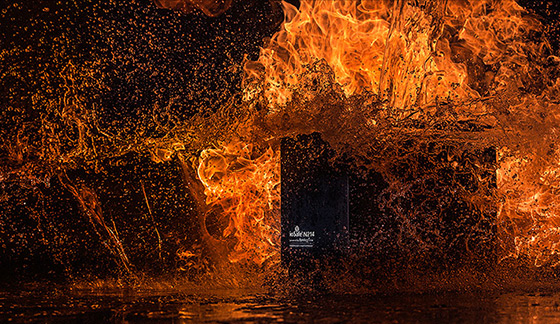 My worst tests pale in comparison to this video, though.
So what don't I like about this drive? From a technical aspect, not much. It's simple, it's tough, and it does it's job. That's about as much as one can ask from it. Of course, it's also gigantic, brutally heavy and the transfer speeds depend both on your device's connection and your connection at home. Keep in mind that you're really going to have to dedicate some space for this thing if you pick it up.
Technical Specs:
Fire Protection: Protects data from fire. Up to 1550°F, 30 minutes per ASTM E-119.
Flood Protection: Protects data from flood. Fully submersed, fresh or salt water, 10 foot depth, 72 hours.
Theft Protection: Kensington® Security Slot. Optional Floor Mount / Padlock Kit.
CPU Frequency: 1.06 Ghz Dual Core ATOM
Hardware Encryption Engine: Yes
Memory: DDR3 512MB
Internal HDD/SSD: 3.5" or 2.5" SATA(II) X 2 (hard drives not included)
Max Internal Capacity: 8TB (2X 4TB hard drives) (The actual capacity will differ according to volume types.)
Hot Swappable HDD: Yes
External Storage Interface: 1X USB 2.0 port, 2X USB 3.0 ports
Size (HxWxD): 5.9 in (150mm) x 9.06 in (230mm) x 11.5 in (292mm)
Weight: 28 lbs (12.7 kg)
LAN: 1X Gigabit
Wireless Support: Yes (wireless dongles not included)
Wake on LAN/WAN: Yes
Noise Level2: 9.9 dB(A)
AC Input Power Voltage: 100V to 240V
Power Frequency: 50Hz to 60Hz, Single Phase
Power Consumption3: 18.48 W (Access); 8.28 W (HDD Hibernation)
Operating Temperature: 5°C to 35°C (40°F to 95°F)
Storage Temperature: -10°C to 70°C (15°F to to 158°F)