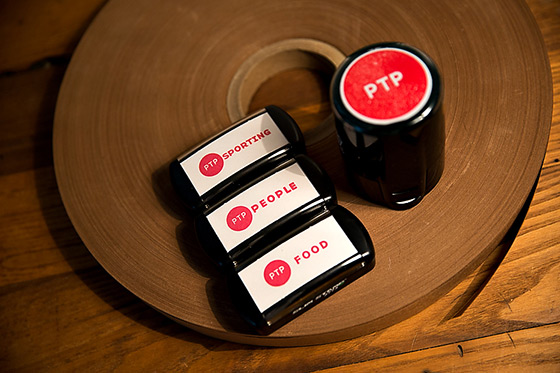 Charlotte, NC-based photographer Peter Taylor shares his new promo cards.
Sending out promos is a love/hate task that all photographers have to do. I love it on one hand, I enjoy picking the images, designing the promo, etc. I hate all the labeling and stamping and writing. Some photographers hire people to handle this, others don't do it very often. I try to send out 4-6 email promos and at least one printed piece each year. This year I chose packs of large, 6×9 post cards, wrapped in a hand stamped kraft paper belly band and included a hand written note. There is a pack of 5 food cards and a pack of 5 people cards, these go out to most all of the people on the list. There is also a pack of 4 sporting cards that only goes out to appropriate recipients. The envelop has another hand stamped logo on it. I have also included a single card highlighting my Instagram account, hoping to gain some creative followers. That's it. We are sending out 500 to a curated small list of corporate and advertising potential clients. I am considering a small run of about 100 to some magazines. I am sending these out in batches, as soon as I finish about 75 notes, I run them to the post office ( where, I will admit, I underestimated the postage. I considered the size, but not the weight. So instead of $1, each one costs $2.03 to send out! DOH! ) I have received quite a few requests to share what I am sending out and since I am super tight on my cards, I thought I'd make a post here and share what we are doing. I hope y'all like it! And I hope the creatives like it even more!
See more photos on Peter's blog.