By Nic Coury, C.S. Muncy and Zach D. Roberts
Many reading this blog are familiar with the protests in Ferguson, Missouri over the shooting of an unarmed teenager a few weeks ago and the heavy police action with both the community and the press covering the news. Three regular contributors to this blog give their tips on dealing with spot news, often with police in a riot or crime scene.
C.S. Muncy is a New York City-based freelance photojournalist with a client list that includes The New York Times, The Wall Street Journal, Newsday, The New York Daily News and The Village Voice. His work has also appeared in Time Magazine, The Smithsonian Magazine and Wired Japan. In 2012, he was selected for the 25th Eddie Adams Workshop, received the NPPA Short Course Travel Grant and won first prize in the National Geographic/Nikon "Full Story" photo contest. A graduate of the Defense Information School, he enlisted in the United States Air Force in 2002 and is currently a combat correspondent with the 106th Rescue Wing.
So here's the thing about covering protests: no two are going to be alike. Sure, there's a ton of the same old tropes that can lull you into a sense of complacency ("Hey look, giant puppets!") but really they can turn sour in just a few minutes.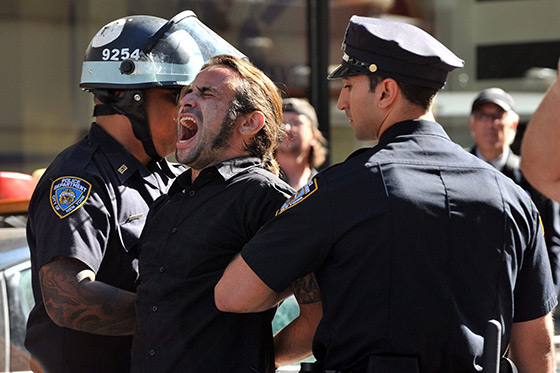 I'll use Occupy as an example. For the first few weeks of Occupy Wall Street, everything was pretty copacetic. The protesters did their thing, and the cops did theirs. Not a ton of arrests. But in the weeks leading up to Zuccotti getting cleared out, it started to turn pretty ugly. Brooklyn Bridge was the turning point, I think. After that, instead of the movement being about getting money out of government, it really became a running fight with the cops over who could stand in the streets longest.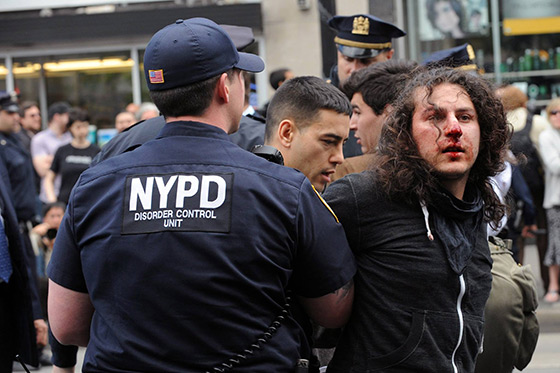 You work in that kind of environment long enough, and you start getting a little defensive yourself. There's really only so much of that you can deal with before you start getting testy. Some protesters don't like you taking their photos and grab at your cameras, some cops do the same. You really start thinking "Ok, who's going to fuck with me next?" The trick is to not let that attitude travel with you from story to story.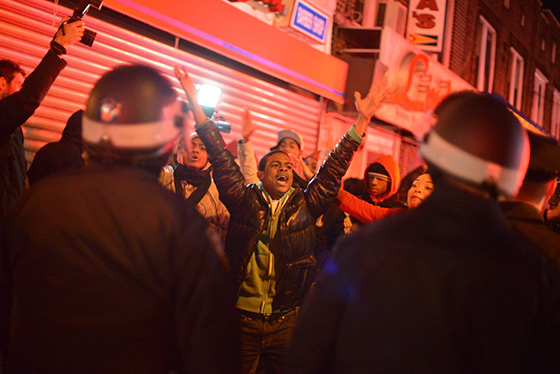 I made this mistake at the G8 Summit in Chicago. Throughout the protest I was a little cranky, expecting the Chicago PD to give me flak. Eventually, one of them just said "Dude, calm down. Nobody's going to stop you from taking your photos." And it was true, by and large nobody gave me a problem. Like I said, don't expect one protest to be like the last.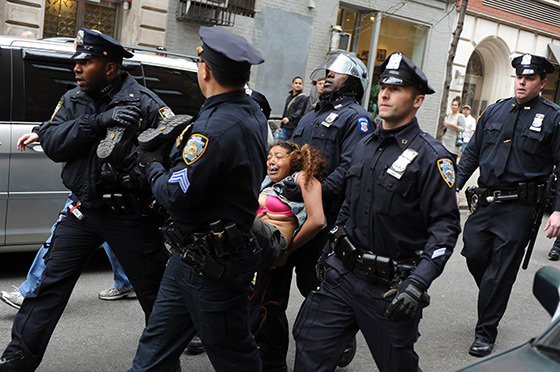 That's not to say you might not encounter trouble. For working photographers, the best suggestions I can give are to keep your press passes visible at all times, wear protection when needed and always keep your hands on your gear.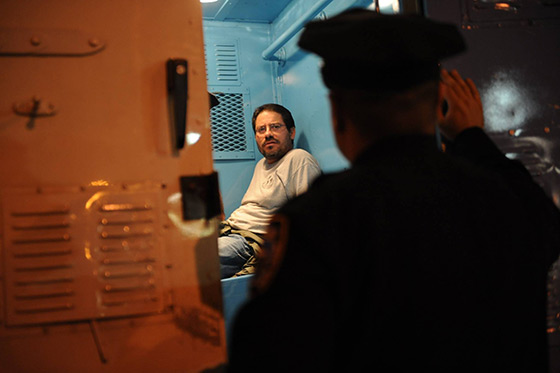 There's a hundred protests in New York City every month; so many that it's an incredibly tough subject to sell to editors. "If signs have to explain what's going on in your photograph," one editor told me at the Eddie Adams Workshop two years back, "then you're probably not doing a great job telling a story." Remember that.

Nic Coury is a photojournalist based in Monterey, Calif. He has had work published in Sports Illustrated, Cycle World and Bicycling magazines, and has shot commercial jobs for Specialized Bicycles, Ferrari and Bugatti. He also covers crime for a local newspaper. In his free time, he drinks too many espressos and wins mustache competitions.
While covering crime late at night when the scene is still active and police are searching for suspects, being very aware of your surroundings is key to your safety. During a shooting in February, I was running towards the police who were running after a suspect of that shooting. They noticed me about 20 feet away and being so late at night the visual of me holding a camera up to my face looks like a person holding a rifle. I came face-to-face with an officer's Glock, a second officer's shotgun and a K9 unit, all pointed directly at me. I immediately raised my hands holding my cameras, disarming myself, and the cops immediately saw my press ID. They told me to very slowly backup behind a car or the dog might attack.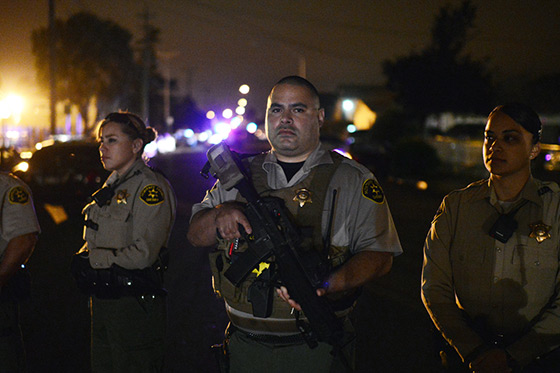 I don't cover as many protests as C.S. or Zach, but I do photograph a lot of spot news and crime stories. I both write about and photograph gang and drug violence in the Monterey Peninsula in California and deal with the police on a very regular basis. I've been at the working end of police weapons and K9 units, detained by the Navy and harassed by photo subjects while on the scene of a shooting and learned a lot about my role as a journalist in that time and how to handle myself in tense situations.
First off, always be professional. This is not a question or something to be taken lightly. It's not bad to be firm with people if you're in the right, but always be professional on the job. I deal with the local police departments a lot and I'm always courteous with them, often friendly, because I have very good working relationships with the officers and the commanders of the various departments. It's a respectful relationship where both parties know the boundaries of what we can and can't do. Often, the sergeants and commanders make a concerted effort to take a few minutes, when they can, to come over and talk to me. I know many of the officers by first name and it helps when I arrive to a crime scene and know who I'm able to talk to or not. In our local jurisdictions, sergeants and above are the only ones able to talk to the press.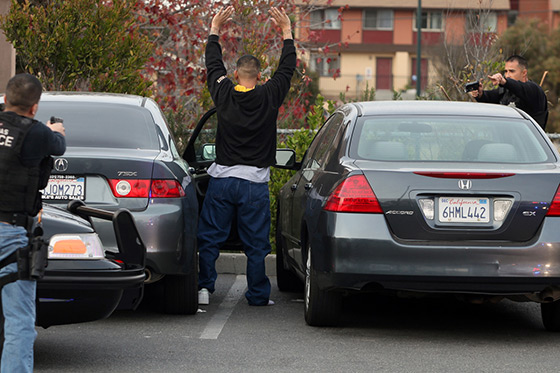 When dealing with angry people at crime scenes who are friends or family of the victim, I don't talk much. I've been yelled at and threatened too many times to count, but the key is not to engage people. I stand firm in my ability—and right—to be a witness to the event and document it as honestly as possible. Crime is a gruesome world, but it's part of the world we live in and as a journalists we need to be there to tell the story. I explain to people if they have a problem with my taking pictures, they can contact my editor, because I know she will back me up if I'm in the right. She is also a believer to good journalism in both good and bad situations. I've been not in the right in a few situations, but learned from those times and hopefully am making smarter decisions now.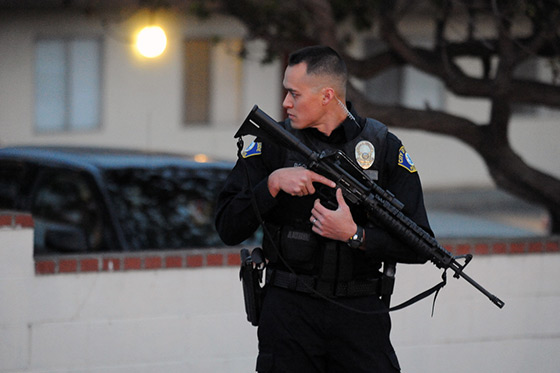 Another piece of advice is to know your rights as a journalist. Know where you can and cannot be shooting from and have a decent sense of basic laws to back you up if, or when, you're confronted by police or angry community members. Though quoting section 18.795 of the U.S. Code (Photographing and sketching defense installations) didn't impress the Navy police…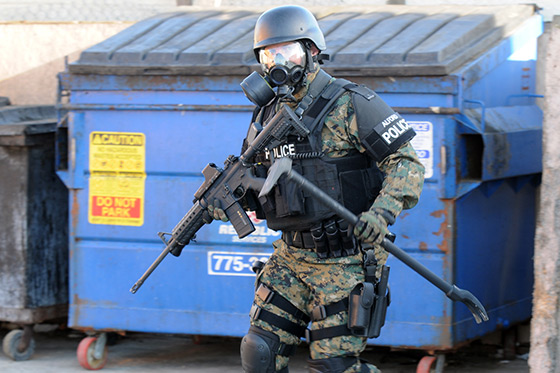 There is a phrase we used to use when I worked on staff at summer camp: When one of us looks good, we all look good, but when one of us looks bad, we all look bad. As news journalists, it is vitally important to always look good on the job. We must always be professionals, especially in high stress, potentially violent news situations. With all the vitriol for the press, we have to make a concerted effort to be the good guys.
One final note is while having a police scanner is very handy, it should really only be used as a general guide and never overly quoted as source for information. If confused, visit this website.

Zach Roberts is a photographer and videographer who splits his time between New York and Alaska. His work has been published in The Observer, The Guardian, The Brooklyn Paper, and BBC, as well as Gawker, Portfolio.com and GregPalast.com. He is currently the photo editor of TheMudflats.net and a regular contributor to Truthout.org.
I've been trampled, arrested and beaten by the police while working as a photojournalist. So, while I've never been in an active war zone (C.S. Muncy and I missed the Kiev shootings by hours) I can give some tips for dealing with local law enforcement.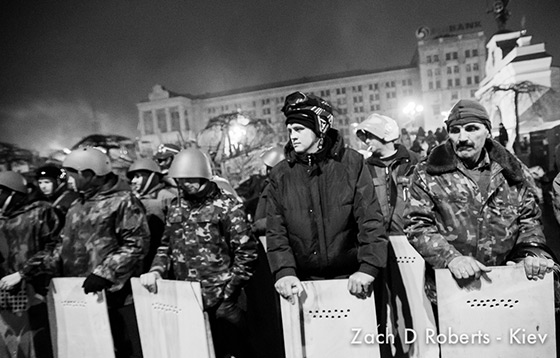 Talk to the local press right away. Find out what resources the police use/have available for confrontations with protesters or rioters. When I was in Chicago covering the NATO protests I discovered that the CPD had a LRAD (Long Range Acoustic Device) and thus we needed ear plugs, something that is not usually in my bag.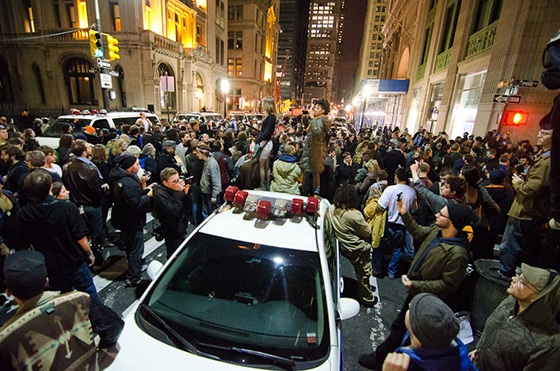 Keep calm. Seriously, making brash decisions about where/when to go somewhere have a high likelihood of getting you arrested or having to be in the wrong spot and thus missing the shot. I recommend picking a spot where you can easily see both sides and be prepared to run.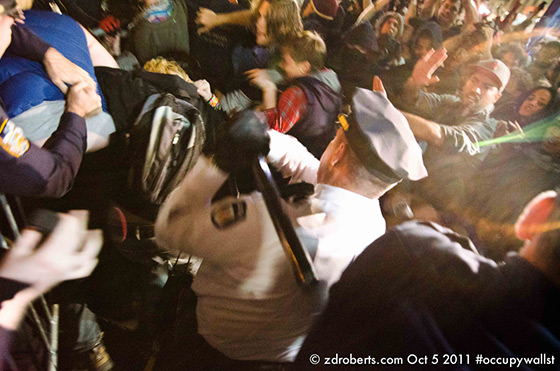 People describe war as "Long periods of boredom punctuated by moments of terror," police actions aren't that much different. Things can turn suddenly on either side, one bottle thrown, or one cop that decides to act out on his own and everything's suddenly chaos. So always keep eyes on your six. I do that by sticking with a small crew, usually including CS Muncy.