Zach Roberts
is a photographer and videographer who splits his time between New York and Alaska. His work has been published in The Observer, The Guardian, The Brooklyn Paper, and BBC, as well as Gawker, Portfolio.com and GregPalast.com. He is currently the photo editor of TheMudflats.net and a regular contributor to Truthout.org.
It's 110 degrees out here and it's only 10 a.m. Marcus and I will be here for a total of 13 hours.
At 10am, it's hour 4.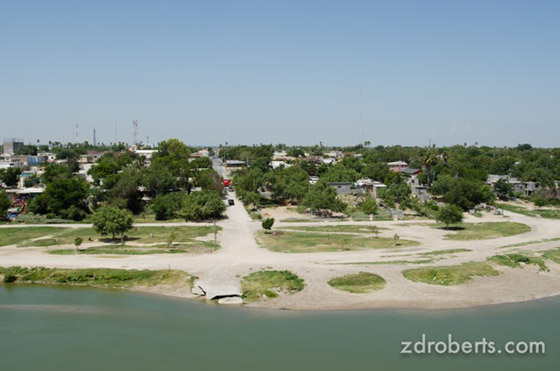 Supposedly, this is where many people have been crossing the Rio Grande en masse. The photos we've seen from this spot by the very excellent Daily News shooter Marcus Santos show rafts coming across the river. We need this shot, as it will pretty much justify this whole trip to Texas. The rafts in the photos go right up to the American shore, with the Border Patrol waiting. From there, they are quickly processed and sent to places like the Sacred Heart Church in McAllen, Texas where volunteers will take care of them.
But that's a different story for a different day. Today we're standing border watch.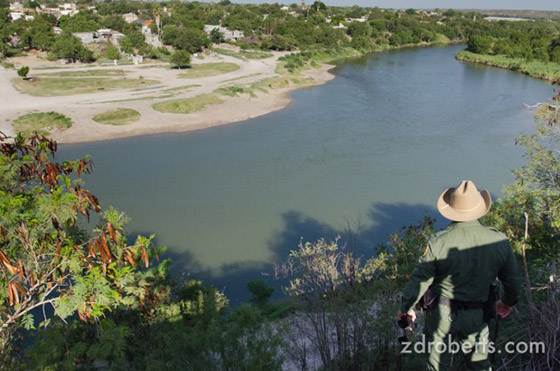 We drove an hour and a half from our base city McAllen, Texas, to a small border town called Roma.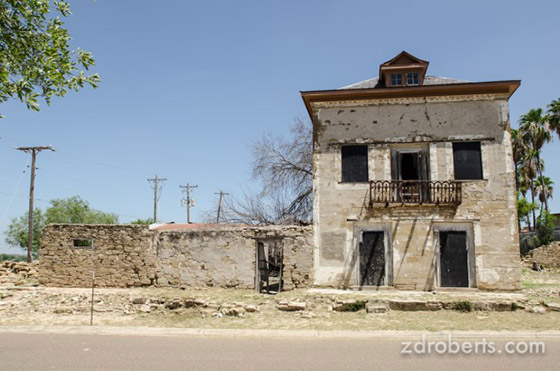 We've been told that there's a purple or maroon pickup truck that we should keep an eye out for. It's around 8 a.m. when we see it the first time. It makes a loop down to the water lifting our hopes that this might be a short day.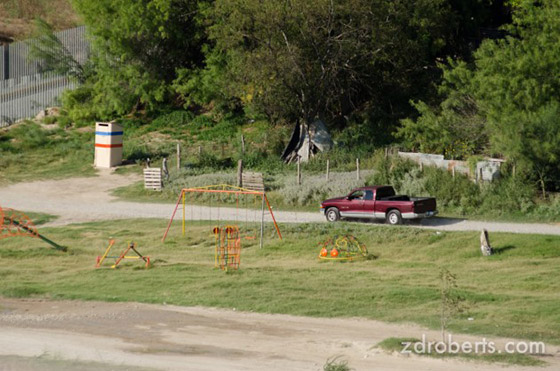 It slows down, stops for a moment and then hauls ass back up the hill. This, unfortunately, will be the theme of the day. Trucks make an agonizingly slow pass along the water and then slam up the paved road. No way of telling if they see us and decide to go, or they're just bored like us.
By noon this small spit of land on a curve along the Rio Grande has become a park, just like in any other small town in America. Children swim and play with their parents in the water, some even fish.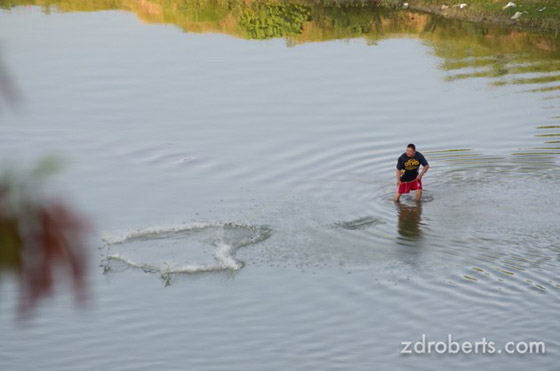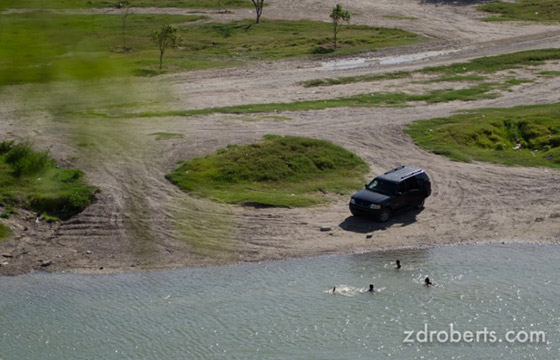 Old men slowly pace on the worn down paths that likely they have made over years.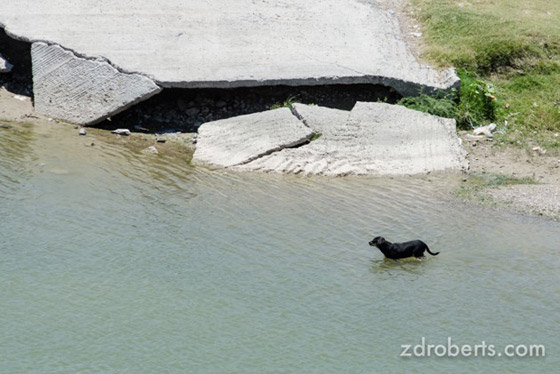 Dogs play and fight and cool off in what's possibly the most watched waterway in North America. I spend the last 6 hours of our watch leaning against one of the few trees that give some dappled shade near our perch looking down on the river. Early on I come to terms with the likely fact that I'm not getting anything front-page-worthy today. So, I just sit, enjoying watching this small town on the other side of the border go through its daily life.
Roma, the town on the American side looks like an abandoned set from a spaghetti western, which isn't that far off. Elia Kazan and John Steinbeck's Viva Zapata! was filmed here. It told the story of Mexican revolutionary Emiliano Zapata. I haven't seen the movie, but a Mexican Marlon Brando interests me. Alan Reed, the voice of Fred Flintstone, plays Pancho Villa.
On our one and only break during the day we went searching for a eccentric Mexican restaurant or at least some non-fast food. We ended up at a Dairy Queen. This town, like much of the borderland, has been hit hard by economic changes. I'm ranting to Marcus about the North American Free Trade Agreement, but honestly I think he has his headphones in.
We took our break at 2 o'clock, at the height of the heat. Marcus, for some reason that I can't understand, refused to wear sunscreen so I think he has sunstroke. He's a bright pink, which is different than his usual standard whiteness. I keep throwing him bottles of water which I'm not quite sure he's consuming. He'll survive, but I'm starting to wonder how anyone does in a place like this. This is country for lizards and cacti, not much else. I'm on my 5th or 6th bottle and have been living off of the mini Clif bars that I bought at the Target in preparation for this stakeout.
It's the late afternoon and we get a peak of excitement. The Mexican Army shows up with big guns. OK, we think – no one in rafts crossing the river but at least we'll get some action.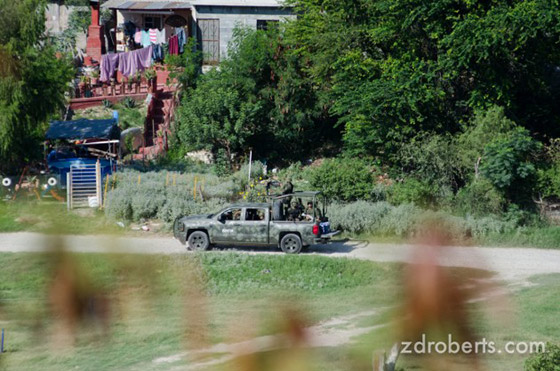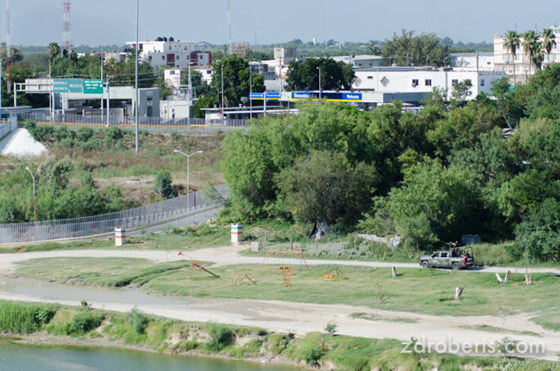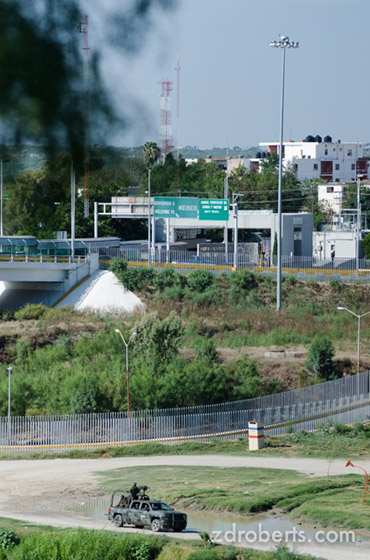 Nope. Just a camo pickup truck with a grenade launcher on top driving slowly, parking, and then searching someones back yard. Just another day on the other side of the border. Eight hours into a stakeout this is not the scene we were hoping for. But, such is a stakeout.
It's 6pm, and we decide to give it 30 more minutes. At this point I'm shooting b-roll for a project I'll likely never do. Video of the water flowing, birds chirping, leaves moving.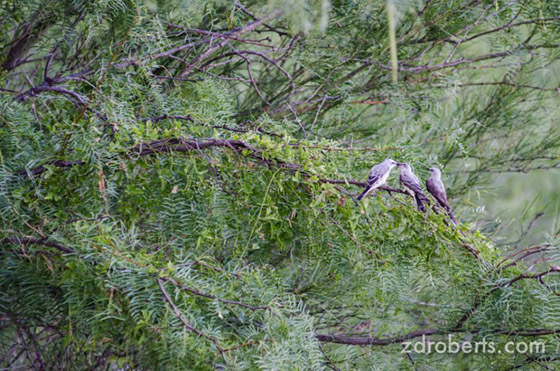 But the kids are having fun, the families are having fun, and I decide that I am too. I've got cameras around my neck, some good Nikon glass. And I am happy.
We end up with nothing but some scenic shots of a quiet border town from a perch in what, according to signs, is a bird sanctuary.