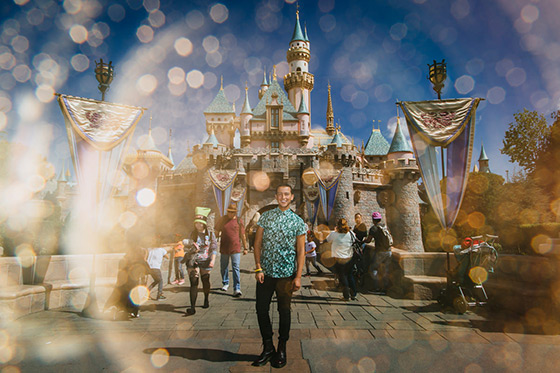 L.A.-based photographer David Walter Banks had a photo shoot at Disneyland with a teen cancer survivor.
During my recent endeavor to incorporate yoga into my life, I've chosen certain words to focus on and come back to when I feel my mind stray. Among these are, stereotypically, creativity, but more importantly kindness and positivity. I have no doubt that my life and the life of those around me would be better if I could cling to those two words more often. When I met Keaton Williams, he embodied those terms. Not only did he remain positive through a winning bout with cancer, but he showed compassion both then and now for others navigating the same struggle. Throughout our short shoot at Disneyland where Williams works, I was continually reminded to check my own attitude. It was directly after this shoot that I rushed to my first yoga workshop, which spurred a commitment to take regular classes. And it's to Keaton that I owe thanks for setting the intention in my mind for that first class – one that I hope will remain for a long time to come. To read Laura Landro's story about Keaton and the need for more resources for teens undergoing cancer treatment, click here.
See more photos on David's blog.