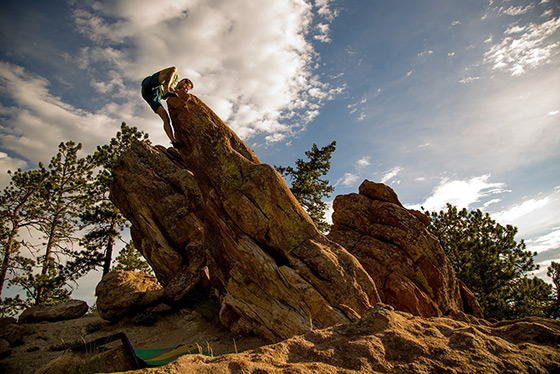 L.A.-based photographer Dan Krauss has set a goal to do a personal shoot every week and shares recent photos of climbing.
The last few months have been a blur of busy work, which is by no means a complaint. But when I find myself with some down time, I tend to get stuck in this place of waiting for the next assignment, which sometimes takes a few days, or even weeks depending on the season. Lately, to combat the laziness that tries to set in, I've been making myself do 1 personal shoot a week. It's not a very tall order. I could probably force myself to do 2 or 3 shoots a week if I really wanted. But I'm starting with a manageable goal. It lets me figure out what I want to see in my portfolio, and just go out and do it. It's a great way to allow myself the creative freedom that you don't always have with assignment work. Lately, all I want to do is shoot climbing. Maybe some fashion here and there. It allows me to wake up early, or get out in the evening after plugging away at the computer all day. It gets the blood flowing in my legs and keeps my brain from getting slogged down in the muck of editing and marketing.

This is why I love photography so much. The freedom of doing and shooting what I want, and hopefully when I want. It doesn't take much effort for the one personal shoot a week, but it's been doing wonders for my sanity and keeps me from becoming stagnant. I hope this helps inspire someone to get a new project off the ground or find new enjoyment in their work. Go shoot something for yourself. You won't regret it.
See more photos on Dan's blog.