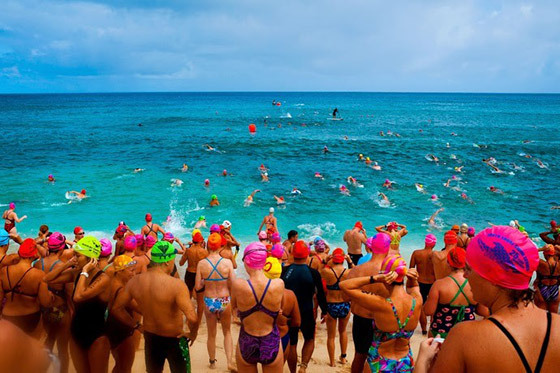 Honolulu-based photographer Elyse Butler Mallams shares photos of the North Shore Swim Series in Hawaii.
I love swimming in the open ocean. It is my absolute favorite pastime, exhilarating and meditative, flowing with the currents and waves in the sea I always feel completely present and alive in the moment. For the past four years I have been swimming in the North Shore Swim Series races, ranging from 1 miles to 2.3 miles along the gorgeous golden coastline of Oahu's beautiful North Shore, it is the best way to experience the vast open ocean, alongside 600+ swimmers. Last year I had the awesome opportunity to both swim and photograph the races for Hana Hou! The Magazine of Hawaiian Airlines. Check it out in the current issue of Hana Hou! and if you're on the island, come swim or watch one of the races this summer!
See more photos on Elyse's blog.