Jason Andrew Hynes
is a photographer based in the beautiful island of Newfoundland, Canada. He has been taking pictures for as long as he can remember. He's always been passionate about photography, about the gear, and learning about the people. Jason specializes in wedding photography and portraiture both in studio and on location, but also enjoys capturing the stunning beauty of landscapes. His son Charlie is his proudest accomplishment to date.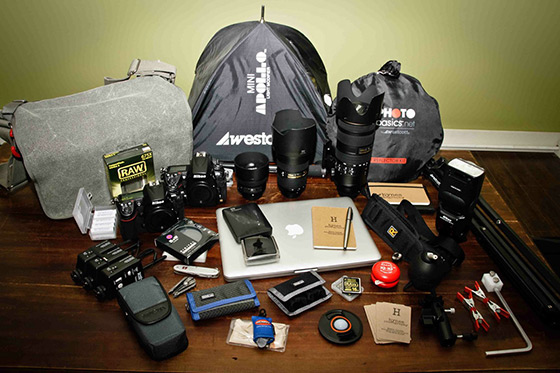 I shoot mainly portraiture and wedding photography, both in studio and on location. This is my main gear that I try to get to shoots whenever possible:
– Think Tank Photo Retrospective 30
– Nikon D700
– Nikon D300s
– Nikon 70-200 f/2.8
– Nikon 24-70 f/2.8
– Nikon 50mm 1.8
– Nikon SB-910
– Nikon SB-700
– Gary Fong LightSphere
– PocketWizard Plus II x 3
– Sanyo eneloop AA x 36
– B+W 77mm XS-Pro clear MRC-nano filter x 2
– B+W 77mm Kaesemann XS-Pro Circular Polarizer MRC-nano filter
– Heliopan ND6 77mm filter
– BRNO BaLens 77mm white balance lens cap
– BlackRapid RS-7 camera strap
– Giottos Q-ball rocket blaster
– Minolta light meter
– Think Tank Photo Pixel Pocket Rocket
– Think Tank Photo DSLR battery holder 2
– Victorinox pocket knife
– Gerber mini tool
– Lexar USB 3.0 card reader
– Lexar Professional CF cards x 6 (8GB)
– Lexar Professional SD cards x 2 (8GB)
– Hoodman Raw professional CF cards x 3 (16GB)
– Hoodman Raw professional CF cards x 2 (4GB)
– 3 Legged Thing Eric carbon fiber tripod
– Cameron 5-in-1 reflector and stand
– MB-D10 grip for both bodies (mainly for weddings)
– Hoodman Loupe
– Epson P-4000 80GB media viewer/storage
– Manfrotto monopod
– Westcott 5-in-1 reflector
– Westcott Mini Apollo light modifier
– Moleskine notebooks
– Sharpie pen
– Various lens cloths
– Business cards
– Red clips
– Red YO-YO
Let's start with the bag, what can I say. Everything I wanted in a bag and then some. Massive storage, great user friendly features, ergonomic design for comfort and stability in use. But I think my favourite feature about this bag is its stealth appearance. The last thing you need to do when out and about with your gear is draw attention to yourself. Think Tank Photo are amazing at what they do, and this Retrospective 30 is superb. Also from Think Tank, I have the amazing Pixel Pocket Rocket. Holds the majority of my cards securely and connects directly to my bag for peace of mind. Then there is the DSLR battery holder, simple piece of kit but you can't put a price on organization when out in the field. On the topic of peace of mind in the field, let's talk about reliability and dependability. The amazing eneloop AA batteries have never failed me, the investment in Hoodman RAW solid state CF cards was essential, they never fail…never. Nikon professional gear…need I say more. As with all professional gear it's built tough. All magnesium alloy bodies with full weather sealing, both cameras and lenses.I am not a huge lover of flash photography, but having a speed light is essential. I use natural light as well as reflectors and light modifiers whenever possible. I also have larger reflectors and a reflector stand from Cameron. (not shown)
I don't preach filter use, but if you ARE going to invest in a filter think about the glass it's going on, slim filters vs normal filters, quality of glass in filter, size (obi), purpose, usefulness etc.
The BlackRapid strap. Wow what a product, comfortable, dependable…amazing. Watching TNG review and I fell in love. Great security, great features across the whole line. Highly recommended.
I always carry spare business cards with me, lens cloths and a Giottos Q-ball blower. I always have a pocket knife and notebook as well. The Yo-Yo is merely a time waster and the clips can be used for just about anything, from pinning back cloths to holding a groom's jacket together.
The Minolta light meter doesn't see a lot of use, but when I need it it is always there for me. As with the BRNO BaLens white balance lens cap.
The D700 is most always mounted with the 70-200. I find this lens/body combo most reliable for almost anything. I can shoot entire portrait sessions and approx 90% of a wedding. The Nikon 70-200 is a legend for its sharpness and undeniable bokeh. you really must see it to believe it. This combo is my absolute "go-to".
I use the 24-70 and a utility lens, usually mounted to the D300s during a portrait session just in case. Rarely is it mounted to the D700 for portraiture.  This is a great lens, a very useful range from 24-70 (35-105 on DX) and is tack sharp edge to edge.
The 50 1.8 is just an amazing little lens. Lightening fast to focus, stunning bokeh for the price and with the addition of that aspherical element this lens is an absolute knockout now. Great on either body, works wonderfully for video with the D300s.
I went with the D700 and D300s combo because of the compatibility with accessories (batteries, grip etc…) and the diversity that having an FX and DX body gives me with my glass. It automatically gives me double the lenses I have in my kit when I bring it along. There is a lot to be said about two identical bodies, the ability to mount each with different lens and "grab and go" as you please. But for the versatility this setup gives me at the moment I wouldn't change it for anything.