Less than a week ago, ex defense minister Abdel Fattah El-Sisi was sworn in as the new president of Egypt. For those of us who have been covering the political developments here for awhile, it was unfortunately no shock when a video emerged of a woman being violently stripped, beaten, and raped amidst the celebrations in Tahrir Square. This horrific scene has played out hundreds of times since Egypt's 2011 Revolution with no resulting prosecution of any offenders. Only this past week has sexual harassment/assault officially been made a crime. This move, which could signal the first step in combating this epidemic, has however been met with skepticism by women's rights activists.
Protests aside, 99.3% of women in Egypt experience sexual harassment, many on a daily basis. This ugly picture adds an extra layer of risk for female journalists that work in Egypt, and without implemented laws or protection, our own protection is our own responsibility. While my inner voice of lady empowerment chokes having to say this, what you wear and how you prepare can make a big difference in your safety. The ultimate to goal is the blend in as much as possible, and to draw minimal attention to yourself. Below is a list of what I take with me when I cover unrest or or crowded public gatherings in Cairo. I don't usually bring every item, but I have everything as an option just in case: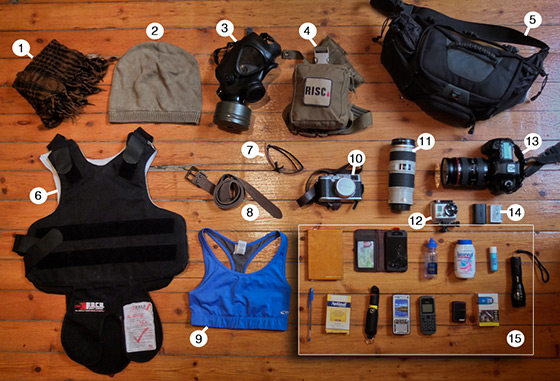 1. Scarf, wrapped loosely. Sexual perpetrators have been known to drag and choke women with their scarves, but I keep one on hand if teargas is involved (I prefer this to a cumbersome gas mask).
2. Beanie to stuff hair into. It's harder to anyone to trail or identify you in a crowd if you wear a hat, rather than leave your long lady hair in the open.
3. Gas mask
4. RISC medical pack
5. Kata W-92 Waist Pack camera bag, worn sling-style for easy access, and keeps my stuff close to my body when running and to avoid theft.
6. Plate-less flak jacket. I wear this under a baggy shirt for sexual harassment.
7. Shooting safety glasses, to protect eyes from birdshot
8. Strong leather belt, buckled inside-out to help deter in the case of sexual assault
9. Tight sports bra to flatten out the ladies. The more boyish you look, the better. Some women opt for a one-piece bathing suit.
10. Fuji X100. I shoot with this when I don't want to stick out as much, usually at night.
11. Canon 70-200mm f/4 lens (half the weight of the 2.8. I'm all about packing and shooting light)
12. GoPro 2, kept attached in my DSLR hotshoe
13. Canon 5D Mark II + 24-70mm f/2.8 lens
14. Extra Batteries
15. Top Row, L-R
– Notebook
– iPhone with Twelve South BookBook phone case, excellent for taking incognito shots. Highly recommended for any street-shooting 'iPhoneographer'.
– Contact solution
– Cooling powder (A gift from heaven on those 110F days)
– Chapstick
– ProFoto pocket flashlight
Bottom Row, L-R
– Pen
– Antinal pills. Your colon can be your worst enemy. We all know that you just never know.
– Small mace
– Crappy Nokia mobile. I keep one of these on me in case I'm robbed, in which case I would give this up and hopefully save the iPhone.
– Lighter & Cigarettes. Helps to make friends fast.
Not shown:
– Sunscreen. While waiting outside of Hosni Mubarak's 2012 trial, I forgot this and ended up with second-degree burns on my face. It wasn't cute.
– Tissues. Especially in countries where toilet paper isn't really a thing.
– Water
– BlackRapid 'Double' camera strap (can be turned into two 'singles'). I think this is the best strap on the market, it's versatile, comfortable, and strong.
– Loose-fitting men's clothes and tops that aren't button-down.
– Press credentials. And copies of them.