Zach Roberts
is a photographer and videographer who splits his time between New York and Alaska. His work has been published in The Observer, The Guardian, The Brooklyn Paper, and BBC, as well as Gawker, Portfolio.com and GregPalast.com. He is currently the photo editor of TheMudflats.net and a regular contributor to Truthout.org.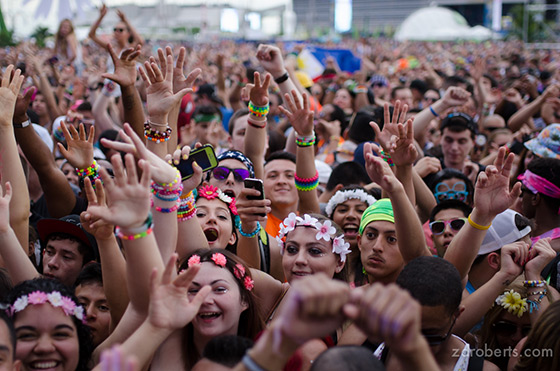 As a last second fill in I got the assignment to cover the Electric Daisy Carnival NY for the Village Voice. For those not familiar with the Carnival, it's one part music festival and one part rave – all around the Metlife/Giants Stadium.
Now I've done both party and concert photography in the past, but nothing on this scale. I was supposed to come back with a 100 shots of the people, drugs and most importantly the ridiculous outfits; I filed 150 and it was hard to cut it down that much.
After grabbing some shots of people doing some early morning tailgating before it all opened and figuring out my press passes I got in and was greeted by some extremely interesting characters – some already rolling (likely on 'molly') before noon.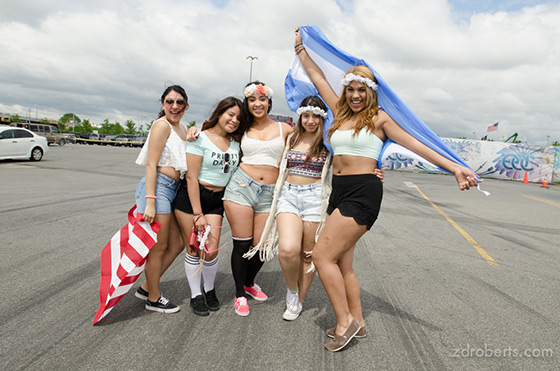 It wasn't until the mid day rain and the evening that it all got really interesting. [Thanks to Photo Brigade contributor C.S. Muncy for teaching me the rain trick below]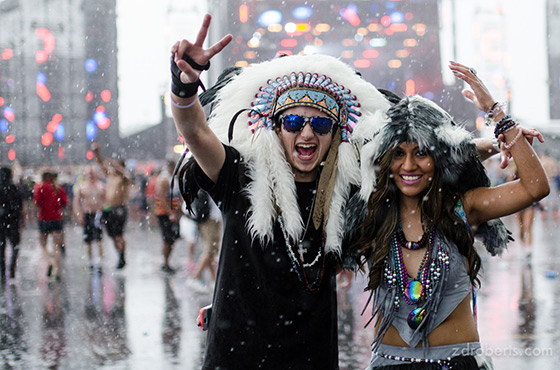 Thankfully Adorama had let me borrow the magical 35mm 1.4 from Sigma so I was able to shoot with just available light – even if that light was from fireworks and glow sticks.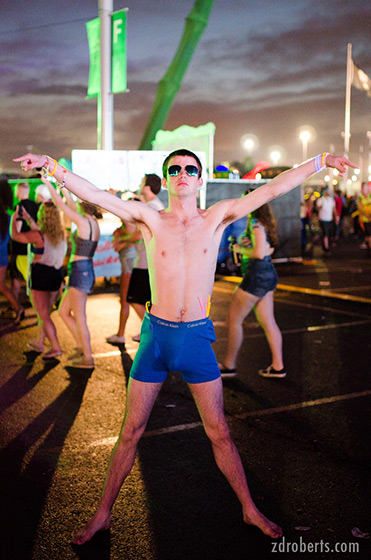 Since this was my first all-day concert coverage I learned some hard lessons.
Don't trust your rain covers alone. I brought a couple of the usually quite good OpTech disposable rain covers but as I was shooting with two cameras the one that was not being used ended becoming a water funnel. Halfway through the evening both of my cameras back panel buttons had varying function. Eventually I had to treat the cameras like they were film cameras – no LCD to check exposure or focus. I regret not bringing some electrical tape to really seal the camera well. Also, there was a point in the downpour that I really should have just gone inside – sometimes it's just not worth the shot.
Do trust your Tenba bag. I've always been a fan of Tenba bags. They're well built and last years and years. I had my laptop with me so I could file on site so I brought my Tenba DNA 15 Messenger Bag – this saved my laptop and the rest of my gear from being drenched. The 600 Denier (highly water resistant) fabric and the covered zippers kept the rain from getting in.
Do bring your low light glass. The Sigma 35mm 1.4 is magic. I mean the lens must have been made by fairies, the bokeh, focusing and sharpness are on a whole different level… and the fact that this lens retails for $899 is just really hard to believe.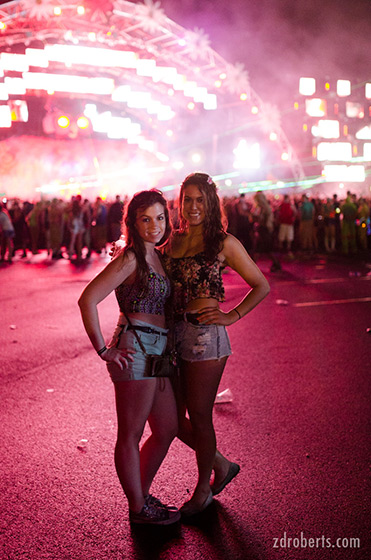 My other lenses for the day were the Nikon 17-35mm 2.8 and the Nikon 80-200 2.8 ED. The 17-35mm is an excellent lens to purchase if you're shooting half on cropped censor cameras and half on full frame like I am sometimes – great for the crowd packed portraits and perfect for the over the head 'Hail Mary' crowd shots.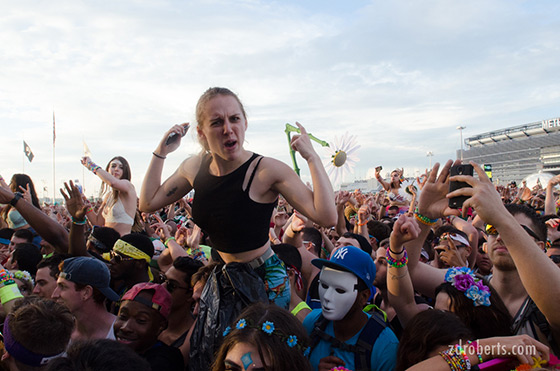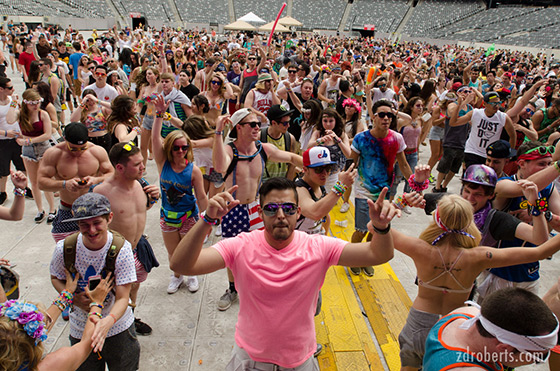 I probably could have gone without the 80-200 but it was useful to grab candids – at EDC everyone immediately posed and did their best Miley Cyrus for me camera… something I wasn't always going for.
In short, at Electric Daisy Carnival keep it light. Two cameras, two lenses – and good rain gear. Oh, and bring energy bars – $9 for a hot dog on a photographers salary ain't going to work.