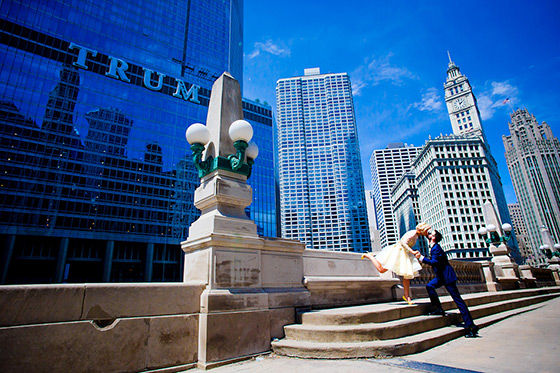 Commercial and wedding photographer Chip Litherland shares photos of a wedding he shot in Chicago, IL.
Take one cool couple + an amazing wedding location in the Tribune Tower Crown and Howells & Hood + a bunch of drinks and good times + custom tattoos + their own freaking logo + Beyonce themed bridal hoodies +cats + two photographers with big grins and you have the recipe for one knock-down, drag-out wedding extravaganza. Allie and Michael won weddings yesterday.

I met Allie a decade ago when she interned at the paper I worked for as a photojournalist in my previous, non-wedding photographer life.  One day when I told her I was getting into weddings, I told her when she found her man I would be there to shoot it no matter what.  A wedding photo pact of sort.  Then I saw the Facebook post that Allie was engaged to Michael.  I replied back instantaneously and we did this.  I think I was her first checklist off the wedding to-do list after "get engaged."  I made a phone call right after that to Scott Strazzante, one of the best and most inspiring newspaper photojournalists I'm lucky enough to call a friend – if I was coming to his hood, there was no one else I wanted to second shoot this one.  He's the man.  Google him. You'll see why.
Continue reading and see more photos on the Eleven Wedding's blog.