Roberto Panciatici
is an Italian full time professional portrait and wedding photographer based in Tuscany, Siena. He works throughout Italy and he's available for destination wedding photography and worldwide travel. He photographs commercial portraiture and over 40 weddings a year.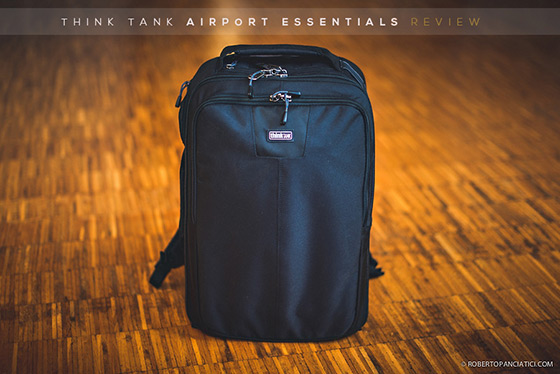 Having the chance to travel the world because of my job is truly amazing for me. When you travel you need to think about what you really need for your work and what's not necessary. I prefer to travel light, as a lot of wedding photographers do, but I usually work with two different camera bodies and fixed lenses so I need to be sure everything is safely packed for getting on and off the plane, etc. Have you ever had to work your way through a busy airport with your gear? If your answer is YES you know that an ordinary camera bag doesn't work. You need something safer and more practical that's the right size to carry onto the airplane. I choose the Think Tank Airport Essentials for my photographic gear.
General Features
• International and domestic carry-on size compatible [See below]
• Cable lock & locking YKK® RC Fuse zipper sliders for added security
• Holds your MacBook (laptop) and iPad (tablet) in a separate (lockable) zippered compartment
• Includes tripod/monopod mounting system
• Top zippered pocket for boarding pass
• Removable waist belt for additional stability when walking, running, etc.
• Robust handles on three sides
• Seam sealed rain cover included
• Light, comfortable and contoured harness system
• Adapts to Pro Speed Belt for additional support
• Interior: Removable closed cell foam dividers
The Backpack
This is my first Think Tank Photo camera backpack and I'm really impressed. The bag is compact, comfortable (lumbar support and air mesh paneling to keep your back cool. The ergonomics of this bag are the best I've ever tried and it's very balanced on your shoulders so it's really easy to walk with it) and practical (three robust handles, ensuring easy placement/retrieval from overhead bins), and the construction is impeccable. The exterior-access pockets provide quick access to travel essentials (ID, passports, boarding passes, etc) and quick access for both a MacBook (laptop) and iPad (tablet) also.
Exterior: For superior water-resistance, all exterior fabric has a durable water-repellant (DWR) coating, plus the fabric underside has a polyurethane coating for superior water-resistance, YKK® RC Fuse (abrasion-resistant) zippers, 1680D ballistic nylon bottom panel, 600D polyester, 420D velocity nylon, 3D air mesh, ultra stretch pockets, Y-buckles, antique nickel plated metal hardware, big hole air mesh, honeycomb mono mesh, nylon webbing, and 3-ply bonded nylon thread. [Materials from Think Tank Website]

The lock system
The lock system is really helpful and very easy to lock and unlock. I truly love it and I use it a lot, especially when I'm waiting at the airport or at the bus station.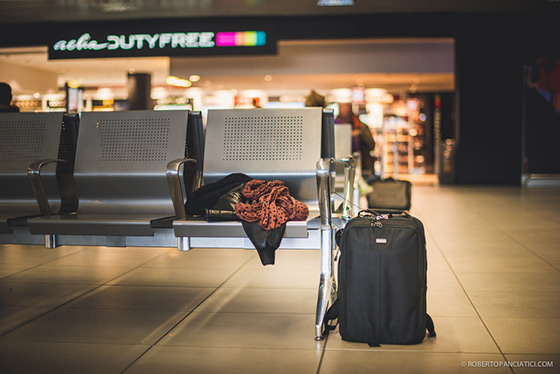 Dimensions and carry-on size standards
The Think Tank Airport Essentials meets the international carry-on standards and it will also slide perfectly underneath the seat in front of you as you can see below.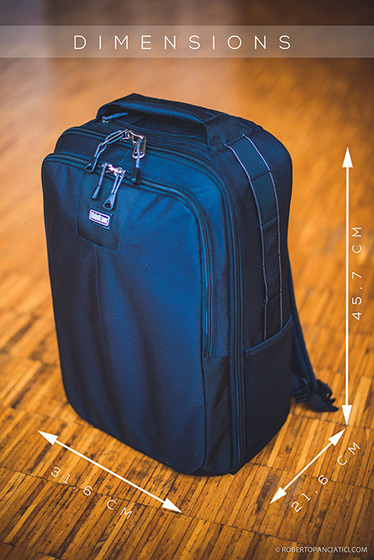 Carry-on standards 2014 (check to confirm current size restrictions)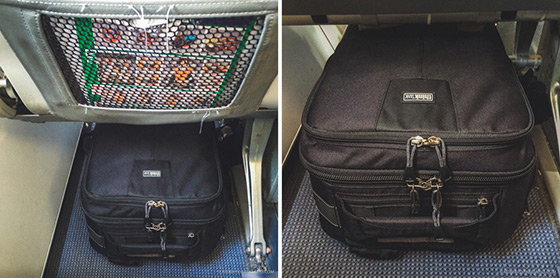 What's in my camera bag?
The gear section of this bag is awesome! I really like it! This is the photographic gear I took with me on my last trip.
Interior: Removable closed cell foam dividers, 210D silver-toned nylon, polyurethane backed velex liner, 2x polyurethane coated nylon 210T seam-sealed rain cover, Belly-O mesh pockets, 3-ply bonded nylon thread. [Materials from Think Tank Website]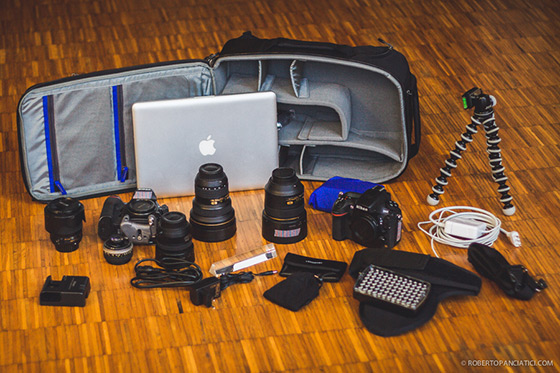 • Nikon D800 (x 2)
• Nikon 14-24 F2.8
• Nikon 28 F1.8
• Nikon 50 F1.4
• Broken Nikon 50 F1.8 for freelensing technique
• Nikon 85 F1.4
• Manfrotto ML840H Maxima 84 LED Panel
• Prism for Hurding technique
• MacBook Pro 13″
• Calibre Ultra Go battery charger
• Battery charger for MacBook Pro and Nikon Cameras
• Rain cover for the Think Tank Airport Essentials
Conclusion
In my opinion this is an amazing camera backpack and it's great not only for travel but for your main business also. I highly recommend it!
Pros
• International and domestic carry-on size compatible
• Weighs only 1.4 kg (3 lbs)
• Top zippered pocket for boarding pass
• Holds your MacBook (laptop) and iPad (tablet) in a separate (lockable) zippered compartment
• Security cable and lock
• Rain cover included
• Shoulder really comfortable to wear
• Lockable zippers
• Interior: Removable closed cell foam dividers
Cons
• Can't contain a big camera body like the D4s in a vertical position