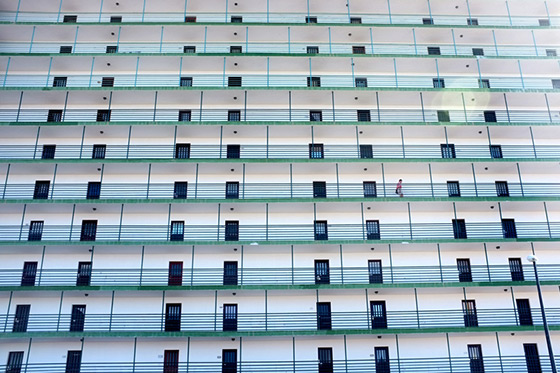 Photographer Oliver Weber shares his series of photos called "Social Life at Beach", a documentary about the tourist life on the Canary Islands, Spain.
The series "Social Life at Beach" – which is an ongoing project and will probably never really be finished – was created in 2012 and 2013 in Playa de las Americas on the Canary Island of Tenerife. This is an area whose economy is mainly funded by all-inclusive tourism. and is also particularly frequented  by long-term vacationers, who want to escape the long, cold and grey European winter.

Arrive at the airport, then a guided bus ride of up to one hour to the hotel complex. There, unpack the suitcases, put the swimwear on and head to the beach. In the evenings, dress-up for the buffet, then afterwards perhaps, a drink at the bar and then off to bed to be ready to follow the same procedure the next day. Day by day by day. The freedom of the all-inclusive holiday lies precisely in the lack of freedom that you have outside the limitations provided by what the hotel has chosen to include. The various little hassles of  daily life and work are taken away and so there is a lot of time to be spent lavishly on having a very organized time with nothing to do. This is one way to spend a holiday!
See more photos of the series on Oliver's website.