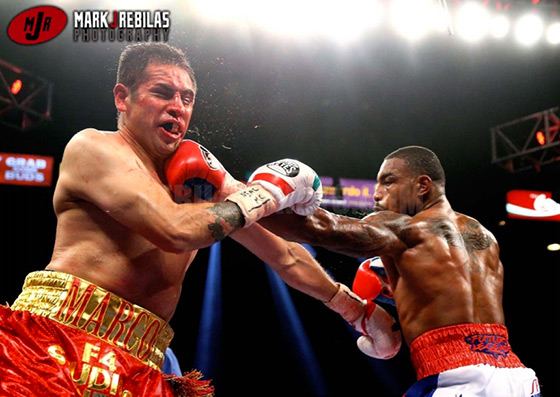 Phoenix-based photographer Mark J. Rebilas covered his first boxing match from ringside in Las Vegas.
About a month ago when I was presented with the option to go to Vegas to shoot ringside as one of the top boxers of our generation, Floyd Mayweather Jr, would be taking on Marcos Maidana at the MGM Grand.

It didn't take me more than 5 minutes to respond to the email with an emphatic Yes!

Now I would have to show up not knowing any of the photo rules, techniques and boxing protocol for such a big matchup.

You know what they say, fake it till you make it!

One thing I did plan going into the shoot was to use a higher than normal shutter speed. I always see these crazy boxing punch photos where the guy getting hit is completely blurred. With the quality of the Canon 1Dx I shoot with instead of a standard 1/1000th shutter speed I decided to crank it up to 6400iso so I could get a 1/2500th shutter speed to see if that would help nail the shot I badly wanted!
Continue reading and see more photos on Mark's blog.