Last year I wrote a review for the Money Maker from Hold Fast. A serious piece of game changing equipment that still holds up and never leaves me when I go to a job. Hold Fast created something that changed the way photographers, specifically wedding photographers, work. The Money Maker is one of those items that come along once in a blue moon.
If Hold Fast can create gold like the Money Maker, then I could only hope they had more products out there that were just as ingenious. Meet the Luxury Leather Photo Belt.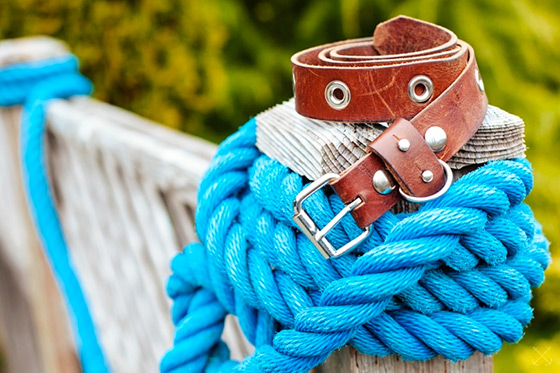 Ok, so the name is a little duller than 'The Money Maker', but let's look past that and see what this belt has to offer. Why a leather belt for photographers? Well let's face it; this industry is moving away from what it once was to a whole other culture on its own. And recently, the latest trend is making sure you're a fashionable photographer. And as much as I want to, I'm not touching that subject with a 10 foot pole (at least not here). At the same time I'll admit that I still like looking my best while on the job. Having a leather belt that can hold gear vs. a thick padded hip system that looks like a girdle prescribed by my doctor is a plus. But it always comes down to the questions – Style or practicality? Which would I rather and can I get both?
First off, it's a leather product like the rest of the gear at Hold Fast, and it's wonderfully hand crafted in the US. It's styled like a typical belt with eyelets all the way around so that you can attach anything with a hook or fastener to it. I looks similar to the belts I would buy at the Rock Shop before heading to a Stone Temple Pilots concert. And just like those belts, you can take the buckle off and change it up for a custom buckle (Maybe I'll see if I can dig up that old STP buckle from '96… nope, I'm good). It also comes with its own strap to attach called 'the lens strap'. What this does essentially, is it allows you to clip it from one eyelet to the other creating a separate belt if you will, to hang a lens pouch or two on. Unlike your average belt system where you would fasten a pouch directly to the belt, the separate lens strap droops slightly (depending on how you adjust it) and hangs lower. Apparently the purpose for this is to distribute the weight comfortably, but in my experience I can feel all the extra weight on the one side of my hip. I think the belt should be sold with two straps to even out the weight. It also states in the official description, that it  allows your shirt to hang like it should… it's not an issue for me, but maybe some of you hate it when your shirt doesn't fall evenly across your waist? Again, not with a 10 foot pole. Speaking of looking good, I had a beautiful woman model the belt so you wouldn't have to look at photos of my rear. You're welcome.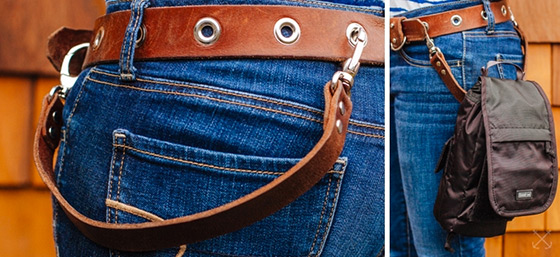 One thing I found happening every so often was my pants were hanging on for dear life. The extra weight was often pulling them down and adjusting the strap one notch higher was too tight on my waist. It's not something I would wear if I needed to run anywhere. Pantless me is not something anybody wants. Maybe it's the belt or maybe I just need to gain a pound or two.
The belt also comes with a handy small loop which you would typically put the loose end of your belt through. However it's removable, has a small D ring and can be used as additional support for the lens strap.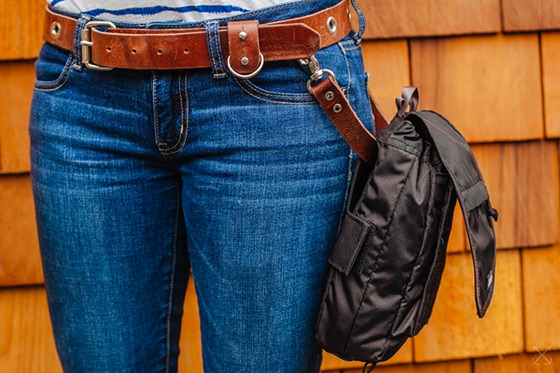 And this is where I start to wonder if this belt is exactly where it needs to be. It starts to become too similar to other photo belts out there that do the same thing except it's leather. And because its a leather belt, it's almost like hanging a lens pouch off your regular belt which can (as you could imagine) get a little uncomfortable after a while.
So here begs the question. What's more important? Style or functionality? I'd like to say I couldn't care less about being a fashionable photographer. Pictures are more important than what shirt and shoes I'm wearing. I've seen photographer's wear heels into the mountains for pictures which forces a double facepalm. Personally, I'm more about practicality and functionality vs fashion, but there are times I'd consider a nice leather belt over Dr. Thick Pads. As long as it's not a long wedding, it might just be worth it but with the heavy glass DSLRs required these days, it's just too much weight. For its asking price (which isn't cheap), I would hope that it might come with just one more lens strap to even out the weight on other side. I think that Hold Fast is onto something. Style meets functionality, but this belt has a little ways to go. Not much, just a little. I think this belt would be great for smaller camera systems that require less gear, smaller lenses etc. It would be great for film photography. I think Hold Fast should make smaller leather pouches that the belt can thread through. Pouches for smaller film lenses, a western bullet style holster for film canisters etc. Imagine wearing the Money Maker with a belt that had film canisters in leather running down the side. Do you feel lucky punk? Well, do ya?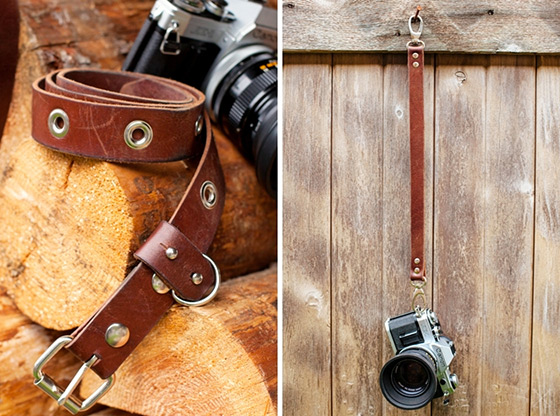 I wore this guy for 4 months straight. Not only is it a nice belt for work, but it's a nice belt for everyday use. It's build quality is great, and it ages nicely with a little wear. I had one issue with the back of an eyelet popping off, but this was quickly resolved with an offer for a replacement belt sent from Hold Fast. I was told that this was the first issue reported regarding an eyelet as any problems are typically found prior to shipping during a quality check. If there's one thing I love, it's when people stand by their work and Hold Fast does just that. Like most of their gear, you can pick a colour, the type of leather you want for your belt and choose from multiple sizes.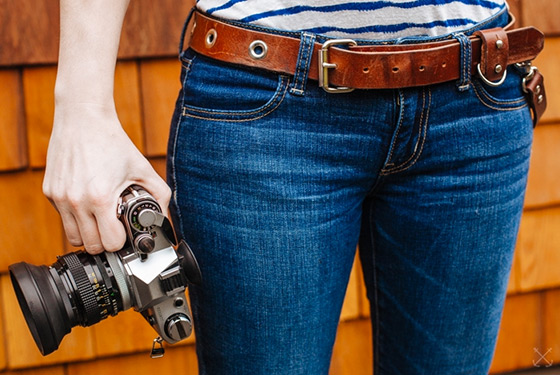 In conclusion, I think Hold Fast is onto something here. Imagine the possibilities. A Money Maker and a few pouches on the belt. That's it – The Hold Fast system. No bags needed. Reducing gear has become important to me and I think that if I found the right utility belt, not having a bag might become a reality, at least for most gigs. Possibly weddings for some photographers. And if all stats were even on the board and it came down to style and style alone, I know which belt I would go with.
PROS: 
– Looks good on both guys and gals
– Can be used outside of work
– Stylish alternative to thicker padded belts
– Would be great for smaller camera systems and accessories
CONS: 
– High Price
– Could use another lens strap
– Not great with heavy equipment