The Mountainsmith Borealis. This is a travelers backpack.
Seriously. If you're just walking around town and need a place to throw a book or a wind breaker – this is not for you. This is for a serious hiker or a world traveler.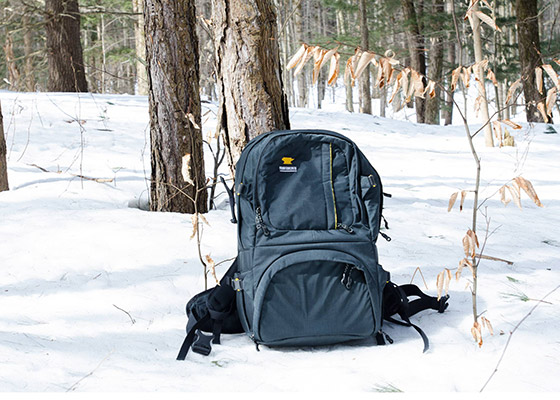 Let's break this bag down from the top to the bottom.
At the top there's a YKK Zipper with a protective lip that opens up for a 17 inch laptop. Inside there's a stretchy sleeve that hold the laptop up from the bottom of the bag keeping it from hitting the ground if you should accidentally drop it in there. If you've got a smaller laptop – don't worry. I've got a 13 inch Macbook pro and the sleeve holds it in there fine without much moving around. The laptop opening also has enough room for a couple of magazines a t-shirt or two.
From there we open up huge space for clothes or books or whatever you want. I usually use it for all the random cables and GoPro pieces that I end up needing on my travels. Inside the open space there's places for pens, memory card cases and a small zippered mesh pouch for… well anything i guess. The space expands pretty well so it doesn't look bulky when open – but still holds a pair of jeans, 2 t-shirts, 2 pairs of socks, and a light jacket. Easily.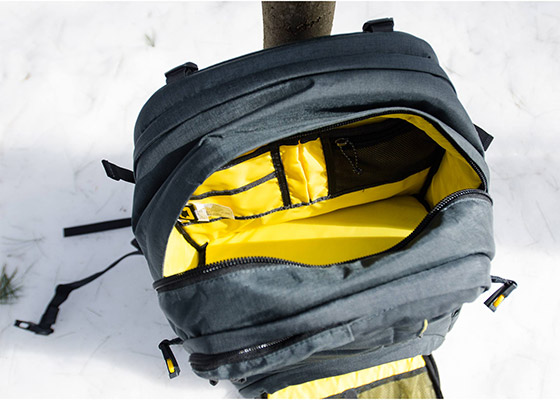 On the outside of that there's another zippered compartment with a medium size pouch that probably could fit a small tablet. It's slightly padded so it's likely for something like that. With that said, I'm not sure that it's the place where I'd want to keep a fragile item – as if you like a tumble it likely won't make it out alive.
Oh, yeah – and there's yet another pocket on the outside of that – good size for a small note book or some clif bars. Inside of this picket there's a clip for a memory pouch.
Finally – we get to the reason why this is a travelers camera bag.
In the bottom compartment I can fit:
– Nikon D7000 with Nikon 80-200 2.8
– Nikon D7000 with Sigma 30mm 1.4
– Nikon 17-35 2.8
– Tokina 11-16 2.8
– Nikon 50mm 1.8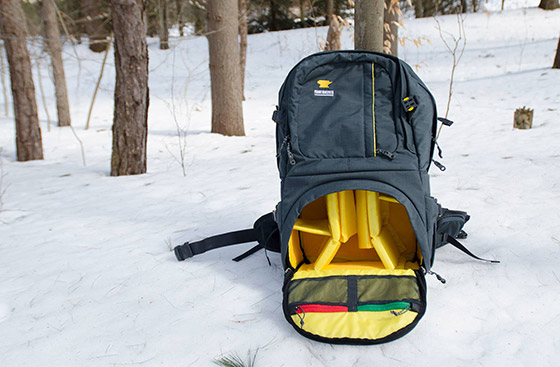 As with the inside of the rest of the bag it's got a bright yellow 210d Liner which is water resistant – so the even if water somehow gets in through the waterproof Kodra 500d exterior it won't absorb the water.
The divider pads seem like they will stand up over time especially as the main two have hard plastic through them. The velcro is good and strong as well.
Finally – the back. This is where we remember what Mountainsmith spends most of their time doing, making hiking gear. The padding for the back has something they call an "anvil airway suspension" which is a fancy way of saying it won't make your back sweat (as bad as other bags will). I'm about 5'9 and the padding on the back is perfectly shaped, it's also firm enough to actually last for a long time.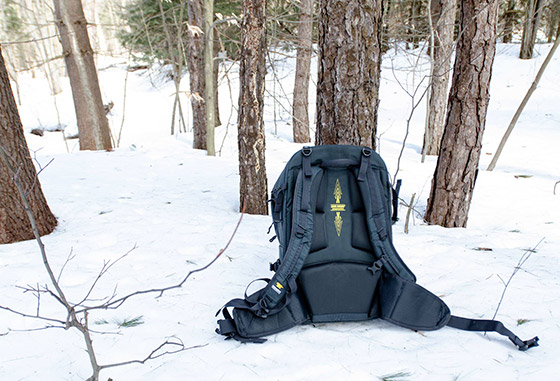 While the shoulder straps could use just a tad bit more padding they will likely stand up over time better that something that's more plush (likely you won't notice if you're wearing a jacket). For a bag this size [Exterior: 22″ x 13″ x 9.5″ (H x W x D)] when it's full, you'll want to use the chest and waist straps which help secure it.
Some other features:
– Waterproof cover in pocket on the bottom of the bag
– Tripod pouches on either side
– Extra-tough handle on the top of the bag – strong enough to hang the bag with even while full.
Good:
– It fits everything
– Good rain protection
– Great for a long hike when photography is the focus
Bad:
– Little things, the tabs for the zippers feel like they won't last
– Putting gear in the camera section can be tough (though it does mean it won't fall out easily…)
– Shoulder straps could be a bit more plush
Overall – it's excellent. I would definitely buy this as a photographer and hiker. It would work well if you were going on a long weekend as a carryon. Mountainsmith has come a long way on their camera bags. I had the older model of the Borealis and while it was good it had a lot to be desired in the life-span of the bag.