Over the last ten years there have been a lot of cheap flash triggers and equipment coming out of China. Many photographers scoffed at this equipment, saying they lacked the sturdy build or quality control of many of their competitors. For the most part, this had a ring of truth to it. Early triggers – often branded under multiple names – would break all too easily or simply stop working. Sure, they were dirt cheap, but they were also unreliable.
But as the years went on and the technology matured, so too did the triggers themselves. Companies like Yongnuo started catching up, and while the flashes and radio triggers themselves were still often based on more established names, they offered affordable and occasionally innovative alternatives to photographers who otherwise would not be able to afford to work with similar lighting setups. Amateurs and enthusiasts now find themselves able to recreate lighting and studio setups once only available to those with deeper pockets.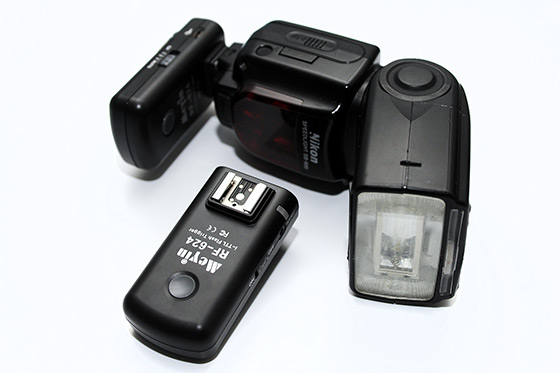 I recently purchased a pair of Meyin RF-624 triggers for my Nikon cameras. I've played around with cheap eBay triggers before, and haven't ever really felt impressed by them. I bought an early collection of Yongnuo RF602's, and almost immediately two of them failed. A third physically broke and split down the middle. The others worked more or less as described, but they felt poorly made and only fired flashes in "Manual" mode. No TTL, no high speed flash sync. Every time I needed to change the power output of a flash, I'd have to set it manually. Eventually I shoved them in a drawer where they sit to this day.
Two weeks ago I was photographing a naked body painting party for The Village Voice. I'd decided to work with a small, portable studio setup in the corner of the venue, and realized that the TTL cable I was using just wasn't cutting it. The models were getting caught up in it, and the camera kept pulling it over. I decided then and there that it was time to look into a radio trigger capable of TTL metering and high speed flash sync. As I did my research, I found the Meyin RF-624, a newly released i-TTL capable trigger for around fifty dollars.
Once it arrived, I realized that the instructions were absolutely useless. It took me several days of trial and error to really get a feel for the triggers. However, once I got the hang of them they worked perfectly and reliably. I used a combination of SB-900's, SB-800's, D3's and D600's to test the triggers under a variety of lighting conditions and at various distances. According to the manufacturer, they're good out to 200 meters, but I've never had a need to shoot from that kind of a distance.
The most appealing aspect of the RF-624 is the ability to shoot with your high speed flash sync. Traditionally, flashes have a predetermined sync speed, often around 1/250th of a second. Older cameras are even slower, sometimes as slow as 1/45th or 1/30th of a second. More modern digital cameras allow you to use a high-speed sync. For example, the Nikon D600 has the ability to sync at 1/4000th of a second. This is a great tool when you want to artificially illuminate your subject while maintaining a narrow depth of field. During the body painting party, I shot with my Sigma 35mm 1.4 and a high shutter speed. This allowed me to concentrate on the subjects faces, while lighting the entire scene. This also allows you to shoot with your aperture wide open in daylight, while adding an additional light source to your frame. Really, there are a ton of options and opportunities open to photographers using these triggers.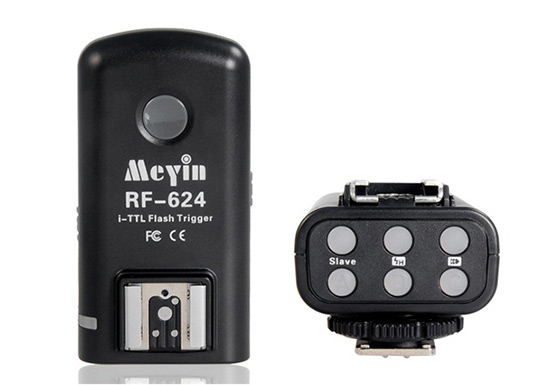 Let's talk about what you're missing out by going with one of these rather than a name-brand. When you pick up a Radio Popper or Pocket Wizard, you're a lot more quality control and a better build quality. As good as the RF-624 feels compared to similarly priced triggers, it still doesn't quite measure up to the name brands. You're also getting clear instructions and great customer service. I've heard that Meyin has been pretty good about replacing defective triggers, but it would be nice not having to put up with that in the first place. Still, the RF-624 is a great bargain. Fifty dollars isn't going to break the bank, and having just a couple of these really opens up a ton of options when you're shooting on location.
Features:
Type: FSK2.4GHz Wireless System
Power: Two AA batteries
Channel: 3 Fixed Channel and 1 Auto Channel
Sync Speed: 1/8000S (depending on your camera/flash combination)
Transmitter battery consumption: Approx.50hrs in stand-by mode (2000mA)
Operation range: 200m