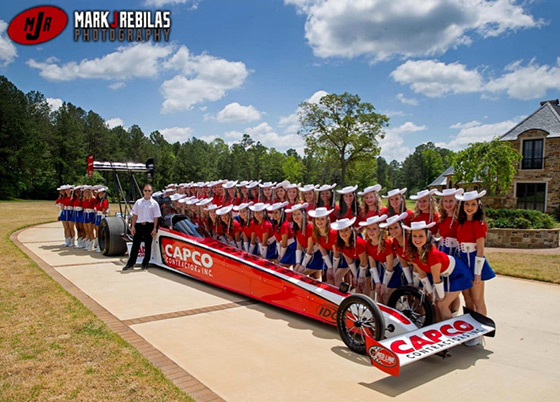 Phoenix, AZ-based photographer Mark J. Rebilas covered an event at NHRA driver Steve Torrence's home involving 50 Rangerettes.
When I received a phone call from Steve Torrence a few weeks before the Houston event seeing if I was available to come to Houston a few days early to cover an event occurring at his house. After hearing the details of the shoot I knew it had the potential to produce some fun and unique images.

The one problem is I am terrified of shooting large groups of people. Seriously!

Of course you never let that on to your clients so I began trying to plan shooting a dragster and 50 cheerlea… uhhh I mean Rangerettes!

As soon as the Rangerettes arrived with their two coaches I knew I had nothing to worry about. The coaches were like drill instructors and quickly guided the girls into perfect formations wherever we moved.

When I showed up for the shoot the car was parked in front of the house (below photo), it looked cool but was a little over the top MTV cribbish so I quickly determined we'd need to relocate the car…. but not until I shot a few photos because how often do I get a gorgeous mansion as the background for a dragster photo?!
Continue reading and see more photos on Mark's blog.