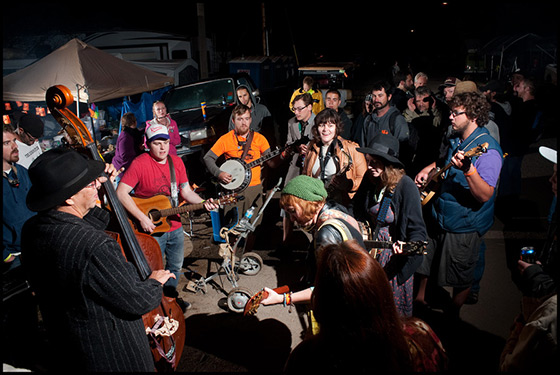 New Orleans-based Ryan Hodgson-Rigsbee worked on an essay on the Windfield 2013 music festival.
It's no secret that the ghost of Stuart Mossman still roams through the pecan and cottonwood trees that long ago took over that rich bottom-land meadow divided by 14th street, out at the west end of town, just over the tracks and before the bridge. At some point, they built the Cowley County Fairgrounds in the north pasture, but that bit south of 14th street was looked after by a fellow from Ark City, I think. I never did know his name. Some of us would camp over there after Stuart and his friends started that festival, so we wouldn't have to pay the camping fees at the Fairgrounds. The old fellow was never around, so I never thought about it much.

Then, one evening, it must have been the second year we were there, the old man's pickup truck pulled up and stopped not far from that little meadow where we had set up camp. It was one of those late summer nights when the air is just starting to remind you of what fall is all about. My brother Flynn and his uncle had just driven up from Oklahoma City, and their banjo and dobro were just what we needed to round out the mass of guitars and fiddles we had blasting away on "Faded Love." I might have been the only one that noticed the old man working his way over to the fire, intent, I was pretty sure, on running us off his property. Strangely though, his pace slowed as he got closer, until he came to a stop at the edge of the light and started to listen.
Text by Tom James.
Read more and see many more photos on Ryan's website.