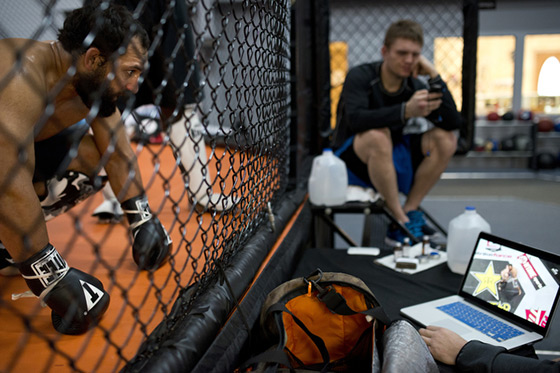 Dallas, TX-based photographer Cooper Neill documented UFC star Johny Hendricks preparing to fight for the UFC Welterweight championship title.
Most Saturdays, you can find Johny Hendricks spending time with his wife and three young daughters, golfing or hunting. But once every few months, he steps into a steel cage with an unlucky opponent and becomes Johny "Bigg Rigg" Hendricks, one of the top fighters in the world.

He says he fights for his family. His daughters have seen the fighter Johny "Bigg Rigg" Hendricks, the man with a steel jaw and iron fists who punishes men inside the octagon. He does not want them to find out years later that their father was not who they thought he was. But he makes a clear distinction between that Johny Hendricks—the one they see on TV– and "Daddy," the loving and caring man who plays with their dolls and tucks them in at night.

Last November, Hendricks lost a controversial title fight, the first of his career, to longtime UFC champion Georges St-Pierre by a fifth round judges decision. Afterward, Hendricks went straight back to the gym and began training for a rematch. But St-Pierre retired, leaving the UFC Welterweight division without a champion, and Hendricks with a second chance at the title would come against veteran fighter Robbie Lawler at the American Airlines Center in Dallas, Texas on March 15, 2014.
Continue reading and see more photos on Cooper's website.