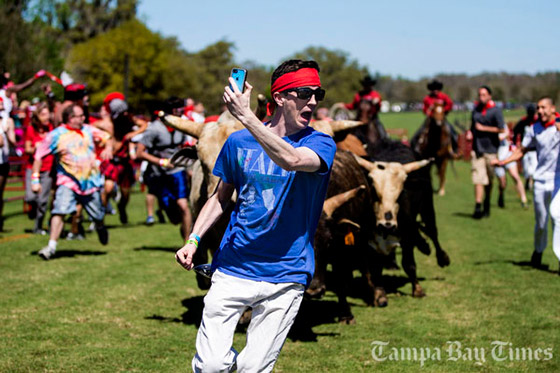 Tampa, FL-based photographer Kent Nishimura covered the Great Bull Run in Dade City, FL for the Tampa Bay Times.
Hundreds risked themselves during the Great Bull Run, an Americanized version of Spain's running of the bulls, which came to the Little Everglades Ranch, in Dade City, Florida.

The Great Bull Run came to Florida, and I was fortunate enough to be assigned to cover it.  I drove up to Dade City from Tampa and worked along side fellow photographer Chris Zuppa, who was shooting video, and writer Alex Orlando who would be running in one of the races.  While by no means do I believe The Great Bull Run has the same feel of running through the narrow streets of Pamplona, it was quite an exhilarating experience.  Trying to photograph people from the middle of the bulls path, to avoiding being run over is something I won't soon forget.
See more photos on Kent's blog.