Neville Black
is an award winning wedding and portrait photographer living on Vancouver Island in the Pacific North West. A photographer who believes the more risk one takes and the more uncomfortable they feel, the more potential is given to produce a great photograph.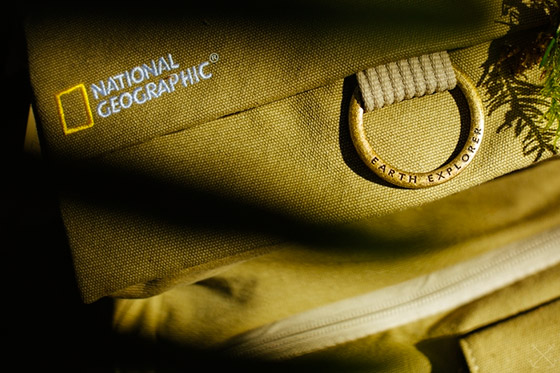 The other week I was watching youtube videos before bed and eventually came across the video posted below. It's a video (almost long enough to be considered a feature length movie) from National Geographic showing off the "Earth Explorer" camera bag series.  It was a no brainier after seeing the short film – I had to test one of their backpacks out. My first camera bag ever was a small NG Earth Explorer satchel and since it was almost 8 years later it would be great to get a newer perspective on the Earth Explorer line. It's been around for a long time, must be a popular bag. Before I go on, take a look at the video posted below. Imagine a child growing up with dreams to explore and photograph for NG, and view it through his beady adventurous little eyes.
SOLD! I was stoked to 'explore' the bag and see what it offered. It definitely looked cool – military green canvas with brass buckles. I dug it. It could have done with out the giant "National Geographic' logo on the top of the bag. I'm not a fan of my camera bags having large logos. I think just the iconic yellow rectangle would have been really nice. Exploring the rest of the exterior, it has lots of pockets and hidden nooks, about 8 pockets in total outside of the main compartments. Each pocket is fastened with either velcro, button snaps or zippers. Not sure why there are 3 different types of fasteners but unless you're a wildlife photographer who enjoys taking photos of animals bolting in the opposite direction (it's fine art), velcro is a terrible choice. Thankfully the main compartment is zippered.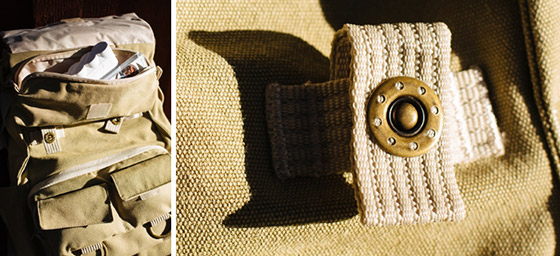 There are two main compartments, one for your camera gear (bottom half) and one for your miscellaneous gear (top half). This makes it a good bag for day trips. Splitting compartments allows you to bring some camera gear as well as some food, clothing, survival/first aid equipment etc. The side pockets are big enough to carry a flash or two which is great, that or throw in a water bottle. They're also large enough to hold a small tripod or light stand and even come with a strap above the pocket for just that. The other pockets on the bag are a little smaller but work well for miscellaneous gear. Two front pockets include slots for your CF cards, pens etc.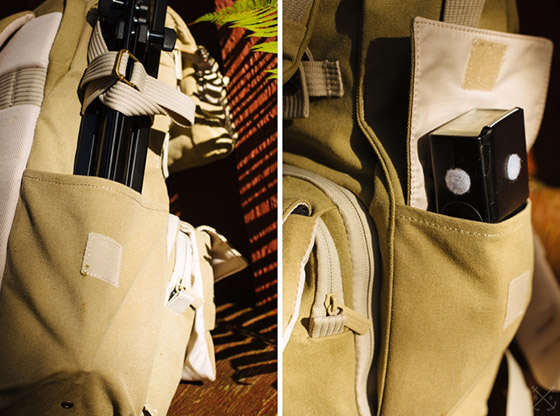 There's a nicely padded laptop compartment at the back of the pack and can fit up to 15.4″ laptops. The back of the pack is also fairly padded and the straps are as well. It wasn't super comfortable with a fully packed bag, after 20 minutes I wanted to cry. I find this is typical for most bags but this one for some reason seemed to wear on my shoulders a little more than others.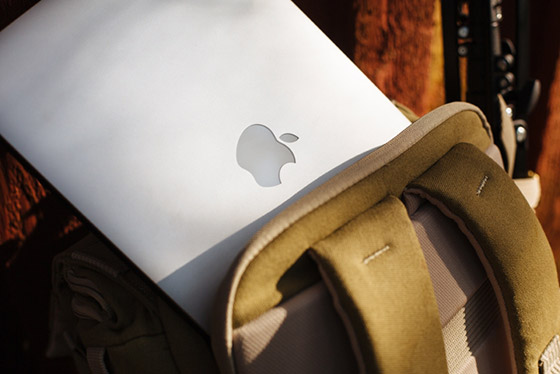 One thing to note is that this bag is not waterproof or very water resistant. I put it through a few tests and water loved to sneak through the zipper and into the compartments. If you plan on taking your laptop, it will have one of the most exposed zippers on the bag and should it rain, your laptop will have a very unrefreshing drink of water.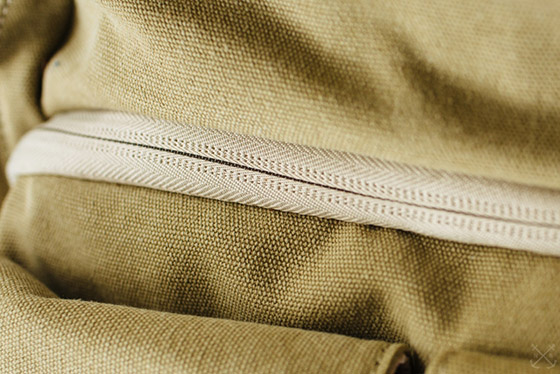 *GULP* *GULP*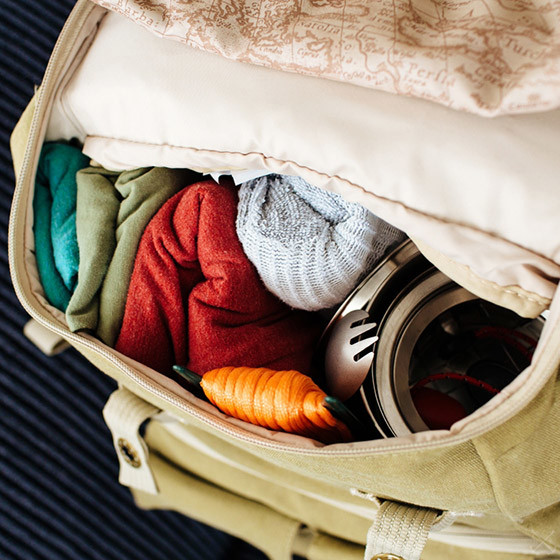 The top compartment is large enough to hold a days worth of camping gear, but not too much more. There are slots inside here as well which fit your pens and two additional pockets for batteries or a cell phone etc with small velcro straps.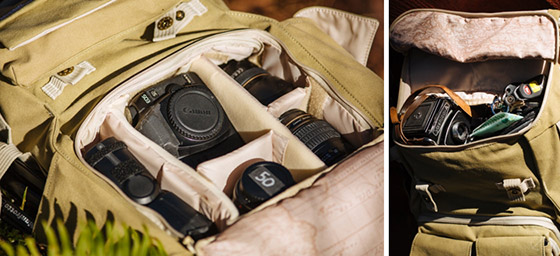 The main photo gear compartment is where I get a little baffled and frustrated, and I wonder if whoever designed it knew a thing about photography bags. I guess I have high standards set in place for a bag sold by National Geographic, and while I knew this wasn't a bag designed for professionals, I still expected something more than what I saw.
First off, it's not deep enough to stand up a lens larger than a 50mm, so all lenses have to be packed in on their side. I got my 35L in there, but it sticks over the top and with the hood on, it really squeezes in tight. The dividers split into 3 rows and while laying lenses down wouldn't normally be a problem, it is with this bag. Why? The two main side compartments for the lenses have mini dividers attached to the big dividers. No, not attached with velcro, stitched! So basically you have to move the attached divider to the side and use an entire column for multiple lenses lens. Or one lens for an entire compartment because if you don't and  you place one lens against the other, pray they don't damage each other while in transit since you can't divide their contact.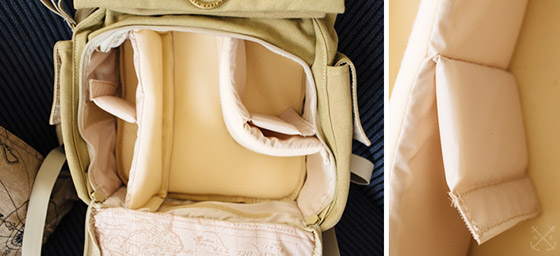 So, that makes the two side compartments useless. How about the mid section? Its good, fairly standard. It's what the other two sections need to be. Alright so, let's put the main camera body inside… oh. Wait. I can't. It's too narrow and has no configuration which would allow me to lay a body down with a lens attached. On it's side? Nope. Too shallow, the body sticks over the dividers. So what the heck am I to do here? Can't I just move the divider to the right a little? No, not really because the bags interior is nylon with velcro strips in a few specific spots so you can't do much other than the basic default setup you started with.
I get that it's not a pro bag. I totally get that… and if I didn't before, now I do. The video sure makes it look like a pro or semi-pro can use it, after all, they look like National Geographic photographers on assignment in the Sahara Desert (or something like that).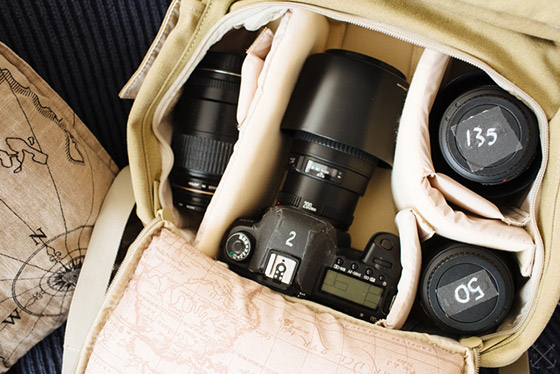 So then I thought, "Why not look at images on Google or B&H and see how others configured it." What a mess. Some of the configurations looked like a bowl of restless snakes. The above configuration was the best and cleanest I could come up with but in the end, it just didn't fit my gear well.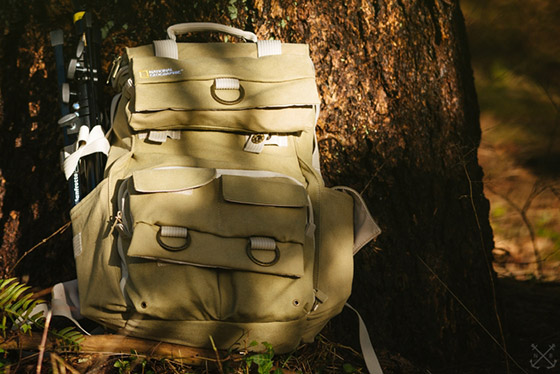 Conclusion: Well, the first camera bag I ever bought was a small Earth Explorer satchel. I loved it! The military green canvas, reminiscent of World War II bags and its nice brass style buckles. I dug it. But at the time, I also really liked the Canon Rebel inside it. And that's what I see in this bag. Obviously it's not a bag for professionals, I knew that going in. But I really expected something for landscape and adventure photographers. Even there, I just don't see this particular National Geographic bag being what people might expect from one of the most inspiring institutions photographers know and love. I hope that National Geographic can take another try at a new line of bags designed for pros. I think they could design something pretty amazing. If you're a hobbyist or amateur heading out on a nice day then this bag might be what you're looking for. If you're a pro and you're looking to head out into more treacherous terrain and weather with more gear, then this bag just isn't it.
PROS:
– Can fit camera gear and hiking gear
– Has lots of pockets
– Doesn't look like a camera backpack
CONS:
– Poor set up inside
– Not weatherproof
– Velcro pockets