Elan Kawesch
is a 17 year old photographer based in Boston, Massachusetts. He mainly shoots sports, news, and events, which he shoots for a number
cialis online sale
of clients mainly in Boston, as well as in Jerusalem, Israel. By the age of 17, Elan has worked as a photographer or photo editor at some of the largest sporting events in North America, most recently The Stanley Cup Finals and The United States Figure Skating Championships. His work has been published by The Boston Globe, The Portland Press-Herald, The NCAA, The New England Hockey Journal, and numerous other publications and organizations.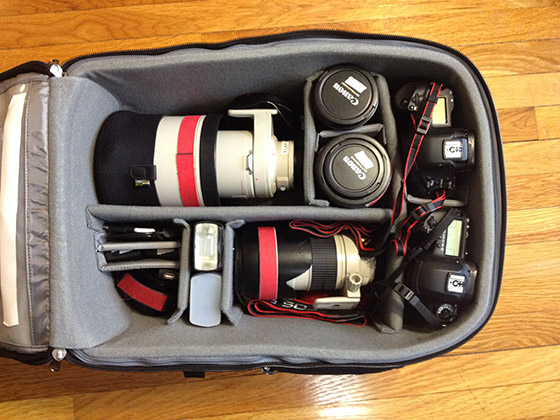 Because of my young age of 17, I'm at the stage in my career where I have to be ready to take any well paying work that comes my way. While recently I've been shooting a lot of sports and non-profit events, I have to be flexible enough to take on anything from architecture, to news, to portraits. Really, I have to be ready to be able to shoot almost any opportunities that pop up as I work on establishing a solid set of repeat clients in one field.
I eventually would like to mainly shoot sports, so most of my equipment choices are based on that. However, I also try to reflect the flexible nature of my assignments to the gear I use on a day-to-day basis.
Bags
– Think Tank Airport Security V 2.0 with low dividers
– Think Tank Shape Shifter
– North Face Heckler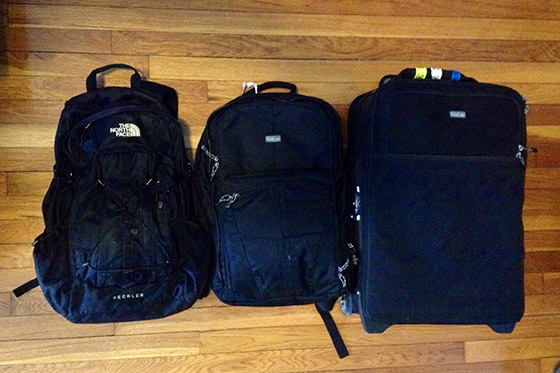 Cameras, Lenses, and other Essentials
– Canon 1D Mark IV
– Canon 5D Mark III (gripped)
– Canon 60D
– Canon 300mm f/2.8 IS
– Canon 70-200mm f/2.8 (non-is)
– Canon 24-105mm f/4 IS
– Canon 50mm f/1.8 II
– Canon 16-35mm f/2.8 II
– Canon 430EX II with a cheap diffuser
– 4x Canon LP-E6
– 2x Canon LP-E4
– Fujifilm slide container (holds 12 AA batteries)
– Oben CTM-2500 Monopod (with hockey tape for extra grip)
– AA batteries taped together for baseline remotes when shooting basketball
– 3x Lenspens, one for lenses, one for viewfinders, one for LCD's
– Think Tank Pee Wee Pixel Pocket Rocket (full of Sandisk CF and SD cards)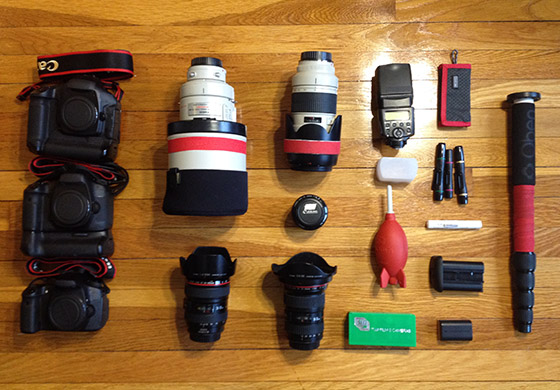 Computer Gear
– Apple Macbook Pro 15" Retina (and charger)
– Runetz 15-inch Gray Soft Sleeve
– Proporta USB TurboCharger 3400
– Apple 30 pin cable (for my iPhone 4S)
– Iogear 4-port USB hub
– Ethernet cable
– Apple Ethernet to Thunderbolt Adapter
– 2x Kingston USB 3.0 Memory Card Readers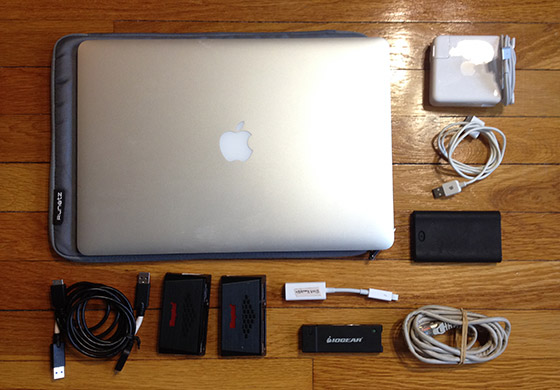 Here's what the Airport Security looks like packed up and ready to go: