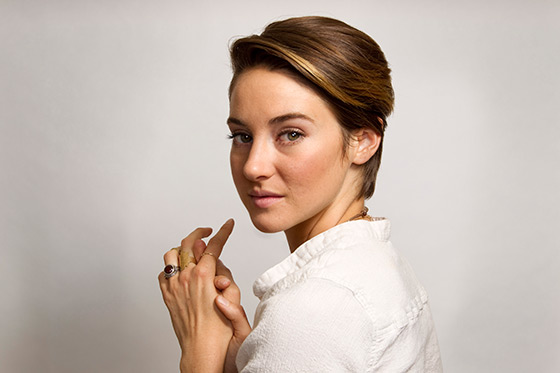 Riverside, California-based photographer Francis Specker took portraits of actress Shailene Woodley for the New York Daily News.
Two looks, one high-key and one low-key, of actress Shailene Woodley during a 10 minute photo session during a press junket for the film "Divergent", at the Four Seasons Hotel on assignment for the New York Daily News.

The typical press junket for a major motion picture is for the studio to rent out a block of suites at a nice hotel, usually the Four Seasons in Beverly Hills. You can usually tell from a lot of photos if the photo was shot there as pieces of furniture or the same balcony view is used by the photographer. My standard procedure is to set up at least two different looks for the editor, one look involving a white seamless that can be timeless , and another that is less safe and more dramatic.

The safe lighting is usually done with either a big soft box or beauty dish and some fill light that makes anyone look good. Put out some kind of seamless and you will get some useable art for just about any magazine or newspaper.
Continue reading and see more photos on Francis's blog.