Last year, when I asked Ben & Erin Chrisman what some of their favorite photo accessories were, one item Ben shared was the Airport Navigator from Think Tank Photo. He said that he could carry his entire Nikon kit, and fit it under the seat of an airplane. This was a piece I had been curious about for a while, but when he said that it was as close to the perfect traveling roller they've found, I had to test one out.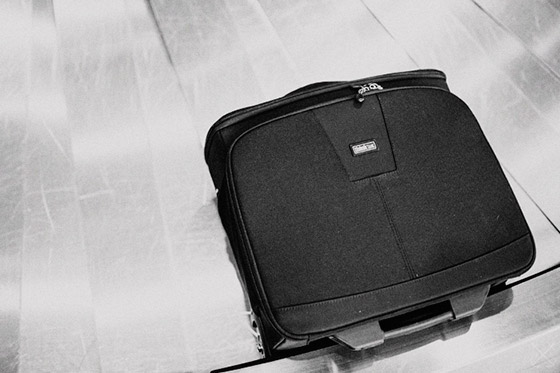 I have to be honest, when I first got it, I thought it was small. It was like somebody got your average sized roller and cut it in half. How could anybody fit a full kit into this? So I got my Airport Accelerator and transferred all the gear into the Navigator. My Accelerator was packed with my whole kit and to my surprise, everything snuck into the Navigator with zero tucking and squeezing. The only thing that I thought couldn't come along for the ride was a medium Lastolite reflector. No biggie, I squeezed it into the laptop pocket. It's split in two (I'm guessing one side is for an iPad / documents while the other is for the laptop). I thought, "Wow. This roller actually packs everything I need." Then I double checked the Accelerator and noticed my front pocket with note pads, pens and miscellaneous items. This is where I got baffled, because on the Navigator there's no front pocket! Where do I put my pens, notebooks, keys, pocket rocket and lens cloth?  All my other Think Tank bags have one… What's up with that? Sure, it doesn't seem like a deal breaker but at the same time it's very convenient! Dang, it was almost the perfect roller.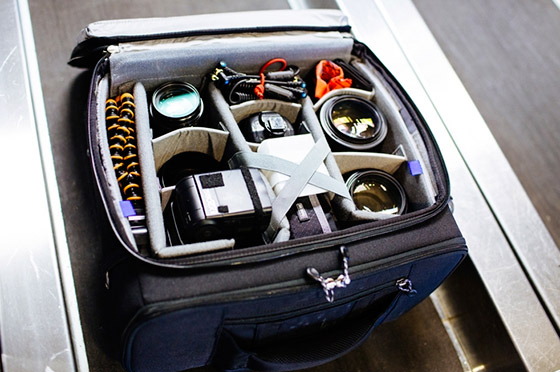 Alright so pens aside, what does fit in the bag? Here's a list of the items I was able to pack into it:
– 2 Pro bodies (one un-attached)
– 35mm
– 50mm
– 100mm
– 135mm
– 200mm
– 3x flash units
– 3x PocketWizards w/cords
– 3x Flash bounce/diffusers
– Cleaning accessories
– 2 Video lights
– 13" Macbook Pro
– iPad in Portenzo case
– Fujifilm x100s
– Pixel Pocket Rocket
– Lens cloth
– Passport
That's not bad considering it's size. Of course you could throw in and replace any of those lenses, most would fit, it's nice and deep. To give you an idea, my 135L stands up nicely but put the hood on and it's about half an inch too high.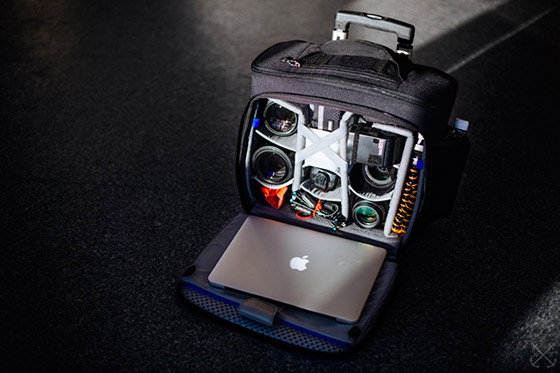 Another thing that I liked about the roller is that unlike other larger rollers, all the weight is at the bottom which puts less stress on your wrists if you're rolling around town or the airport all day. Don't want to roll it down those stairs, over the rocks or through the dog log infested grass? Take the included strap and throw it over your shoulder! That's one of the best parts about this roller. After working a wedding for 12+ hours, the last thing you feel like doing is carrying a heavy bag on your shoulders, so just roll it away. But through out the day, having the option to grab and go, throw it over your shoulders and get from point A to B is amazing. It's a shoulder bag and roller in one. Energetic or lazy, this roller works in your favor. One thing to note though, I don't think you can carry it over your shoulder for too long. It's not as comfortable as say, the Urban Disguise series against your chest/hip area. Plus, because it's a roller, it can be very heavy when fully packed. Even unpacked, it weighs 8/9lbs.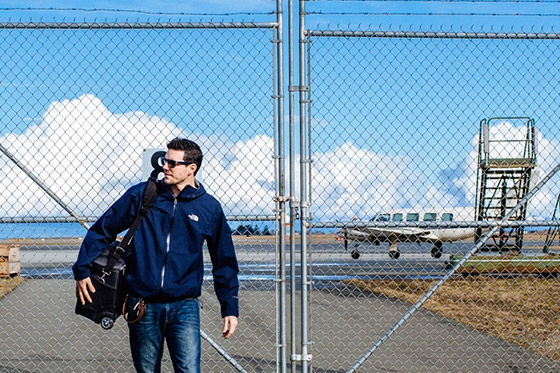 There are two ways to access your gear. A zippered pocket on the top to grab your main camera bodies, and a zippered pocket on the front for your lenses and accessories. This is great for quick access to your gear, but just remember to lay it down. It can take some getting used to and if you forget and open it while it's standing up, you might have a lens or 6 pop out. However; I tried it a few times to test it out (over a carpet for peace of mind) and nothing 'popped' out. That's not to say it couldn't happen! Having said that, there is a security feature which, should it happen, would keep your tumbling gear from going too far. On the front flap, there are two straps that attach to the bag, keeping the flap from opening all the way. They can be unattached and tucked away if you choose not to use them.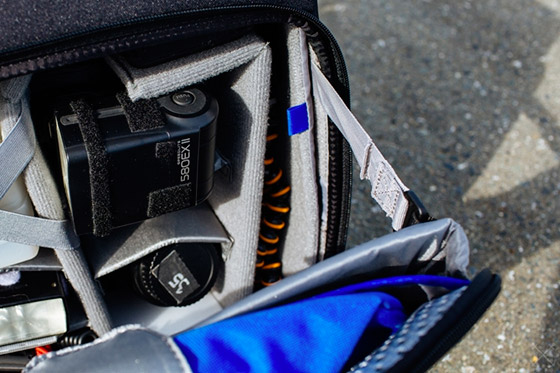 The funny thing about the design (aside from no pen pockets) is that while this holds the same load as the Airport Accelerator, the Airport Navigator has no lock. They include the RC-Fuse zippers which are lockable, but no lock. If I'm traveling with $10k in gear, I want a lock.

The bags is fairly straight forward. Like I said, no extra pockets really. You have your dedicated laptop and iPad compartments. Stretchy water bottle pockets on the sides as always and the passport pocket on top. There's one mesh zippered pocket on the inside of the top flap so if you do want to store some cords, batteries, filters etc, this is the place to do so. You also have the business card slot which I find somewhat useless now. It's great to carry your cards with you, but they don't have the little window on it anymore. I always liked that because some like to have a few cases/bags for different kits etc. If you have 2 or 3 of the same bag, the window was a good place to put an identifier so you could immediately know what bag held what. That and it was nice to have your business card shown at times. Not sure why they took the window out, but again super minor complaint and I'm probably one of the few who actually liked it. Ha!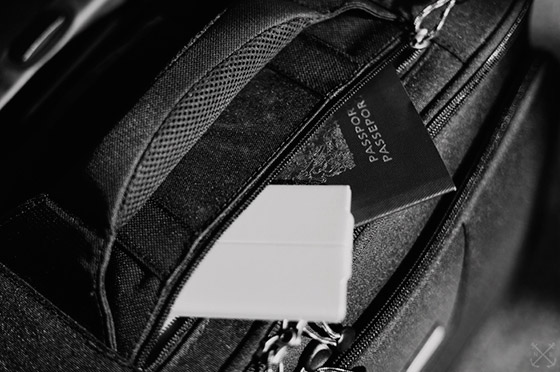 And yes! This mini beast does fit on most airlines and as Ben Chrisman mentioned, under the seat. I've only tested it on one international Boeing 737 so far, but it did fit. It was quite exciting to see. Having said that, I immediately put it up top because I need the leg room. Being 6' 3", I already feel like a clown packed in a mini when traveling in peasant class.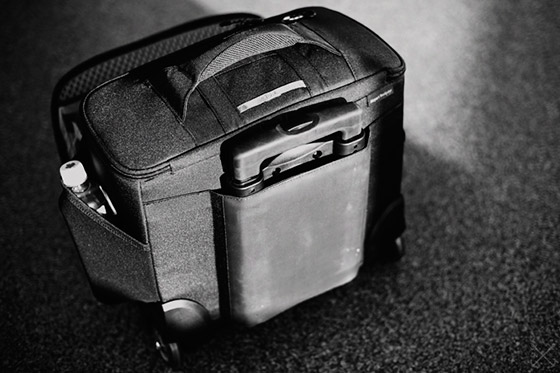 Speaking of 6' 3", the handle on the roller is tall enough for me to hold comfortably without having to get from airplane A to airplane B hunched over like Quasimoto. Seriously, it can be an issue for me with some rollers.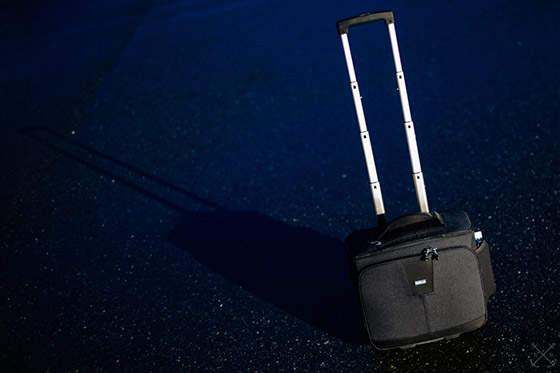 In conclusion, this is a serious bag for pro photographers. It's definitely a roller to consider for the wedding photographer who likes to carry a decent kit in just one bag. It's great for traveling with out having to lug a giant case around and the best part is that you can roll it around and then throw it over your shoulder when you're in a hurry or in rough terrain. It could use a little more room for one more row of lenses/gear, but other than that it would be the closest thing to the perfect roller. For now, stick your Urban Disguise on the Navigator handle if you need to pack a little more.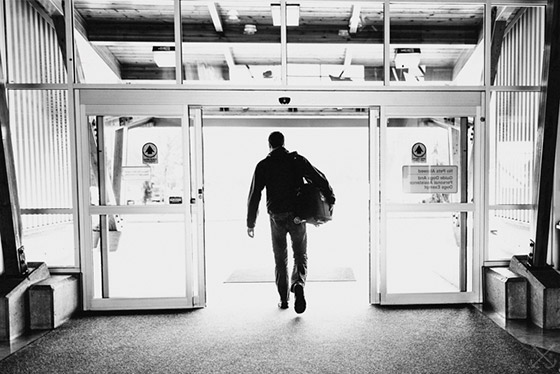 PROS:
– Compact but can pack a lot
– Roller and shoulder bag combination
– Carry on for most airlines
CONS:
– Needs front pocket for accessories and pens etc
– Wish it had a lock built in for security