Think Tank Photo's Airport Accelerator is a big bag, and it's the bag a photographer would want should they wish to travel with a gross amount of gear. This bag is designed to either carry a ton of gear or less gear and a large lens (600mm w/no body, 500mm w/body).  I would say this bag is the perfect bag for sports and nature photographers that own larger lenses, or for wedding photographers trying to carry most of their kit in one bag.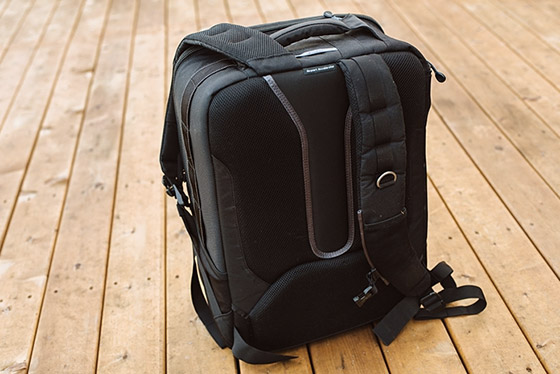 The bag itself has a very boxy look like all of the other Airport bags. I prefer this design over the tapered bags because it allows me to store more gear without trying to squeeze objects into awkward corners. The new line of Airports have a more pleasing design and lost the ol' buckle flap, although I think the Airport rollers still have that giant stretchy pocket on the front. I've never been a fan of those pockets, and now we have a nice black nylon pocket with zipper that still fits reflectors and laptops and other large (but thinner) gear. Plus we can zip it up now.
The padding throughout the bag is phenomenal. To start, the exterior is padded for your comfort when carrying a ton of gear. The back feels great with it's breathable padding and the wide shoulder straps are like pillows. Unlike the old Airport Acceleration, the straps can't be tucked away into a Velcro'd compartment. They can however fold over the bag making it a little neater. There is an optional waist strap which helps ease the weight of the pack.  When you're not using it, it can be removed completely from the bag. Having straps out of the way and folded helps when loading it into overhead compartments etc. It's a larger bag so it has a bit of weight in it, and with all the padding it comes to about 4-5lbs depending on what dividers are being used.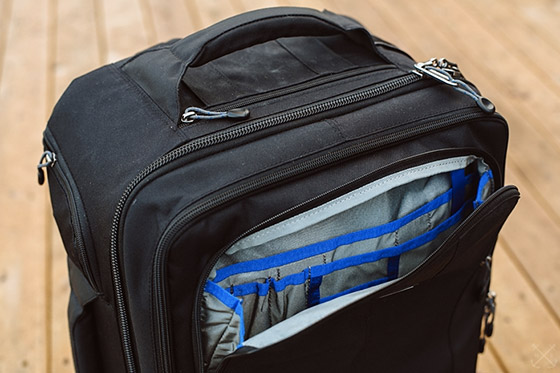 The bag has a few pockets and compartments for all your accessories. A couple large quick access pockets on the front, including a laptop and secured iPad compartment. There is one stretch pocket on the side (water bottle) and two smaller stretch pockets on the shoulder straps (pocket rocket, pens, beef jerky, shank). Two pockets also reside on the top of the bag; one for business cards and the other for quick access to your passport and tickets, small notebook or 'Best of Huey Lewis' cassette.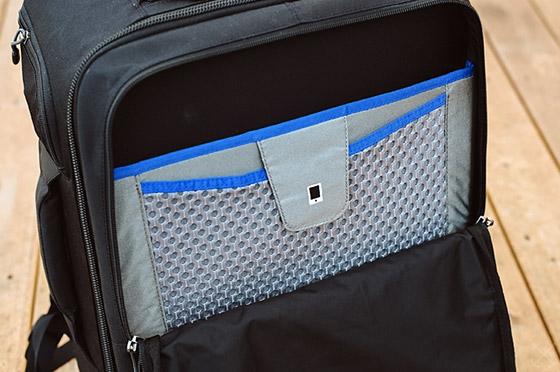 The bag has a combination security lock and cable for those times you want to leave your bag for a second. When it's not in use, it can be hidden away in its own small pocket on the side to keep things organized and clean. I love having the lock feature because like Fox Mulder, I trust no one.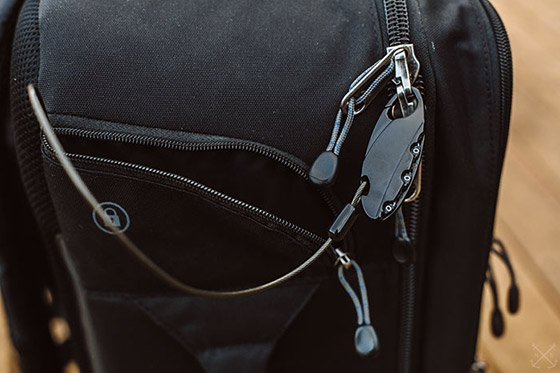 The Accelerator, like most Think Tank bags, is made from very durable materials. The exterior is made from ballistic nylon. So basically it's like wearing a bullet proof turtle shell. Ok, so it's not exactly Kevlar, but it's a pretty durable bag that wont wear out soon. The zippers are amazing as always. Just when you think the bag is over packed, pull that zipper up and be amazed at how it magically closes with out busting the zipper system. I'm guessing Think Tank uses YYK's adamantium of zippers.
Opening the bag up you get a ton of dividers and an infinite possibility of configurations. If you've ever owned one of these bags you'll know what I'm talking about when I say that the pads included are so perfectly puffy you could take one out in an emergency situation and use it for a pillow. I love the dividers they come with and for times when you want a thinner, less padded divider, Think Tank has included a few as well. Don't tell Think Tank but I've even used extra dividers from their bags and replaced the dividers in other bags – Shhh! The Airport Accelerator is very well padded; I could toss this bag at an oncoming bus and not feel the need to check my gear after. If peace of mind is something you crave, the Airport bags are worth every penny. (Don't throw at busses.)
There are three zippered mesh pockets on the inside of the main lid for all your accessories – filters, wires, CF Cards etc. They used to be plastic windows instead of the mesh, but I'm thinking they got rid of that because the plastic didn't breath well plus it would discolour and get cloudy. It looked pretty gross. Mesh however can also fray and get fuzzy so I guess either way you can't win, just improve.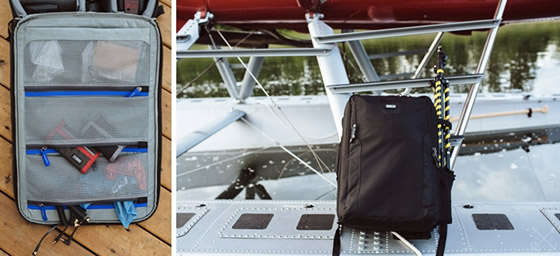 That pocket I talked about earlier for a water bottle? Well the bag also includes straps to hold a tri/monopod or even a small light stand on the side exterior. The bottom of the tripod would then slide into that stretchy pocket keeping it secure and in place. I rarely use a tripod, but it has helped me carry around a light stand. Thing is, the light stand sticks up past the bag and looks like I'm trying to communicate with extra terrestrials, so I rarely use it. Something else worth noting on the exterior is a padded handle on the side (opposite side of the tripod mount) and a padded handle at the top. Need to quickly get your bag and go? Just grab the Accelerator like a suit case and you're set.
If you've packed the bag to the rim, picking it up for the first time will shock you. It's very heavy! Having said that, even with a full load the padded bag and straps really help with the weight, so it's not too big of a deal (don't forget that some airlines are strict with carry on weight). Using the chest and waist strap on the bag will also relieve some of the strain put on your back and shoulders. I would say one could walk for a good 30 minutes with a full bag before feeling like they had to curl up in a ball and sob.
Personally, I've been using less gear lately. As a result while traveling, this bag has had some extra room inside for me to pack just enough clothing for a weekend. This is awesome because I don't need to check any bags now. If I bring this and an Urban Disguise, I'm set for a weekend of traveling! When you're not traveling or working, this bag is also great for storage. Put all your gear inside when you're not using it and then when you need a body or lens, just take it out of its designated slot and pop it into a smaller bag.
Like most reviews for bags, I'd list what I could fit inside but I think for this review it's almost pointless. Just know that you can fit anything in here; it's as good as it gets for packing what you need. Below is an older shot I took of its contents (packed to the  max) and I decided to include it anyway just to give you an idea (missing from photo is SLR body and 50mm 1.4 in hand to take photo).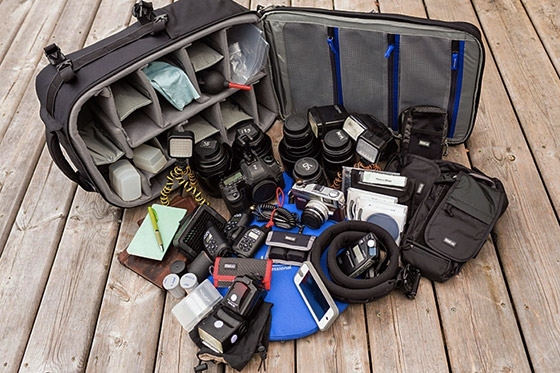 Pros:
• Durable – thing's made from ballistic nylon for cryin' out loud
• Packs everything under the sun
• Comfortable
• Customizable
• Lockable
• Maximum carry on size for most airlines
Cons:
• I miss the strap tuck-in pockets from the old Acceleration
• The elastic pockets aren't as durable as the rest of the bag
• At times I wish it had wheels so I can give my shoulders a rest
• The Pyramid Scheme