Marko Georgiev
is a staff photojournalist for The Record, a North Jersey Media daily newspaper. Georgiev's international photo career spans over two decades, on four continents, in six hurricanes and two trips to Iraq for The New York Times. Georgiev is a licensed pilot, biker and sailor and hates selfies photos.
The Tenba Transport Air Case Attache looks and handles very much like a carry-on piece of luggage, but it's much larger and more importantly far stronger! I use it in my Jeep trunk to store the many pieces of gear I need for daily assignments working as a staff photographer at The Record in New Jersey. Because I live in Jersey, I drive a LOT, so this case was a much-needed addition to my kit!! Tenba states its "multi-layered skeleton holds its rigid structure and has impact and puncture protection provided by internal framework of corrugated, Air Channel Polyethylene and high-density foam, and specially-molded framing components, with a heavily reinforced ballistic nylon outer shell. They are strong enough to stand on, even when empty, and are built to meet or exceed ATA shipping standards."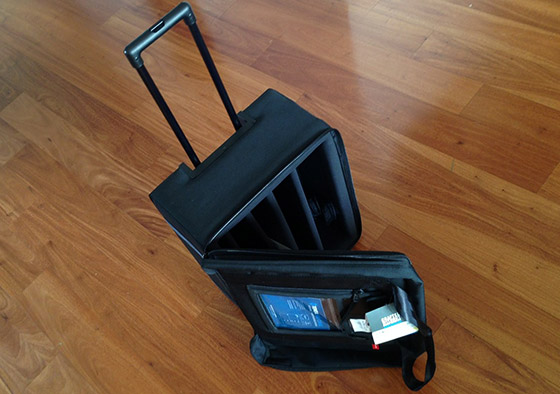 At just over 14 pounds when empty, it weighs about twice as much as a traditional piece of luggage, but given its size and capacity, this case isn't nearly as heavy or bulky as a similar hard-case. The exterior dimensions are 21″W X 17″H X 9″D  (53 X 43 X 23 cm) and 19″W X 14.5″H X 5″D (48 X 37 X 13 cm) inside.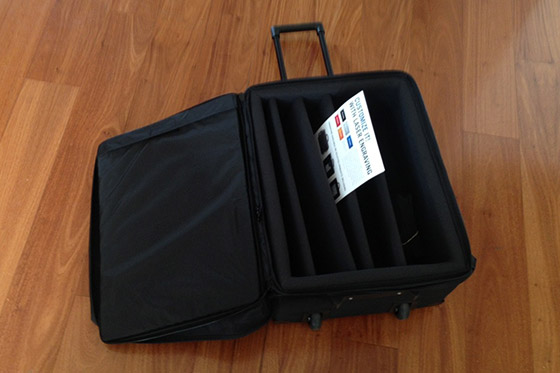 Just by the touch you can tell its build tough, just like anything else Tenba makes. With weather resistant ballistic nylon exterior, simple and tough handles, comfortable hand grips with 2-inch webbing, reinforced seams and stress points, and its black on black color gives it a tough, professional appearance.
The Tenba's "Exclusive Datapanel" integrates shipping document window, business card holder, and an engravable metal I.D. plate. Though I don't plan on shipping this unit, I placed few of my portfolio books in the sleeve to have them handy at all times.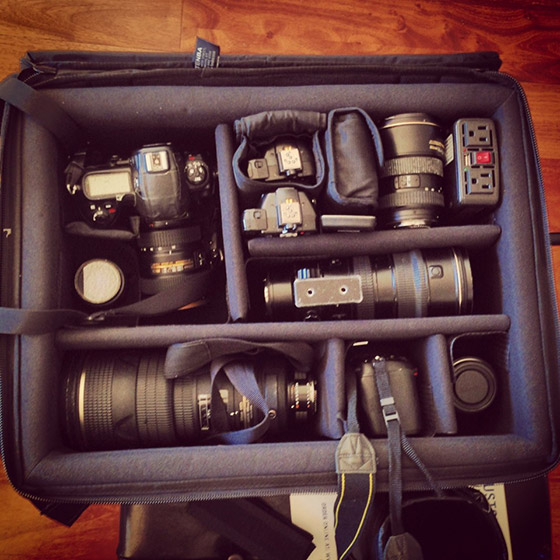 Outfitting the interior compartment was simple and is very customizable by using several large, reinforced dividers and Velcro straps that come with the case. I cut mine easily with scissors and had plenty of extra divider material leftover for future use. Now, the case carries most of the "A-list" gear I use everyday: a couple DSLRs, five to seven lenses including my 300mm, a few strobes (which I rarely use), tons of cables, battery chargers, and other miscellaneous items. I can also fit my monopod on the top of the case along with a small Gorillapod when needed.
The wheels are ultra quiet, soft enough to absorb some vibration when I take it out of my car (which is rarely). The case does get a bit wobbly when pulled too fast and there is no designated sleeve or a space for a laptop on this model, but this is a case, not a bag.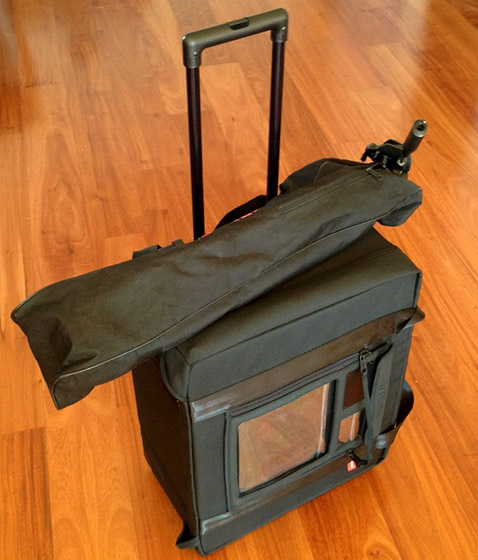 Sometimes I drive trough very questionable neighborhoods and many of those times I have to park my car. Occasionally I have to leave my cameras in my car, sometimes overnight. The 10″ YKK military strength zippers are perfect for a TSA lock. They seem strong enough to support a descent yanking and I also added a cable lock through the handle that secures the case to a bolt inside the trunk. Of course this is not a real solution for a career thief, but anything to make it harder for the potential smash-and-grab punk, right?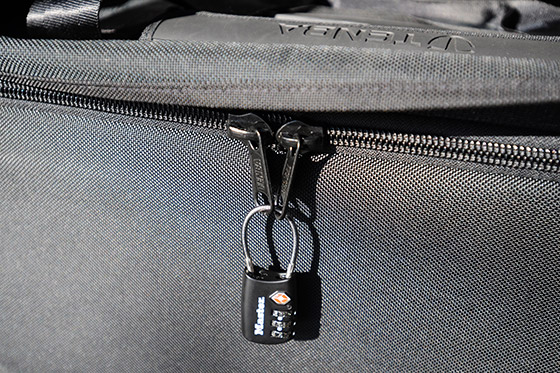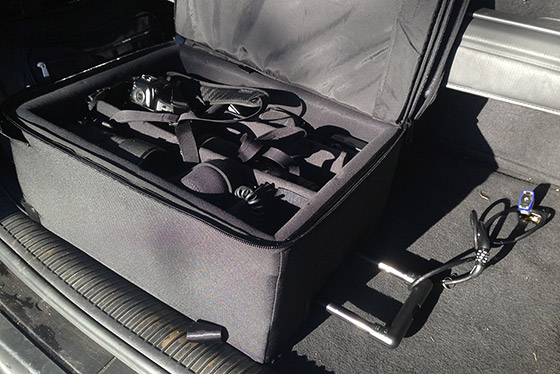 Conclusion: I've found this Tenba Transport Air Case to be very versatile and useful in my daily life. It's perfect for safely and securely transporting many bulky pieces of photo gear in my trunk. It's strong enough to sit or stand on it, so the step-latter can stay at home! The case is big enough for all my daily photo gear and I can easily customize the interior compartments for different kits as needed. It gets heavy when filled to capacity (duh) but the wheels make it a breeze to transport and I can securely lock and store it in my trunk. I even left it in my trunk overnight during the Polar Vortex week with no problems. It looks pretty, works professionally, and its weather and puncture free. The Transport Air Case Attache is much lighter and nicer than a standard hard plastic or metallic case and is equally as strong!
Still not convinced about the strength of this case?