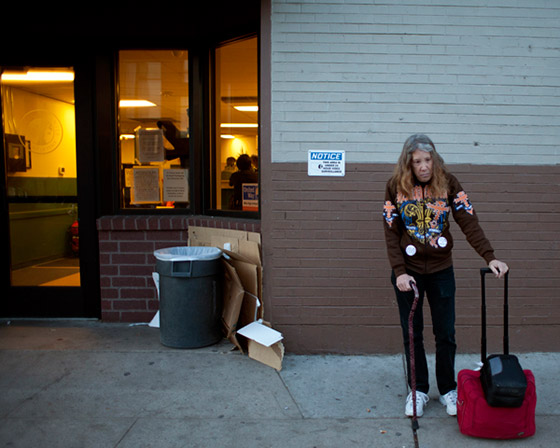 Philip Poston, senior photojournalism student at Metro State University of Denver, shot a story about a homeless woman who suffers from MS.
Kim Orr is a homeless woman that currently lives in Denver. Kim suffers from MS and had a traumatic brain injury when she was 16. She has been homeless since November of 2012 after her husband left her at an Aurora, CO motel with $20 and her car. Kim was in Colorado to see a specialist to assist with her health issues.  She spends most of her days at the day shelter here in Denver and at nights either gets to stay at a women's shelter, if she is picked in the lottery, or has to go to a co-ed shelter, which is not as nice, and is not easy for her to get to, due to having MS. I did this story on Kim for a class I took at Metro State University of Denver. The class was part of the Colorado Charge, which was issued to MSU Denver by Colorado Gov. John Hickenlooper. Students were "charged" with assuming the role of researcher and conducting research pertinent to a pressing social issue in Denver, which in this case was homelessness.
See more photos on Philip's website.