I stumbled upon Wotancraft Eastwood Holsters somehow through the tangled interwebs. It was one of those rare discoveries found completely by accident, searching through the many images on google with a phrase like "Leather + Camera". The Wotancraft Holster is amazing, so why can't I find much about it online? I had to get my hands on one and get a review out, they looked so intriguing.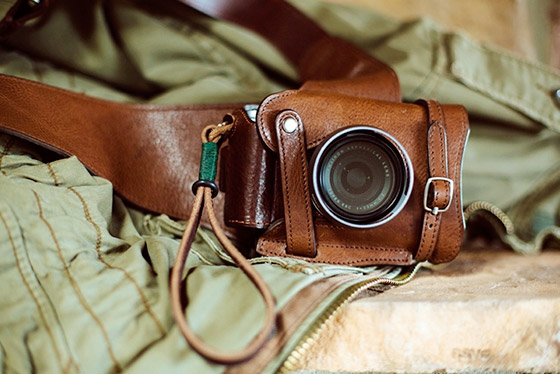 Wotancraft is a company that creates and sells quality leather products, specifically catering to watches, but they do have some camera gear including half cases and bags. I haven't tried out any of their other products yet, but in terms of eye candy, you won't be disappointed. They seem to have a thing for the vintage leather look, and design a lot of their products with a vintage military theme.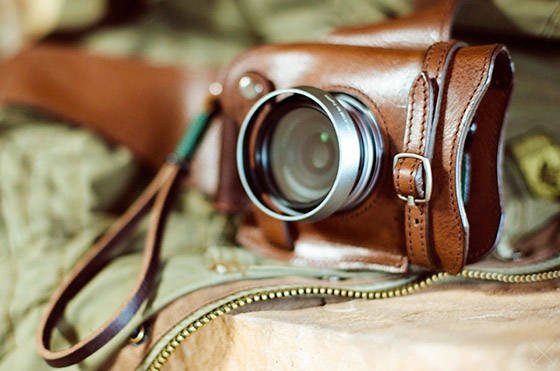 The holsters are designed to hold rangefinder style cameras on your body, similar to how you might imagine a detective or soldier with a gun holster. The great part is, not only will it hold a Leica, but it can fit a lot of the older film cameras and newer digital cameras like the x100s. The holster also has a small belt at the bottom that allows you to tighten or loosen the grip on the camera. I've been using it with my FujiFilm x100s and it fits great. Best part is, my camera has a leather half case over it and it still fits. It was a bit snug at first but with an adjustment and some time to soften up it slides right in there.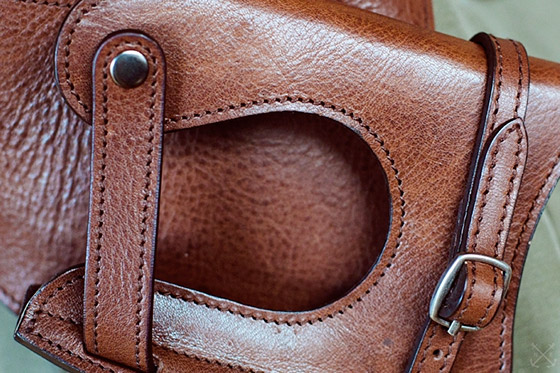 The holster was delivered from overseas. I know that ordering from places like Asia can worry a lot of people in North America, but mine showed up in good condition and on time. Plus, the communication between Wotancraft and myself has been great so far. In the box was the holster nicely wrapped up in an off white canvas bag with a leather badge. Like most leather products, the leather felt a bit stiff at first but has softened up since. The leather is comfortable now, not too stiff to wear. Even from the start the strap felt good over my shoulder. By default, it's built to go over your right shoulder and hang on the left side of your chest allowing you to quickly grab the camera with your right hand. I would suggest you buy a wrist strap for this style of shooting since you can't really attach a neck/shoulder strap to the camera while in use with the holster.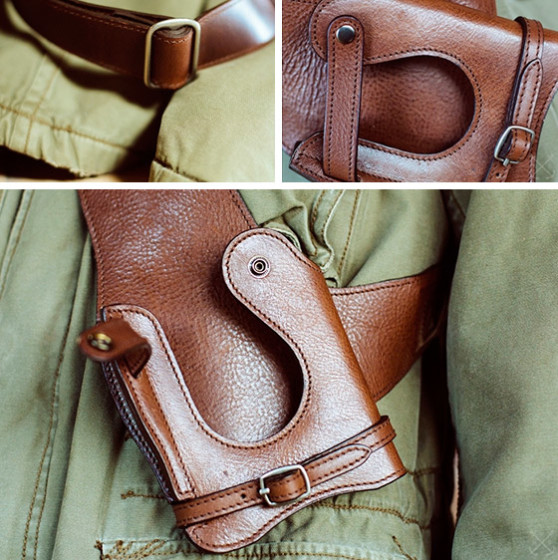 At the top of the holster is a strap with a button snap so you can securely lock your camera in without worrying about it popping out. The front inside of the holster is lined with a very soft microfiber. This is also present on the lower underside of the sling that sits on your chest. I'm surprised that it's not on the area your camera would slide in and rest. That's a part of the camera that I would think about protecting before any other part of the camera body, but its a soft leather anyway so I guess it's not a big deal. All the metal hardware on the Eastwood seem to be fairly solid and durable. I'm guessing some parts are an alloy metal with an antique / gunmetal finish. There are a couple designs and colors available through Wotancraft's site.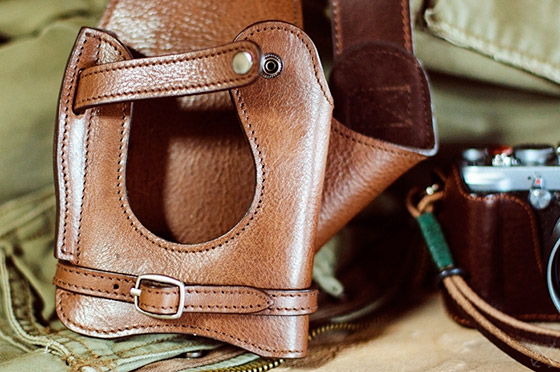 Wotancraft is a company that I had never heard of until now and I'm very surprised. I'm surprised because this holster is so unique and very functional. It's something I thought a lot of photographers would be talking about. It's one of those pieces of gear that allow you to shoot more and focus on being more creative. It's just you and the camera with nothing else to think about, just taking pictures.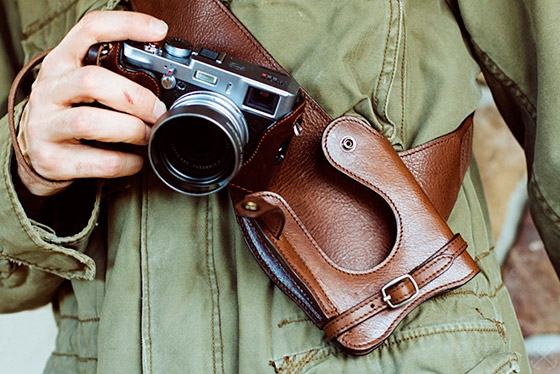 (In the photos above, the camera shown is an x100s with a leather case from Leicatime.com and a wrist strap from Gordy's camera straps.)
PROS:
• Very unique conversation piece
• Well made
• Designed for Leica but fits the Fuji x100s
• Easy to put your camera away and take it out when you need it quickly
CONS:
• Has some bounce when walking fast or running, slightly annoying