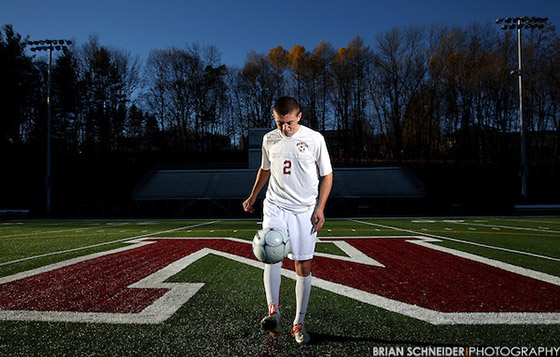 Baltimore, MD-based photographer Brian Schneider documented the unveiling of a Wendy's High School Heisman National Finalist in Easton, MD.
A day after my first Wendy's High School Heisman unveiling, I found myself on the road to Basking Ridge, NJ for the start of a two-day assignment for my second unveiling of another National Finalist in the Mid-Atlantic region. This time I was covering Brett Conrads' state playoff game in secrecy as the announcement wouldn't happen until the next morning at his high school in Newton, NJ. It was a balmy 25 degrees at the start of the game with a fair amount of wind, and even with almost every layer on I felt frozen. The elements are a part of the job, but I truly dislike the cold. Conrads' team won the game to advance and I made my way to the hotel for hot chocolate before a long day with him on Wednesday. It was great to work with the same ESPN video crew from Emily Granger's day and I really couldn't ask for any better light over both days, just gorgeous fall light.
Continue reading and see more photos on Brian's blog.