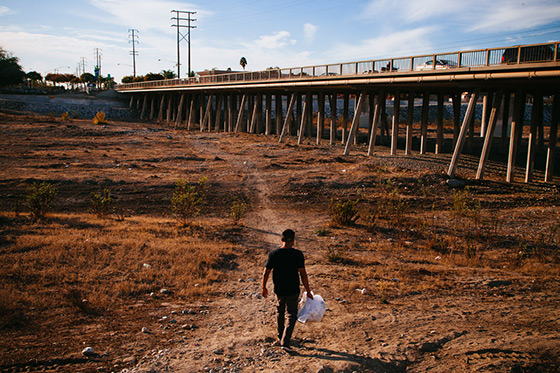 L.A.-based photographer David Walter Banks shot a story about a non-profit group called Vet Hunters that finds and helps homeless US war veterans.
Nothing makes me stare into my own reason for being more than bearing witness to those that devote themselves to helping others, despite the obstacles, danger, and lack of funds and resources they may face. It makes me pear into my own soul and ask what the hell I'm doing to better this world. I was hit with this feeling the second I went out into the field with the non-profit group Vet Hunters, founded by U.S. Army Reserves Sgt. Joe Leal. The organization finds and helps homeless US war veterans, connecting them with much needed resources, housing, medical care, survival needs. The group goes further than that, providing donations and assistance to the Los Angeles homeless community at large. They all do this for different reasons; some to cope with PTSD, some in honor of a lost loved one, and some simply because the see the need to help. What they all have in common is that they are giving of themselves and their lives for free as volunteers. Honestly it was horrid to see the way we cast aside those who fought, killed, and give their lives and often a piece of their sanity for our country. They do their service, and then we simply let the slip through the cracks, destined to live in want and fear for their remaining years. To read the story by Bill Briggs here. To learn more about the organization, or to get involved, go here.
See more photos on David's blog.