John Lill
is a twenty year veteran photographer who has worked in varied assignments all around the world including the White House during the Bush and Obama administrations. He has served as lead photographer aboard USS Ronald Reagan (CVN 76) managing 35 junior photographers and most recently, USS Makin Island (LHD 8), which is known as the Navy's largest hybrid powered vessel. John currently resides in Seattle, WA serving as a Public Affairs Officer for the Navy and covers the local music scene as a freelance photojournalist.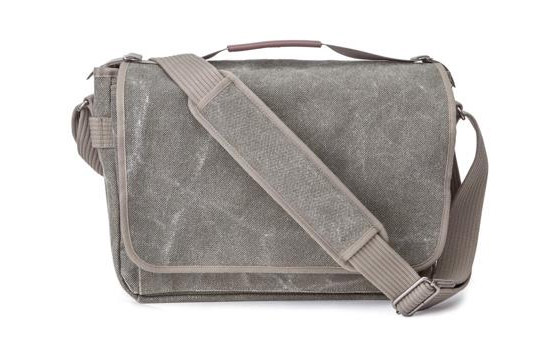 I think I can relate to how women look at shoes and purses after using Think Tank Photo's gear. Their bags are always designed for purpose, functionality, durability and style without compromising any of the above traits. While the bags aren't cheap, you get what you pay for in a Think Tank product and that is piece of mind. It's no surprise that when they recently released a new laptop bag, I would clammer to get my hands on it. Not long ago, I wrote a review for their "My 2nd Brain" line of laptop bags designed specifically for Apple products. As I noted in that review using the bag to its capacity gave it a bit of a dense feeling due to its small size. That bag, when used with the accompanying shoulder strap placed the laptop in a vertical carrying position unlike traditional bags which carry a laptop in a horizontal position.
Think Tank's follow up to that bag, the Retrospective 15L is more in line with a traditional laptop bag but has the quality, features and comfort that the company has built their reputation on. Like several of their other bags, these bags come in black, blue and Pinestone (a greenish gray color) and are offered in two sizes for a 13″ or 15″ laptop. I've always stuck with black bags in the past so I wouldn't draw attention to myself but I felt like trying something different and went with the Pinestone cotton canvas version.  What a refreshing change this was!  This bag is a bit larger than the "My 2nd Brain" bag and does everything that bag was designed to do and much more.
The cotton canvas exterior has a distressed appearance but is still stylish yet water resistant.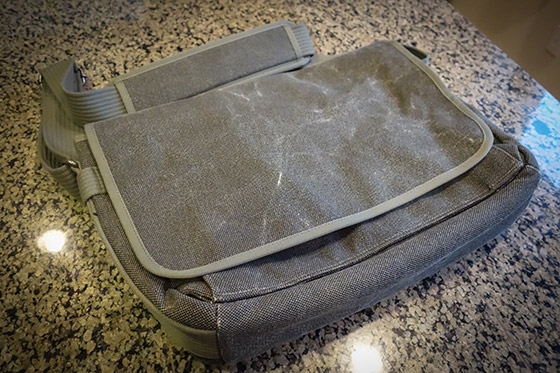 The Retrospective line of bags have a flap top access with velcro fasteners but feature Think Tank's sound silencers that cover the velcro for a quiet and quick access when noise suppression is necessary (like in a library or classroom). Located on the underside of the flap is a business card holder which I have found to be very convenient.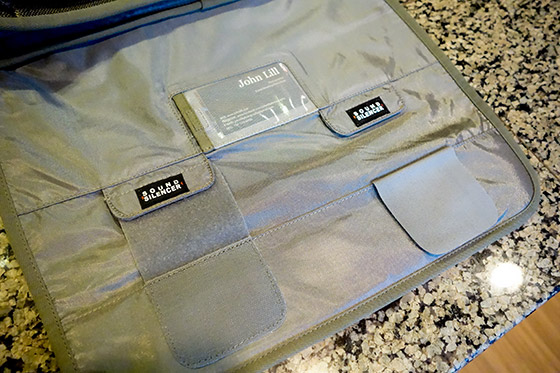 Think Tank Photo's sound silencing system for their velcro is a welcomed option. Exposed on the left, silenced on the right.
On the inside of the bag is a dedicated laptop/tablet sleeve and deep pocket section capable of holding several notebooks or computer accessories. Also located in this section, is a zippered pocket to hold printed documents or any number of small items that you could wish to carry with you.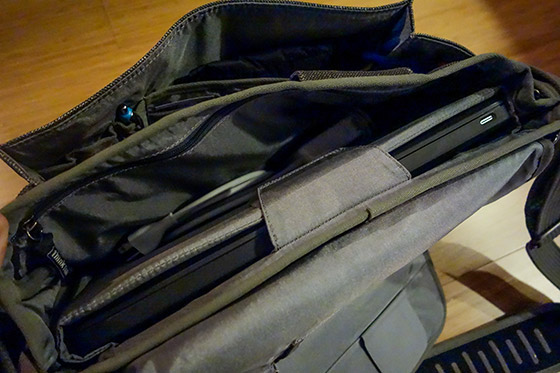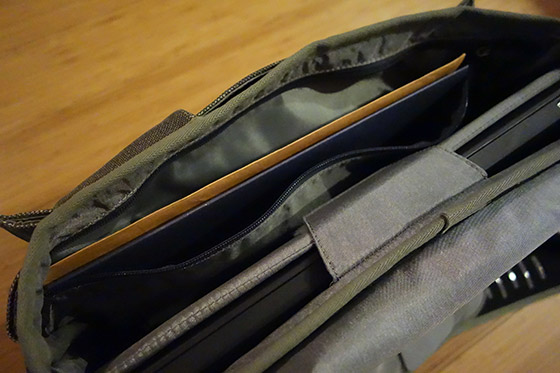 The laptop sleeve is depth adjustable and the compartment is deep enough to store any computer accessories, a couple of books or your lunch.
The front pocket section has designated pen/pencil sleeves, card holders, a small pocket which holds the protective rain cover for the potential downpour and a section capable of holding a portable hard drive, memory card reader or other small items.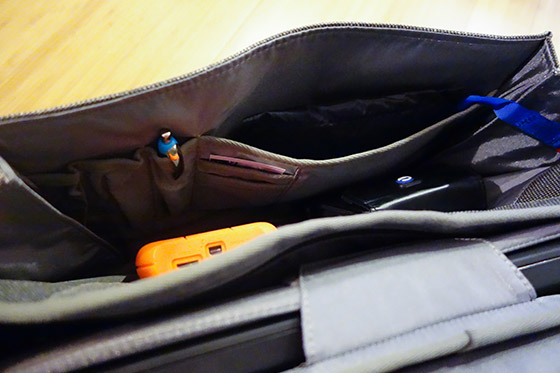 Lots of options in this pocket. For now, I store two portable thunderbolt drives.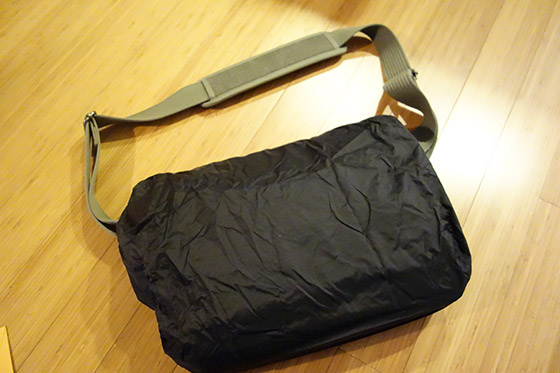 This bag comes prepared for the rain, sleet and snow!
On the back side of the bag is smooth sided zippered compartment which could hold a iPad like tablet, document folder or magazine.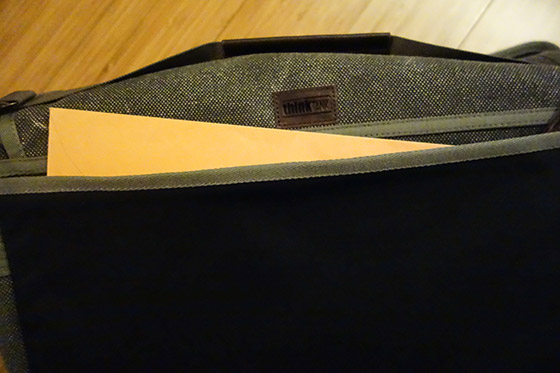 Document holder or easy access to a tablet.
The shoulder strap is ultra comfortable and one of the best I've ever experienced on a bag.  The straps non-slip pad features a breathable mesh cushion with a rubber like grip strip to hold the strap securely on your shoulder. My one concern with this shoulder pad is how durable the grip strip will be over time and heavy use.  I plan on using this bag for the long haul.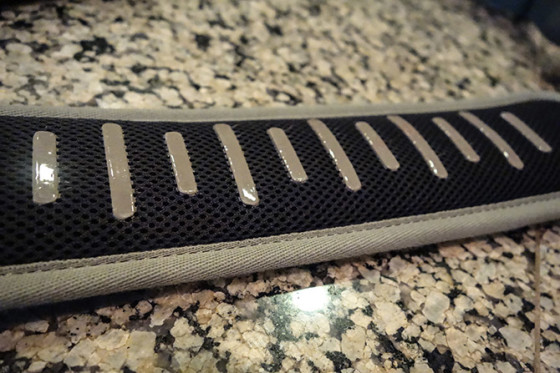 After several weeks of use, I've grown very fond of this bag and have experimented with the capabilities of the bag by not only using it to carry my laptop.  I've used it to carry clothing and lunch without issue. I've found it to be the perfect everyday laptop bag that is stylish, yet not too flashy. Where the black version works in every situation, the blue and Pinestone versions are best suited for the creative artist, urban dweller or student.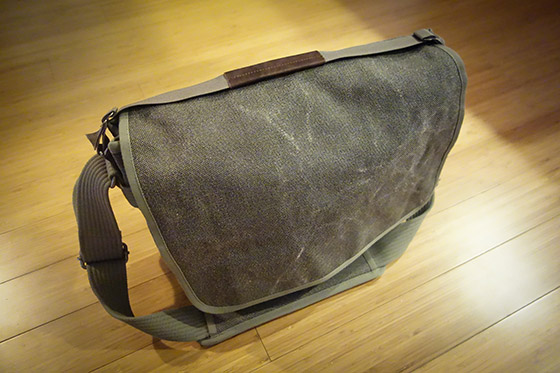 PROS: Comfortable, well designed and universal for the Mac or PC user.
CON: Shoulder strap durability over an extended time could possibly be problematic and the smaller hand strap seems a bit to thin for the intended purpose.