C.S. Muncy
is a New York City-based freelance photojournalist with a client list that includes The New York Times, The Wall Street Journal, Newsday, The New York Daily News and The Village Voice. His work has also appeared in Time Magazine, The Smithsonian Magazine and Wired Japan. In 2012, he was selected for the 25th Eddie Adams Workshop, received the NPPA Short Course Travel Grant and won first prize in the National Geographic/Nikon "Full Story" photo contest. A graduate of the Defense Information School, he enlisted in the United States Air Force in 2002 and is currently a combat correspondent with the 106th Rescue Wing.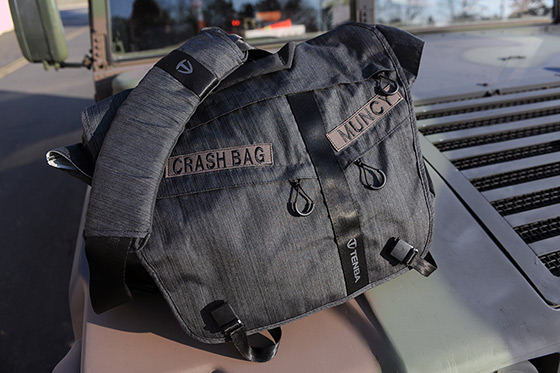 A few months back I wrote about my new camera bag, the Think Tank Retrospective 30. At that time, I was replacing a badly frayed and abused National Geographic bag, and up until now I've been very happy with my purchase. It's a tough-as-nails camera bag that easily carries most of my gear. I've dragged it across pavement, through dirt and rain and it's held up like a champ.
That said, I have discovered some shortcomings that needed to be addressed. The Retrospective lacked any external pockets, the flap only locked shut by velcro and it was just a hair too small to hold both my cameras and my 15″ laptop. Don't get me wrong: I think it's a hell of a bag that'll work perfectly for a lot of photographers. I just needed something that would carry a little bit more.
Tenba recently sent me their newest bag, the Messenger DNA 15. Not only does the DNA 15 have a number of external pockets, but every zipper features an easy to grab plastic loop. Like the Think Tank, the front flap closes with velcro, but the Tenba locks down with a pair of magnetic clasps. When you're riding on a crowded subway or working in an unruly crowd, you want to be able to keep unwanted hands off your lenses. The bottom also has a layer of waterproof material, which is great if you have to set your bag down on a wet surface. The inside is well padded and has enough room for two bodies, several professional lenses and my largest laptop.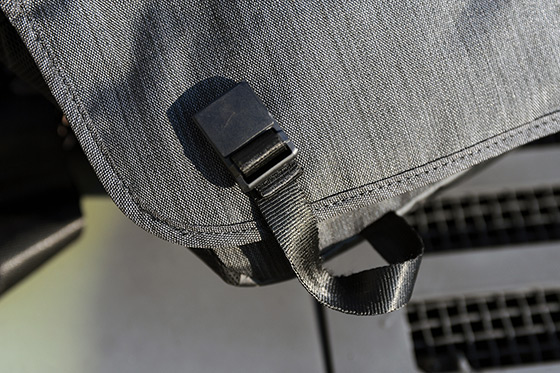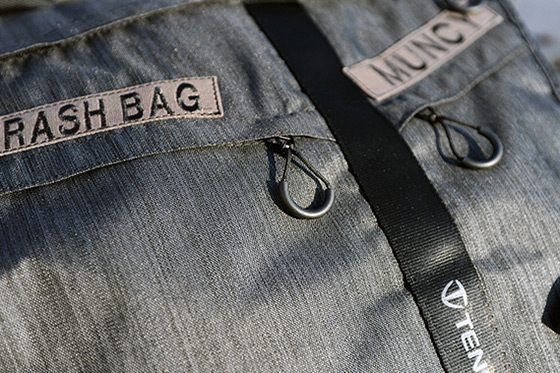 One of the few complaints I have about it comes from the strap. While it's well made and comfortable, the seat-belt material tends to twist and fold inside the shoulder padding. I'm sure there must be a solution to this, but off the top of my head I'm not sure what that might be. I know fellow Brigade writer Dean Neistat cut his off, but I'm not sure that's the direction I want to go in just yet.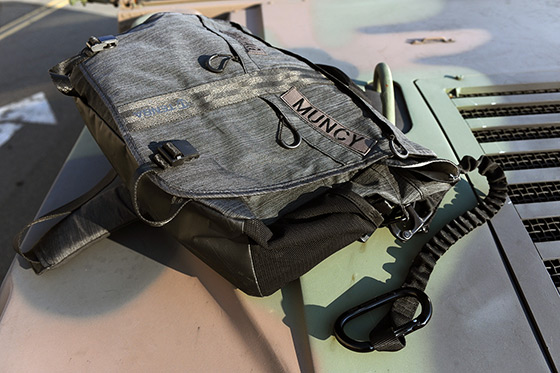 You might also notice that I've modified it for my own needs. The name tags on the front aren't just for show. If I ever leave it behind, I like being able to tell my friends or fiance to "just grab the one labeled 'crash bag.' " I've also added a number of heavy duty carabiners and a sling. When you're hanging out the back of an aircraft, you really don't want your gear flying all over the place. I can also use the sling to keep the bag secured to my belt.
PROS:
– Built tough. Made from water-repellent material
– Holds everything I need, including my large laptop.
– Ergonomic. Everything can be opened or closed even while wearing bulky gloves.
– Secure front closure locks down with both velcro and magnetic snaps.
CONS:
– Shoulder pad sometimes causes the strap to twist around.