Neville Black
is an award winning wedding and portrait photographer living on Vancouver Island in the Pacific North West. A photographer who believes the more risk one takes and the more uncomfortable they feel, the more potential is given to produce a great photograph.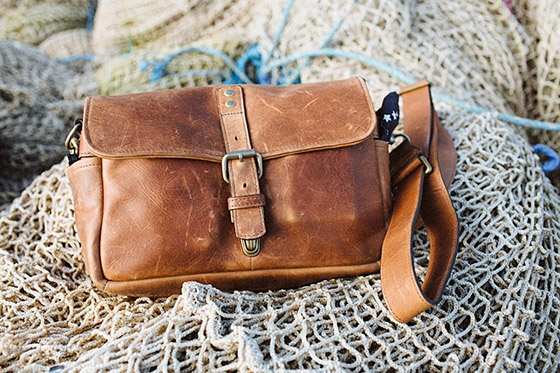 I remember looking for bag inserts (make your non-camera bag into a camera bag) a while back and coming across a company by the name of ONA. I had purchased a leather bag from Fossil at the time, but wanted to make it a little more functional for shooting. I just wanted a camera bag that was also stylish and well, a Kelly Moore bag just wasn't my thing. They're nice, but not my bag (Get it? Awesome pun). Thankfully I got the Fossil bag at a good price from an outlet centre because I never got the insert, and I sold the bag. The idea works, just make sure you buy the insert before the bag. Size matters.
Half a year later, I remembered ONA and looked them up online. Why didn't I do this in the first place?! There in front of me was a series of amazing looking, fashionable camera bags for men! Canvas and leather bags in all different sizes and styles. Finally, I was lucky enough to get an ONA Bowery in to review. This is one of their smallest bags designed for smaller camera kits, film, mirrorless and Leica systems. I was tired of carrying around larger bags when all I wanted to bring was one camera and a lens. I was also slightly bored of walking around with the same old black camera bag and wanted something more stylish.
The Bowery has five pockets – One on the back for an iPad mini or notebook etc. Two under the main flap, great for small note books, light meter, filters etc and 2 slightly useless ones on the side. I say useless because they're small and don't stretch out much so it's hard to get anything in there. Maybe a lens cloth, pen or an energy bar. This isn't a flaw placed solely on this ONA bag, it's on so many bags out there. It's just the way it goes when your bag is made from something that doesn't stretch well.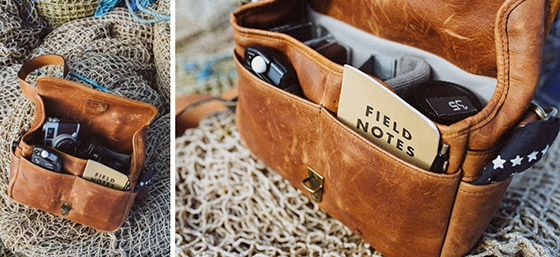 One thing I would like to see different is the depth of the back pocket increased to fit an iPad mini just a little better. It fits, but hangs out by an inch or so.
The strap included is all leather as well and it's nice and soft so it's not abrasive. It's quite nice. On the website ONA states that you can remove the shoulder strap from the bag making it a stand alone insert (like I wanted in the first place). But putting a leather bag into another big bag doesn't make sense to me. The weight would be incredible.
The Bowery comes in many colour choices, and you can get it in leather or canvas. I picked up a Bowery in the Antique Cognac Leather. The all leather exterior is very nice. I was surprised at how nice it looked and felt. Very soft to the touch and had a nice antiqued look. Like your old man passed on the camera bag he used as a young chap (minus the old library book smell). I've seen other leather bags, but this so far is one of my favourites. One thing to note is that because it's a soft leather, it does scratch very easily, but that adds character in my opinion.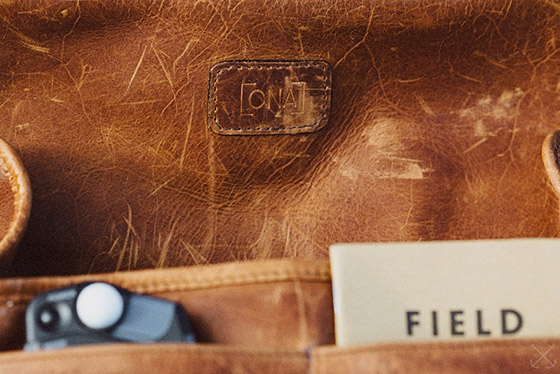 The felt interior is as soft as a kitten and has decent padding. The bag comes with one small divider and you can buy a two pack of extra dividers for $10 from their site which I would recommend. However, the dividers are a little too soft for my liking so I grabbed some extra dividers from another bag which work more to my liking.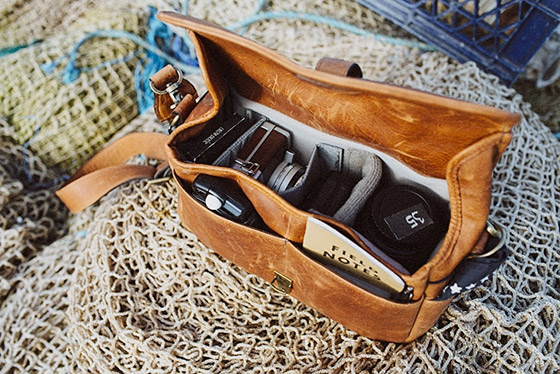 ONA states on their site that the hardware on this bag is Antiqued Brass, and I have a feeling that means it's not solid brass, instead a mixed metal coated to look like antiqued brass. Would this stand the test of time? Not sure, but since its a small bag carrying very little gear, I'm not too worried. I dig the colour though; brass is my favorite and suits the leather well.
The main compartment also has two fold in flaps attached to the lid to protect the inside contents from the elements. While this bag is slightly water resistant, it's in no way waterproof so don't take it out in a torrential downpour or a sand storm.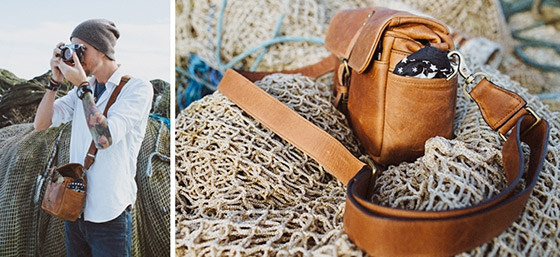 The leather bag is about half a pound heavier than the canvas version. I don't find it to be super heavy, it's definitely a bag I can carry for a good walk around town. I think this is my go-to bag from now on. It fits just what I need for casual shooting as well as carrying miscellaneous items (keys, money etc). On top of that, it just looks damn good. I've had people compliment it just walking around.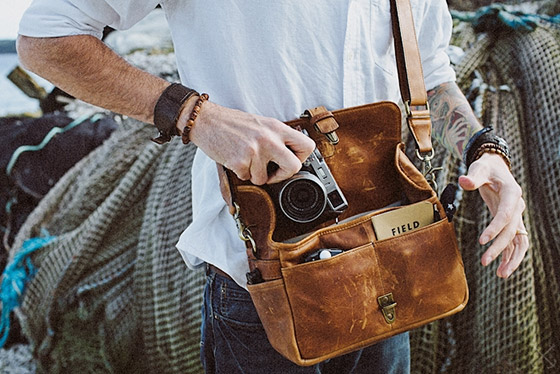 Last thing I wanted to touch on is for people outside the US. ONA, at the moment, does not have any retailers in Canada so buying this bag means you have to have it shipped and possibly taxed. At $230 for the bag plus shipping and taxes, this bag might not be worth the cost for most Canuckleheads. I would suggest you grab a waxwear Bowery at half the cost. If you're in the US or money is no object when it comes to looking like a baus, then spend on.
PROS:
– Stylish
– Really nice soft antiqued leather
– Fits a decent amount
– Manliest of purses
CONS:
– I'd like to see solid brass hardware, not faux
– Back pocket could be a little deeper to fit iPad mini better
– Price is a little steep outside the US for a teeny bag