iPhones and other smartphones are beginning to replace point and shoot cameras. They're not quite there, but they're getting pretty close. Almost every pro photographer out there owns one, whether it's for the joy of photography or keeping up in the social world. I first got an iPhone when the 3Gs was released and even won awards with the photos I was taking. Now I use it on a daily basis, primarily for social media, but it's really become an extension of myself. I never ever, ever, ever, never ever leave the house without it. Ever. From the first day I got my iPhone I immediately went for the strongest case on the market – the Otterbox Defender. Over the years their product has changed and I find they are using cheaper plastics (That's my opinion, not fact). My iPhone 3Gs case still looks like it did when I first bought it, yet my iPhone 5 case has already been replaced and the rubber is stretching off from the new case. That and it allowed dirt to get in behind the case and scratch up my iPhone. Needless to say, I've become slightly tired of the old, and was looking for somethin' new. Since I'm not as clumsy as I once was (Daddy brain), I felt the need to move on to something a little more interesting and fashionable while maintaining a fair amount of protection and functionality.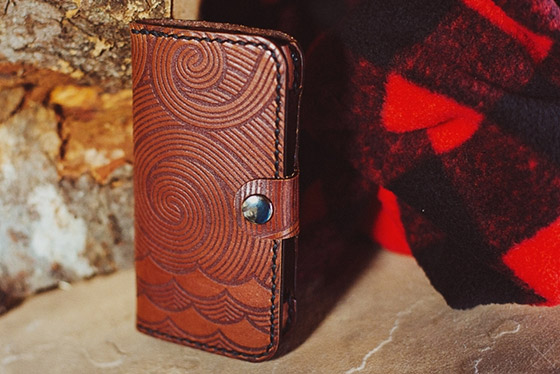 Meet the custom leather wallet from Hand & Hide. Hand & Hide isn't a large company selling tons of cases to major retailers like Otterbox. Hand & Hide is a small, but becoming very popular business run by Jeff Amrhein in Portland, Oregon. He sells a range of hand crafted leather products for portable gadgets like the iPhone, iPad, Kindle etc.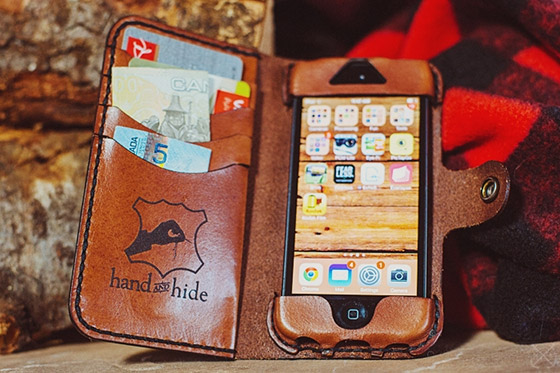 I was searching all over for an iPhone case. Some I found were good quality, others total crap. I just couldn't find one that really grabbed my attention. So I moved on from big shops and started to search Etsy listings. The way I see Etsy is: Garbage, garbage, garbage, GOLD, garbage. There really are some amazing stores on Etsy, you just have to look.
What I liked about Hand & Hide's leather cases outside of the nice quality work, was the variety in designs and colour. They offer 10 leather dyes, from a nice Latte Brown (pictured) to an amazing Teal. The natural dyes used give each unique piece of leather a unique stain as well. Each case is hand stitched using the saddle stitch technique for extra strength.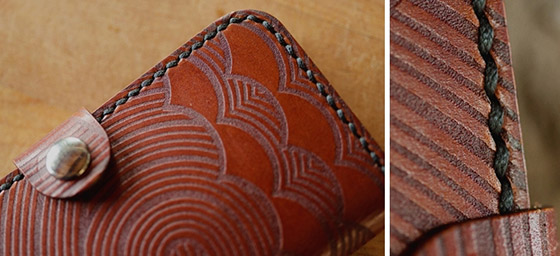 You can also choose the design. The one pictured is the Nautical design, but you have over 20 etched designs from including wood grain, poppies, ferns, owls, bears and an octopus. Jeff also does hand tooled designs.
For those who dig their own logo etched into the leather, you can do that as well. That's awesome for photographers wanting to show off their brand. Other options include words etched in, extra card slots for the wallets and wrist straps.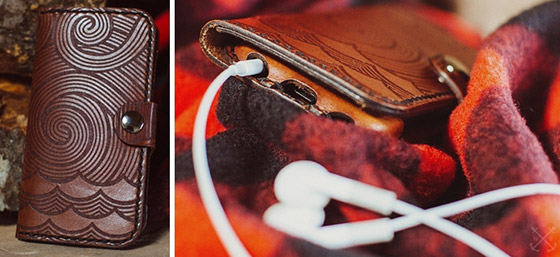 What I love about the case is that it opens like a wallet and I can throw in a couple cards as well; debit and credit. I started out with the fattest wallet and really couldn't stand the bulk. I trimmed it down a while back with a slim wallet that could only carry 3 cards and some cash. Problem was, (and ask my wife), I always forgot my wallet at home. Always. Yet, without fail, every time I went out my iPhone was with me. My brain has it priorities off and works in mysterious ways… I'm just lucky it still works at all.
All the iPhones functions are accessible while locked in the case and there is a hole in the back for the camera and light. One thing to note is you will need a screen protector for the glass since the iPhone is only held in at the top and bottom, leaving the glass exposed. Actually, I think it would be a great thing for Hand & Hide to offer with every case, saving the customer from having to hunt one down.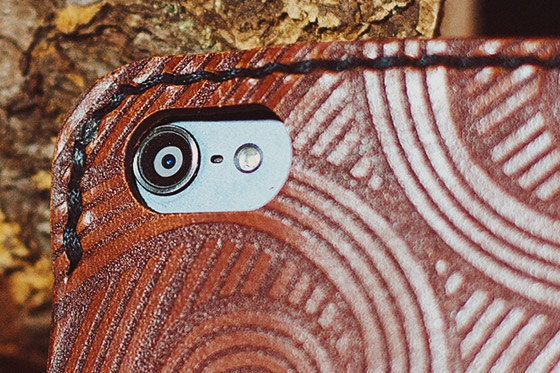 In the end, this is one of those Etsy gems that I would recommend to anybody looking for a stylish and functional leather case. The quality is great and the design is great. I think this is going to last a long time and best part is, I think it can work with future iPhone models as long as they remain a similar size.

Like peanut butter and chocolate, eggs and bacon, a new epic combo is in my hands. iPhone and Wallet. Take that wife!
PROS:
• Beautifully crafted by hand
• Haven't had it for long but it feels like it would last a long time, longer than plastic/rubber.
• Conversation piece and head turner
CONS:
• I would like to see brass hardware options with some leathers
• The wallet style vs exposed face plastic casing takes some getting used to
• Case should include a screen protector film
• Hard to take photos in some situations due to wallet (such as one handed shots on a bike)