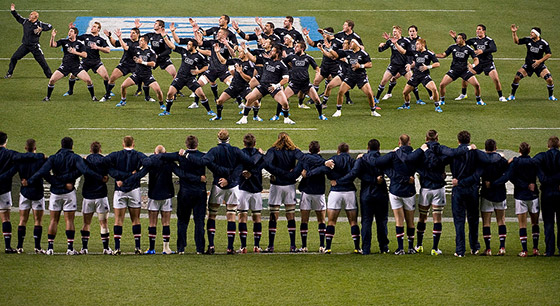 Sports photographer Jack Megaw covered the USA Eagles vs. New Zealand Maori All Blacks rugby match in Philadelphia.
So what would one think of if asked about New Zealand and sport? I think of two things. One of them is how amazing it is that a country of just 4.43 million people can punch so high above its weight on the international stage. (This was shown in the London Olympics with six gold, two silver and five bronze medals. The third highest relative to population behind Grenada and the Bahamas.) But the main thing that I think about is the Maori war dance which the New Zealand rugby team the All Blacks do before each match. The Haka. Once on an island off the coast of Maine I saw somebody do the Haka in front of me and was amazed by the passion. (If you haven't seen the Haka before take a moment and look it up on YouTube)

Well last week I finally had the chance to photograph the Haka with the USA Tomahawks B-side the USA Eagles and the New Zealand All Blacks B-side the Maori All Blacks facing each other in Philadelphia.
Continue reading and see more photos on Jack's blog.