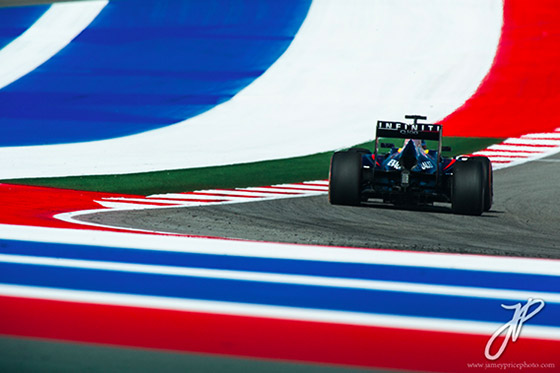 Charlotte, NC-based photographer Jamey Price covered the Formula One race in Austin, Texas.
I'll remember it for as long as I live. I was 18 years old and my dad and I were attending our first Formula One race in the flesh. We arrived at Indianapolis motor speedway just prior to the start of free practice 1 on Friday in 2005. Walking up the tall metal stairs on back side of the enormous grandstand, I heard it for the first time. The sound was a screaming V10 engine off in the distance. A high pitched wail that was quickly getting louder, and sharper with each passing millisecond. As we were nearing the top of the steps, the car came screaming by. I have no idea which car it was. I have no idea which driver it was. All I know is that the sound I heard rattled my bones and gave me goosebumps.

F1 is, and always has been, an assault on the senses.

Eight years later, I'm standing outside of Red Bull Racing's garage in Austin, Texas at Circuit of the Americas with camera in hand. The car roars to life. Everyone in the area plugs their ears to keep from going deaf. But not me. This is the last time I will hear one of these V8 engines sing it's song and I'm trying my best to savor it. I love it. It makes the hairs on the back of my neck stand on end. Next year, F1 switches to turbo powered V6 engines with a lower RPM and what will surely be a much different sound. No one knows what it will sound like when they first hit the track early next year, but I plan to be there to find out.
Continue reading and see more photos on Jamey's blog.