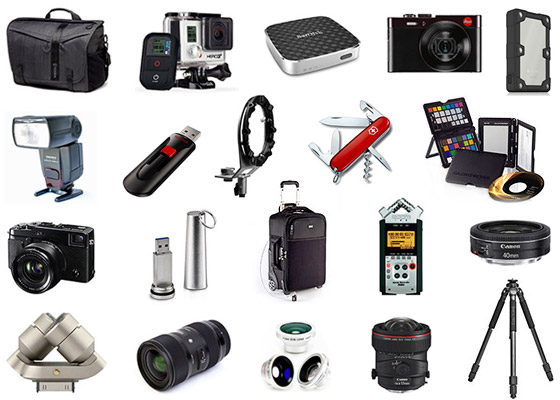 It's that time of the year again! Time to make your photographic gift list in hopes that Santa will bring you everything your camera bag desires. Also, it's a great time to get your last-minute shopping in before the end of the year so you can deduct the purchases on your taxes!
We've again asked a handful of our photo-industry colleagues what products they recommend and/or have on their gift list this holiday season. They came back to us with some great recommendations of cameras, lenses, bags, accessories, and more.
Keep checking back as we'll be adding more recommendations from our friends throughout the holiday season!
This year we've also asked some of our sponsors to list off some of their cool products you might be interested in this holiday season. Check them out below!
Beam lets you easily create a striking, responsive website that looks great on desktops, laptops and tablets alike. With Beam, you get a beautiful website backed by PhotoShelter's image archive, client sharing and delivery tools, and built-in eCommerce platform. Take your photography business to the next level!
For the pro on the go nothing provides solid support, flexibility and portability like a monopod. The the A48TBS4 pairs a matched S4 Video Head with the A48TB Video Monopod with 3-Leg Folding Base and Travel Case. Each Benro Video Monopod Kit is based on an eighth-generation design of single leg tubes and twist leg lock mechanisms. A great video monopod! Read our review of the Benro A48TBS4 by CS Muncy! 
GALERIE Prestige Gold Mono Silk is a true black and white media for inkjet printers allowing photographers specialising in monochrome photography to achieve stunning images reminiscent of darkroom prints. It's available in sheets and rolls and compatible with both pigment and dye based printers.

Induro CT213 Carbon Fiber Tripod
If you're looking for an extra sturdy tripod, the CT213 tripods are the strongest, most stable tripods ever offered. A wide stance cross-braced magnesium alloy spider, ultra-light 8X layer Carbon Fiber legs, oversized center column lock and enhanced leg angle locks all contribute to a tripod with up to 35% greater stability, rigidity and higher load capacity. Includes interchangeable rubber feet and stainless steel spikes, a tool kit and deluxe carrying bag and strap.

The Leica C is a 12 megapixel compact camera with full manual control, RAW shooting, and a built-in electronic viewfinder. It also features integrated Wi-Fi and can be controlled from any iOS or Android device. The Leica C was designed by Audi and features a wide range of unique cases and straps and fits perfectly in your pocket. It's also available in light gold color.

Lensbaby Composer Pro with Double Glass Optic
Lensbaby offers a variety of unique lenses for the creative photographer. They're running an amazing promo right now, where they're giving a free accessory kit when you buy a Composer Pro with Double Glass Optic from their webstore. Tilt the Composer Pro to get selective focus effects with the 50mm optic, then use the free accessories (Macro Kit, Creative Aperture shapes, and Wide Angle and Telephoto Converters) for different effects and lots of fun. Check out our Lensbaby Traveling Kit Reviews!
MeFOTO RoadTrip Travel Tripod Kits

Are you a traveler? The RoadTrip kit provides an exceptional combination of materials, construction and features – plus a splash of color! Great for point & shoot, mirrorless, micro 4/3 and DSLR cameras with larger lenses. One of the coolest things about this tripod is that it also converts to a monopod in seconds! Only 15.4″ when folded yet 61.6″ extended, it weighs 3.6 lbs and can support up to 17.6 lbs.

Squarespace
Squarespace is a modern and professional website publishing platform that includes customizable templates, drag and drop tools, 24/7 support and e-commerce. It provides a really quick and easy way for photographers to build a beautiful portfolio website in minutes. All of their templates are extremely clean, and allow your content to be the center of focus. Every Squarespace website has it's own unique mobile design, so that your photos automatically scale to look beautiful on every device. It's also cheap with plans starting at only $8/month! (Use Promo Code PhotoBrigade11 for a 10% discount!)
The Tenba DNA 15 is the right size for a messenger bag, especially for bikers. The large flap allows great flexibility for carrying different sized things. The padded camera insert fits a couple bodies and a couple lenses comfortably. With quick access zipper and a padded sleeve for a 15" laptop and a separate sleeve for a tablet, it's comes with a rain cover to protect it from the worst mother nature can throw at it. Read our review of the Tenba DNA 15 by Dean Neistat! 

Think Tank Photo Airport International V2.0
If you're a traveling photographer, you'll want a nice rolling camera bag designed for International and domestic carry-on. You'll appreciate this roller bag's advanced security features, even when you're not flying. It's compact yet spacious and fits in overhead bins on most international flights. It has room to carry two or three pro-size bodies (unattached), all of the standard lenses and other gear a professional or semi-professional photographers may need while working on-location. Read our Airport International Roller reviews by Michael Rubenstein and Noah Gilbert.
ColorChecker Passport is a powerful 'capture to edit' color solution for any photographer looking for more accurate, consistent color and creative flexibility. The passport combines three photographic targets into one pocket size protective, self-standing case that adjusts to any scene. Together with the included camera calibration software, you get the ultimate in functionality, flexibility and portability.

ONA Bowery Camera Bag
Ona is one of the few new brands out there that, in my opinion, sells fashionable men's bags that actually look good. They have many to choose from, but my favourite is the Cognac Leather Bowery. A smaller leather bag with enough room for a few smaller cameras or a DSLR and 2 lenses. It's not a man purse, it's an Ona Bowery. Read Neville's review of the ONA Bowery leather camera bag.

Wotancraft Eastwood Hektor Camera Holster
The Eastwood Hektor from Wotancraft is one of those rare gems hidden in the vast world of photography gear. Strap one camera to your chest, leave the world of over packing behind and go. Not only do you look like a G.I., but you get to leave your other gear behind so you can focus on being creative. Fits cameras like the FujiFilm x100s and Leicas.

Artisan Obscura has really created something unique in the market with their wooden soft releases. Each button is unique in design and colour and makes the perfect final touch to your favourite cameras. Not only do they look amazing, they're also very functional; a perfect stocking stuffer. Read Neville's review of the Artisan Obscura soft shutter releases.

I don't know a single pro photographer without an iPhone these days. Instagram is by far the best social media platform for photographers. Tired of plastic cases and cheap faux leather cases for your smartphone? Hand & Hide hand crafts amazing leather cases and wallets with protection, quality and style in mind. One of the best and nicest cases I've used so far. You can even have your logo etched into the case. Read Neville's review of the Hand & Hide iPhone cases.

Another gadget I think every photographer should carry is the iPad, better yet, the iPad mini. It's one of the best purchases I've ever made. I can carry my portfolio, contracts and more to client meetings etc. What do I use to protect it? The Alano from Portenzo. Not only does it protect my iPad mini, it looks amazing too. Each time I hand it over to a client to take a look at my contract or portfolio, they're in awe of how amazing and unique it looks.  Wood and leather – can't go wrong.

Since my iPhone is grandfathered in to unlimited data I refuse to activate tethering on it. I just got this Wi-Fi device and so far so good. You'll really clean up at airports where everyone wants some free Wi-Fi!

This is at the top of my own Christmas wish list. It's Heisler and it's under $30, you can't go wrong.

Outlets To Go Power Strip with USB
This may have been featured before, but this thing goes with me everywhere I go. Super tiny, space for big power blocks and mine has lasted 4+ years of constant use.

Tiny tools for use when traveling light. This is on my key ring until TSA takes it, then I buy another one. So far I've only surrendered 1.

Tether Tools JerkStopper Tethering Kit
Because I trip over both ends of the cord…

Gold and silver instant film from Impossible Project
Impossible Project's film has come a long way since it's started–it's just beautiful now.

iPhone Lifeproof Cases for underwater iPhone pics
It's a little nerve-wracking putting your iPhone underwater at first, but these work great. We used one on our honeymoon in Tulum and had so much fun holding our breath for some underwater portraits in the Caribbean Sea.
Best lens bang for your buck (plus it's just so darn cute). Also a good lens for street shooting (when you wanna be a little more incognito) or when you want to pack light for personal shooting. Read Noah Gilbert's review of the Pancake Lens! 

For outdoor photographers (or just outdoor lovers). We love ours. Be sure to get the Slap Straps, too, so you can hang it on a porch, between trees, on a waterfall, anywhere.

Behind Photographs, Deluxe Limited Edition by Tim Mantoani
I love this book/EPIC body of work. It chronicles the significance of cornerstone images in the development of many of the most iconic image producing photographers ever!

Wapiti C1 Camera Strap
http://www.wapitistraps.com
You can get these custom made to the exact length you want, and there are no metal rings to scratch the LED on your camera. Plus, it gives you yet another way to mess with your vegan friends.

Profoto Dual Speedlight Speedring
This is great if you sometimes use speedlights for lighting. Profoto quality, the best design I've yet to see for mounting dual speedlights, and the ability to mount remote ratio triggers makes this a great item.
It sucks running a stinger cable all the way where it needs to be run only to find out that the power socket doesn't work. You do that a couple times, and you will always remember to first use this thing.

Profoto B4 with battery and charger
With a max flash duration of 1/25,000, 45 minute battery recharge times, great weather seal and up to 30 frames per second recycle times, this is hands down the best battery generator on the market. I start foaming at the mouth every time I get to use one!

This is a small speaker that puts out very full and rich sound. I use it for studio shoots and at home in the bathroom or around the house to listen music or podcasts. This unit has a premium price tag compared to other bluetooth speakers, but they truly sound the best, in my opinion.

Bose QuietComfort 20i Noise Cancelling Headphones
So now you can probably tell I'm a Bose whore, but after going through many headphones in my 30 years, I can say these are truly great. They have the same noise-cancelation power as the big QC-15 over-ear models at the same price and a fraction of the size. For those of you who travel, these will blow your mind and nock out the airplane hum and pretty much the world around you. Works with your iPhone and also has an "aware mode"; simply push a button and you can hear your surroundings.

Photive 2600mAh Portable Power Bank
This is a portable battery pack that I keep in my camera bags just in cast I need some extra charge for my iPhone. There's tons of power bank options out there, but I found this to be a portable and inexpensive battery I can carry in all my bags for emergencies.
I really like to travel light. I also like to jump out into Central Park for a walk, jog, or bike ride and I don't like carrying a bulky wallet exercising. This iPhone case is great because I can keep my ID, debit/credit card, and my metro card with me at all times. Throw a $20 bill in-between the phone and the case and you've got everything you need so you're not screwed when you leave your wallet at home!
Since I've recently began podcasting, I had to figure out a quality recording platform. I found the H4N to be optimal for a number of reasons. In addition to the built-in microphones, there are two XLR jacks in the bottom of the unit that allows me to connect various professional microphones (or musical instruments if I wanted). For my podcasts, which typically involve myself and a guest at a cafe, bar, or Central park, I use two Shure Lavalier Microphones. What's great is that if I wanted to add a third guest, I could simply put my H4N on a mini mic stand and use the on-board microphone as a third. I also use the H4N as an audio interface to my computer to record my podcast intros directly into the computer via a USB cable. Whether you're podcasting, using it for your DSLR audio, or creating audio for multi-media, this is the unit for you.

I don't know about you, but I love stickers. In fact, the printer/scanner in my office is covered with random stickers I've collected over the years! So whether you're looking for some fun for your kids or just like to play with stickers like me, snag a whole sheet of photo gear stickers from our pals at PetaPixel for only $5!
Best camera of the year. The Olympus OMD EM1 is the company's new flagship of flagship cameras–it replaces their aging E5, which was a DSLR. Interestingly enough though, this camera is a mirrorless Micro Four Thirds camera. Rumors of the camera were abound for a while and we worked with a review unit for around three weeks. Complete with a 16.3MP LiveMOS sensor, TruePic VII imaging processor, WiFi, weather sealing, a brand new viewfinder, and lots of new controls, the camera is an aggressive stab at the flagship mirrorless camera world and the high end APS-C DSLR lines offered at the current moment.
Best zoom lens. Sigma's latest 18-35mm f1.8 lens is the first zoom lens to their Art Collection: which is comprised of lenses typically associated with a very fast aperture. But when Sigma announced their brand new 18-35mm f1.8 DC HSM lens for APS-C sensor DSLR cameras, we were shocked. Previously, we had only seen f2 zooms being the fastest, but now there is a f1.8 zoom. Though the lens paid us a short visit (we only had it for five days) we fell in love with it.
Best portrait lens. "You're not going to want to send it back," said PCMag.com's Jim Fisher, a good friend and colleague of mine who remarked about the Zeiss 135mm f2 when I told him that I got it in for review. Though Jim and I are different types of shooters, I didn't realize just how correct he would be when I first twisted the luxury optic onto my Canon 5D Mk II. Despite the fact that we've still tested pricier lenses on The Phoblographer, Zeiss's 135mm f2 exudes an aura of absolute allure and lust. With an all metal exterior build, uber smooth manual focus ring, Zeiss micro contrast, bokeh worth biting your lip to, and the feel of a real professional lens–the only thing that you'll need to sell for it is your soul, a kidney, maybe a finger, and perhaps a couple vials of blood.
Best-bang-for-your-buck flash. Yongnuo is a Chinese company that has mistakenly been stated as to be creating knock offs–which is a massive misinterpretation. They mostly specialize in radio transmitters and flashes. We previously reviewed the Yongnuo 560 II, and upon hearing the reports of the company putting radio transmission integrated into their flashes, I had to try one of the brand new 560 III flashes. The version that I purchased was specifically for the Micro Four Thirds system: and in this case the Olympus OMD EM5.

For those assignments when you can't leave your spot and your phone is dying.

Optrix XD5 Waterproof iPhone 5 Case
If I ever drove in Russia this is the ideal dash cam + phone setup for instagramming a nasty car crash or a meteor passing by.

OtterBox Armor Series Waterproof iPhone 5 Case
The mama of all armors for my already broken iPhone 5. And YES it works with 5s but not with the flash! Excellent for added armor when in hostile desert or for filming those precious moments when a shark bites your board down the shore. Friggin cheap too.

When you are sick and tired of whole day shooting clusterf**ks, the best place to sit and not having your gear stolen is the Tenba Air Case. Also great car case or heavy duty travel and when sick of sitting you can stand on it with your gear still inside.

Tenba Roadie II Universal Hybrid Roller/Backpack
When you totally mess up your back and stubbornly don't wanna give up a backpack, this little baby is perfect for you and it looks very slick.

I've been shooting more still life and product lately for clients and this Macro is sensational. Sharp doesn't begin to describe this lens. I just need to be prepared for more dust and hair removal in post. (yes, hair – it's that good…)

I've always loved Canon TS lenses, and their most recent 17mm doesn't disappoint. It will lighten your wallet, but the flexibility and precision is fantastic edge to edge. This lens is a distortion killer.

I had the original 5D and now the 5D MKII. After shooting some test frames and learning about the new MKIII. It's worth the upgrade…they really do keep better with every iteration.

I need a nice, stylish bag that will let me run around with a body an a couple lenses without looking like I'm in Men In Black. This bag is causal, comes in colors, and is Think Tank quality and engineering. How can you go wrong? Read CS Muncy's review of the Retrospective 30, Laia Prats's review of the Retrospective 5, Robert Caplin's review of the retrospective 7, and our mega review of the Retrospective 10! 
Everyone loves Sharpies, and they're always handy to have in your bag. Have some printed up with your name, logo, or website. Loan the marker to others, and not care when they keep it! I tend to accumulate Sharpies, and tend to grab a few logo'ed ones from studios that have them whenever I work there. Brand your own! You can get them in small quantities with limited options. Or, customize everything! A larger order is required.
The CamRanger is a small box that hooks into your Nikon or Canon DSLR, and lets you control EVERYTHING from an iPhone, iPad or Mac, wirelessly. Use Live View, control autofocus, start/stop video, change exposure and more, all without wires. Also, view large images on your iPad as you shoot! Get detailed exposure information, histograms, shadow and highlight points, right away. A few taps can start an intervalometer, HDR bracket, and more. Save a picture to your iPhone camera roll, and e-mail it in seconds, without having to pull the card from the camera or touch a computer.
Since the advent of digital photography, there are less "tangible" goods handled on a photo shoot. For clients, there's something satisfying about walking away with a Polaroid or two from a photo session. With the Canon Selphy CP900, you can make prints on the spot, no wall power needed. The tiny printer fits in a bag, prints 4×6 photos in less than a minute, and there's no waiting for anything to dry. Plus, you can print to it wirelessly from iPads, iPhones, Android devices, or even select Canon PowerShot cameras. I carry one in my commercial digital tech kit, and clients really appreciate holding prints and leaving with them.
As photographers, we know light matters. We're often arriving before sunrise, or breaking down a setup well after dark. A good headlamp is crucial in any toolkit, so your hands can be free to work. Black Diamond's Icon is the top of the line. Super durable, machined from aluminum. Had a Red Light mode so it won't affect your night vision when you're shooting star trails. Uses standard AA batteries, so no need for special batteries. Very bright, and it will always be there when you need it!
One of my primary goals this year is to integrate a lot of the things I enjoy doing — particularly outdoor, adventure-sports-type activities — with my photography. Naturally, I've been indulging myself lately with a lot of the adventure-porn videos and photos being pushed by GoPro to promote their new Hero3+. They really know how to appeal to both sides of, because the Hero3+ is at the top of my list.
A consequence of doing this job is being on your feet all day, every day. Unfortunately for me, I developed a minor case of plantar fasciitis not too long ago, which put a serious damper on my ability to work effectively and pain free. Let's face it, it's hard to focus when your foot is in near constant pain. I made a few changes to my footwear, but the most significant improvement to my healing came in the form of some Superfeet insoles for added support. They're literally in all my shoes now, and if you spend a lot of time on your feet, you really can't go wrong with these.
I'm getting to that stage in life when all my friends are either getting married or having kids. My mom enjoys reminding me of that fact, as well. So, to keep track of all the invitations, announcement postcards and Christmas cards, I put all of these someplace I can't overlook — my refrigerator. Right next to the Bed, Bath and Beyond coupon. Why not add a little photo flair to my kitchen, right?
I wasn't lucky enough to win the Photo Brigade lottery to review the new Think Tank Turnstyle line, but this style of bag has had me curious for awhile now. As someone who likes to roll pretty light, these look like they'd hold the perfect amount of gear for most of the work that I do. I'm getting tired of my shoulder bag, and waist packs tend to sag on me quite a bit. The sling seems like a happy medium… Maybe someone at Photo Brigade can hook me up with a hands-on demo so I can verify… *hint hint* Read Robert Caplin's review of the TurnStyle 5! 
We've all been there. When you've got an iPhone addiction (I'm busy making Instagram Art!), chances are you'll be running on empty by midday or sooner. You can never have too much backup power.
I have been playing around with a borrowed one of these quite a lot recently. When combined with a lens of 35mm equivalence such as the 23mm f/1.4 I am absolutely in love with it.

Canon ST-E3 Speedlight Transmitter
Having recently bought a Canon 600EX speedlight and after hearing rave reviews of the new transmitter I am thinking I may end up just buying this one for myself for Christmas this year!

A Spotify or Rdio Subscription
Spotify has changed the way I listen to music. Combine a reasonable monthly price for unlimited music with the unlimited 4G LTE data on my iPhone 5S and I doubt I will ever buy an individual song again. This is great for long lonesome days shooting or hours spent editing and invoicing behind the computer.
Many people, myself included, seem to forget just how much capacity is now available on small USB Flash Drives. I can't wait to put an end to carting around a portable hard drive just for the sake of moving a single shoot worth of files.
Just to prove that photographers are not always expensive to shop for. Trust me, every photographer would prefer a roll of gaff over a pair of socks!

Think Tank Photo Shape Shifter Bag
The Shape Shifter is capable of carrying two pro bodies, a 70-200, 24-70, and a wide lens as well as a 15" laptop, cables, cards and a flash or two. Better yet once gear is removed, the bag zips down to a mere inches and you can work with it on your back if needed. I sometimes carry only this bag if long glass isn't needed.
Sure it's pricey and a bit gimmicky, but who knows, maybe you are lucky enough to have a wealthy family member or friend. I didn't, and sprung for it myself, but it was worth it, I love this lens. I find myself using it more and more at sporting events, from that NFL coaches scrum (which I still don't understand, but run into anyway) to getting NHL players crashing into the glass, or getting inside the ring for some really wonderful victory shots of fighters. It's tack sharp, well built and a great edition to any photographers bag. I've gotten a lot of compliments on images produced by this lens.

Adobe Creative Cloud – Photoshop Photography Program
With Adobe moving to a subscription based product now is a great time to sign up that photographer in your life. Adobe is currently running a special of $9.99 a month for Photoshop, Lightroom and Bridge. The best part, if you sign them up before December 31st, you lock that price in as long as they continue their subscription. That's right, the price won't change.

When I recently redid my business cards to add my Twitter and Instagram accounts I headed to Moo.com. Great quality cards and best of all, you can add different photos to your cards. Photographers can choose several images from their portfolio and divide them amongst the order of cards. After all, if you aren't going to market yourself, who will… Read Brad Moore's review on Moo Luxe Business Cards!

SanDisk Connect 64G Wireless Media Drive
Great for photographers who want to wirelessly share their images, the Sandisk Connect Wirelss Drive allows multiple users access to photos, videos or any other media from a self-generated WiFi hotspot. In addition, the SD slot gives you the opportunity to send images directly from your card to your tablet, smartphone or laptop. For news photographers, this can be especially helpful in getting your images out to your editors before anyone else does.

I reviewed this lens several months back and was blown away by the images it produced. Even wide open, the images are needle sharp, the bokeh is smooth as butter and its build quality is right up there with anything Nikon or Canon produces at a highly competitive price. Normally I don't carry too many prime lenses in my kit, but this has become one of my go-to lenses for everyday shooting.

I managed to check one of these out at the PDN Photoplus Expo this year, and right off the bat I was very impressed *I'll be running a more in-depth review shortly.) Built around a Terminator-tough metal chasis, LaCie tested these under harsher conditions than I ever would, dunking them in liquid nitrogen and running them over with a steam roller without causing any significant damage. As most readers know, I'm big on gear that can take a lot of abuse, and these USB drives seem to be as rugged as they get.
Another item I found at the Photoplus Expo, Triggertrap takes advantage of the built-in sound and vibration sensors in your iPhone, turning it into an extremely precise high-speed trigger release. You can also use the free app for HDR stacking and extreme long-exposure photos.

HoldFast Money Maker Camera Strap
Custom made in the USA, these HoldFast straps look sharp in any setting, can easily carry even the heaviest of setups and are tough enough to operate in almost any environment. while they may be a little pricier than a RapidStrap or SunSniper rig, I believe it's worth the cost. In addition to the two main straps, you can also mount a third camera from the D-rings on each shoulder strap. I find mine ideal for shooting during weddings or other formal events, but I feel just as comfortable using them in high-impact environments like protests or spot news scenes.
The spartan, my favorite knife. I've carried a spartan in 30+ countries including Iraq and Afghanistan and it's never let me down. It's also the thing that frequently gets me in trouble at the airport because it feel naked without it and often walk right through the metal detector with it in my pocket (accidentally of course).
A buff (I hate that name, I prefer gaiter) is the most useful garment there is. It keeps the sun off your neck and face while fishing in Miami, it lets you breathe during a sandstorm in Kuwait and keeps your neck warm during a blizzard in Wyoming. A million uses for a simple thing. But please, resist the urge to buy a camouflage one. Unless you spent time downrange, you'll look like a total douche.

Finally, the HB H5D is a staple for any photographer. I don't leave home without it. My pre-departure check is "keys, phone, wallet, Hasselblad". Weighing in at a scant 5.5 lbs, it sits comfortably in a large cargo pocket. It's a fantastic all rounder with a WIDE ISO range of 50-800 and a 1200MB RAW file size. Run, don't walk to your local camera store to buy one today.

Why cart around a clunky digital voice recorder when you can plug a stereo recording mic into your smartphone? Full disclosure: I've never used this, but I trust the quality of Rode products and I'd be happy to have a lighter recording solution in my camera bag.

Impossible Project SX-70 Color Film
The second I heard that Polaroid was going to stop manufacturing instant film, I ran down to Adorama and bought 40 packs of Polaroid 600 for my SX-70. Unfortunately, that supply is about to run out (and is hopelessly expired), and The Impossible Project is the only manufacturer of Polaroid-compatible film.
This nifty little kit is always fun to have on hand for iphoneography enthusiasts — the set comes with telephoto, macro, and fisheye lenses which easily snap on to the back of your phone with the magic of magnets.

Artifact Uprising makes gorgeous photo books, mini prints, and calendars (using 100% recycled paper!) — their 5.5 square softcover book in particular is a great way to compile a mini album of images.

Apolis Transit Issue Camera Strap
I spend a lot of time shooting with my Yashica D Twin Lens Reflex, but I can't for the life of me find an original camera strap that stays in one piece. This beautiful leather strap would be a stylish/practical solution (and looks like it'll fit just about any lightweight camera).