C.S. Muncy
is a New York City-based freelance photojournalist with a client list that includes The New York Times, The Wall Street Journal, Newsday, The New York Daily News and The Village Voice. His work has also appeared in Time Magazine, The Smithsonian Magazine and Wired Japan. In 2012, he was selected for the 25th Eddie Adams Workshop, received the NPPA Short Course Travel Grant and won first prize in the National Geographic/Nikon "Full Story" photo contest. A graduate of the Defense Information School, he enlisted in the United States Air Force in 2002 and is currently a combat correspondent with the 106th Rescue Wing.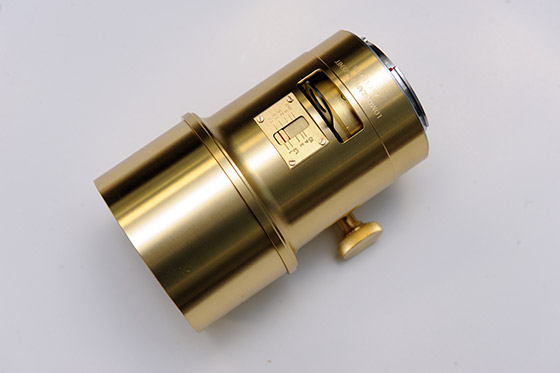 A few months ago I wrote about a Kickstarter Project started by Lomography for a Petzval-style lens, stating that if the product could measure up both to the huge expectations and the standards of its namesake it could be a game-changer for Lomo. This week I managed to get an advance sample of the lens for review, and I can say with absolute confidence that my prediction was spot on.
Let's get one thing out of the way though: this is a lens with a limited number of applications. As a news photographer it's not likely to end up in my crash bag; nor will it replace anything I already own. It's an environmental portrait lens, and that's pretty much it. I'll freely admit that it's really a one trick pony…but brother, it's a pretty neat trick.
The LomoPetzval was built in conjunction with the Russian camera manufacturer Zenit, and owes its namesake to the classic designs from the 1840's. Constructed around a pair of doublet lenses with a manually inserted aperture set between them, the lens produces images with a swirly, circular bokeh when fired wide open. Early versions had an aperture that opened up to f/3.7, allowing for much faster exposure times than previous lenses. Lomo/Zenit's modern, 35mm-friendly version opens up to an even wider 2.2. This will give you a razor-thin depth of field, requiring the photographer to take their time to ensure the desired area is in focus before shooting. I've found I got the best results out of the lens by shooting it at f/2.8 or f/4, while shooting against a textured backdrop. Remember when framing your shot that the sharpest area is in the center of your frame, but otherwise falls off significantly at the corners.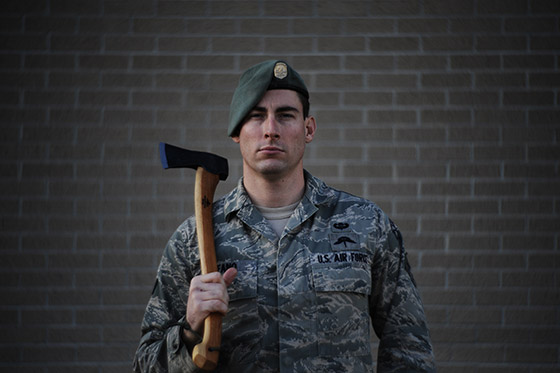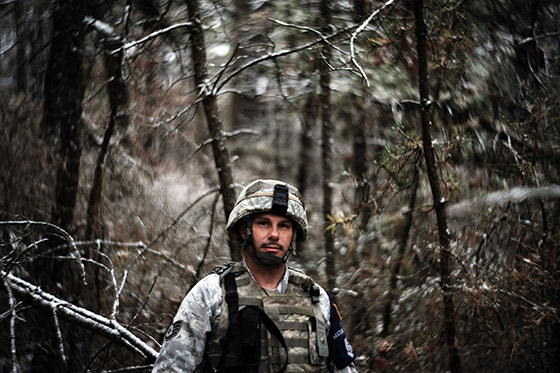 Even before I put it on my camera, I was pretty damned impressed by the build quality. The unpainted brass exterior gets a lot of attention and has a fair amount of heft. The hood (also spun brass) unscrews and gives you access to the front element for cleaning or mounting filters. Also like the classic design, the photographer focuses through a wheel at the bottom of the barrel.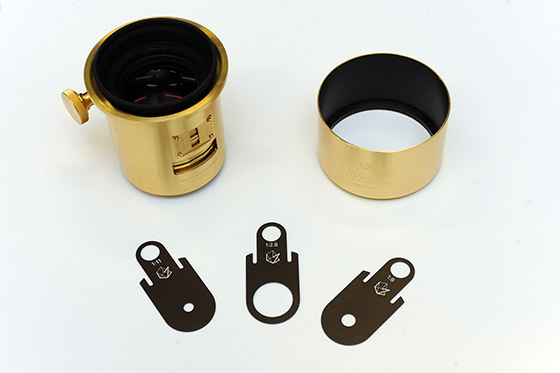 Now to some of the elements that needed improvement. Because you must manually insert or remove the aperture into the lens, there's a large square on top that's open to the elements, leading me to worry about dust and debris being sucked into the camera. Another issue I found was that, though otherwise superbly constructed, the aperture inserts don't sit firmly and can easily fall out if the photographer doesn't take care.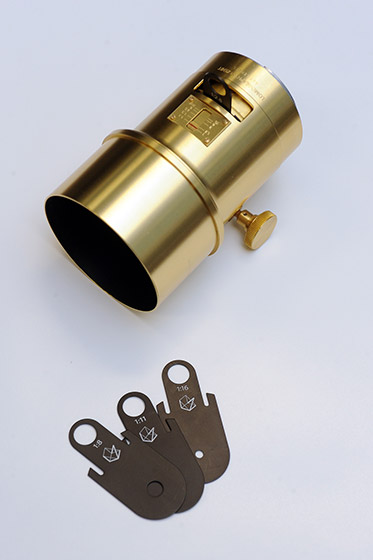 So in the final analysis, how useful is this lens?
For the daily photojournalist, it might be a fun bit of gear to throw in your bag, but I wouldn't use it at the expense of other lenses. That said, the outstanding glass quality and unique image elements will produce the kind of shots that other photographers would not be able to achieve. For portrait and editorial work, it's an outstanding addition to the photographer's kit.
PROS:
– Sturdy brass construction. Built like a boss.
– Produces an exceptional and unique image.
– Affordable price point (while the Lomo rep couldn't give me an exact price yet, I've heard that it's going to run between three to five hundred dollars.)
CONS:
– Spectacular at taking portraits, not much else. (I'm willing to be proven wrong on this one.)
– Open aperture access point allows dust to enter the camera.
– Aperture inserts fall out very easily.